Lineup Announcement: Enchanted Forest Gathering 2016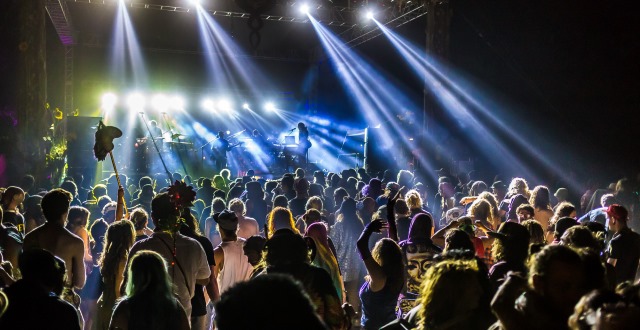 Psychedelic electronica act Shpongle, Oakland-based funk master The Polish Ambassador, and melodic bass duo PANTyRAiD (consisting of MartyParty and Ooah (from The Glitch Mob) will headline the sixth annual Enchanted Forest Gathering. The festival, light-heartedly dubbed, "Sacred, sexy, silly and saucy," takes place at the historical Black Oak Ranch in Laytonville on Friday, July 22 through Sunday, July 24.
Celebrating music, yoga, flow-arts and the conscious movement, Enchanted Forest Gathering combines a close-knit community vibes with the upscale caliber of production and talent, resulting in a holistic, transformational experience. West Coast bass champion Minnesota and soulful Chicago trio Autograf have also been announced as headliners among more than 50 acts scheduled to play this year.
Located about three-hours north from San Francisco, the Enchanted Forest Gathering offers music across four distinct stages – the River Stage, the Hearth Stage, the Mighty Oak Stage, and the Shower Party Stage. See below for the current lineup by stage.
"The Time is Meow" General Admission 3-day tickets are on sale now, and prices will increase beginning April 1st and again each successive month until the day before the festival.
The three-day electronic music event will also have a myriad of intellectual and body motivational activities during the day, including educational talks, forums, dance and flow classes, yoga, and workshops. Bass music deliciousness runs from sunset until the early morning. In addition, there will be a late night comedy stage, a visionary art studio, and a non-alcoholic elixir bar and lounge area at the River Stage. Night owls can enjoy the Nectar Temple healing area and the amalgamation of healing stones at the Crystal Dome will also be available for exploring.
Unique musical talents scheduled to perform at Enchanted Forest Gathering include groovy world-hip-hop fusion group Hamsa Lila, who will play a three-hour, otherworldly trance set, plus ethereal melody-weaver Ayla Nereo, who will provide a vivid harmonic storytelling experience, and leading representative of ancient Sufi Qawwali music, Fanna Fi Allah, expected to deliver two passionately devotional music sets. In addition, catch performances by drum and bass reggae stylist Youssoupha Sidibe, indie-rock electronica band Lila Rose, and ecstatic vocalist and innovative composer Suzanne Sterling.
Enchanted Forest Gathering teaches and promotes healthy lifestyles, offering organic food, crafts, and clothing derived from local sources. All merchants will be encouraged to use biodegradable items and a "green team" will help compost food waste and recycle. As always, the Gathering will be an alcohol-free event, allowing guests to focus solely on the experience and surrounding energy.
Full Lineup:
River Stage: Autograf, Andreilien, Reid Speed, Soohan, Drrtywulvz, Champagne Drip, Eurythmy, Saqi, Morillo, Psy Fi, Dragonfly, Irieyes, Brian Hartmann, Sharu, Manoj, Subducto, Quilici, Genji, Origin
The Hearth Stage (Live): Ayla Nereo, Hamsa Lila, Fanna Fi Allah (2 sets), Lila Rose, Youssoupha Sidibe, Suzanne Sterling, Matthew Human and Friends, eO & Kyrstn Pixton, Cello Joe, AmaeLOVESLife, Freedom, Whiskerman, Masha Campagne, Christopher Worth, The Abe Train, Randy Todd, Elijah Ray, Shawn Barry, Marya Stark, Mama Crow, Maesyn, Cheraki, Buddhabee, Sweet Medicine
Mighty Oak Stage: Shpongle, The Polish Ambassador, PANTyRAiD, Minnesota, Thriftworks, Bluetech, Stélouse, CloZee, Love and Light, Nominus, KRNE, Atyya, Living Light, Shamanic Technology, Sixis, Devin Kroes, Haana, Neptune
Mighty Oak Silent Disco: Nasja, Acacia Beats, YoHm, Soules, Syrius, Taotempo, more TBA
Shower Party Stage: TBA