The Bay Area's premiere indie music and arts festival, Noise Pop, announced the early music lineup for their 24th annual festival. Noteworthy talents from the first wave of artists include New York rockers Parquet Courts, rapper Vince Staples, and Oakland's Astronauts, Etc.
Noise Pop begins Friday, February 19 and runs through Sunday, February 28. Performances take place at a variety of venues throughout San Francisco over 10 days. Individual tickets, to select shows as well as Early Bird and Super Fan badges go on sale at 11am this Friday, November 20 and can be purchased here. The list of initial music acts confirmed so far to perform at the 2016 Noise Pop Festival can be found below.
January 20 Update: A few more surprise acts have been added to list of performers playing at Noise Pop this year, including future house DJ The Magician, shoegaze project DIIV, hip-hop producer Sango, and San Jose rapper Antwon, and many more indie acts. Check out the updated lineup poster further below for the complete list.
December 8 Update: Organizers announced several exciting additions to the 2016 music lineup, including indie rock group American Football, post hardcore band Drive Like Jehu, Canadian vocalist and "Call Me Maybe" star Carly Rae Jepsen, singer-songwriter Bill Callahan, Santa Barbara act Gardens & Villa, shoegaze group Ringo Deathstarr, indie rockers Hamilton Leithauser and Paul Maroon (of The Walkman), Kneedelus (Daedelus + Kneebody), local band Painted Palms, Mitski (Brooklyn), The Soft White Sixties, Gems and DJ Aaron Axelsen.
General Admission and Super Fan badges are on sale now with individual tickets to select shows going on sale at 11am this Friday, December 11.
Over 20,000 people attended last year's festival that highlighted over 160 music artists at more than 70 events, including concerts, film screenings, and art shows. Other acts announced so far include The Cave Singers, indie pop outfit Cayucas, modern day disco band Escort, and jazz saxophonist Kamasi Washington. Folk singer-songwriter The Mountain Goats will also be doing two performances at the Swedish American Hall, which will once again serve as the Noise Pop Festival headquarters.
RELATED: Noise Pop 2016 Accepting Applications to Play 24th Annual Festival
The full 2016 music lineup will be announced in the coming weeks and will feature both indie and alternative artists, as well as a wide variety of up-and-coming performers from across the country. The festival's film screening series lineup will be announced soon as well. We will continue to update this post as more news is announced.
Lineup:
American Football
Drive Like Jehu
The Mountain Goats (solo)
Carly Rae Jepsen
Neon Indian
DIIV
Parquet Courts
Vince Staples
Bill Callahan
Kamasi Washington
The Magician
Gardens & Villa
The Cave Singers
Sango
Ringo Deathstarr
Hamilton Leithauser and Paul Maroon
Escort
The Thermals
Mitski
Cayucas
Antwon
Painted Palms
Kneedelus
Film School
Diane Coffee
The Soft White Sixties
Gems
Wild Ones
Beacon
Astronauts, Etc.
Heartwatch
Palehound
Natasha Kmeto
Joywave
Current Swell
Phoebe Bridgers
Chris Cohen
Foxtails Brigagde
Hunny
DJ Aaron Axelsen
Masego
Traphouse Jazz band
Charlie Hilton
Hazel English
Gracie and Rachel
Naytronix
Sun Foot
The Stratford 4
Taxes
Jacey Johansing
Ned.
Santa
Running in the Fog
Frugal Father
Dinosaurs
Jay Som
Fake Your Own Death
Plush
Debbie Neigher
B. Hamilton
Crush
False Priest
Field Medic
The Tet Holiday
Kid Trails
Dick Stusso
DJ Truf-Yard
Make It Funky DJs
Poetry by Monica Mody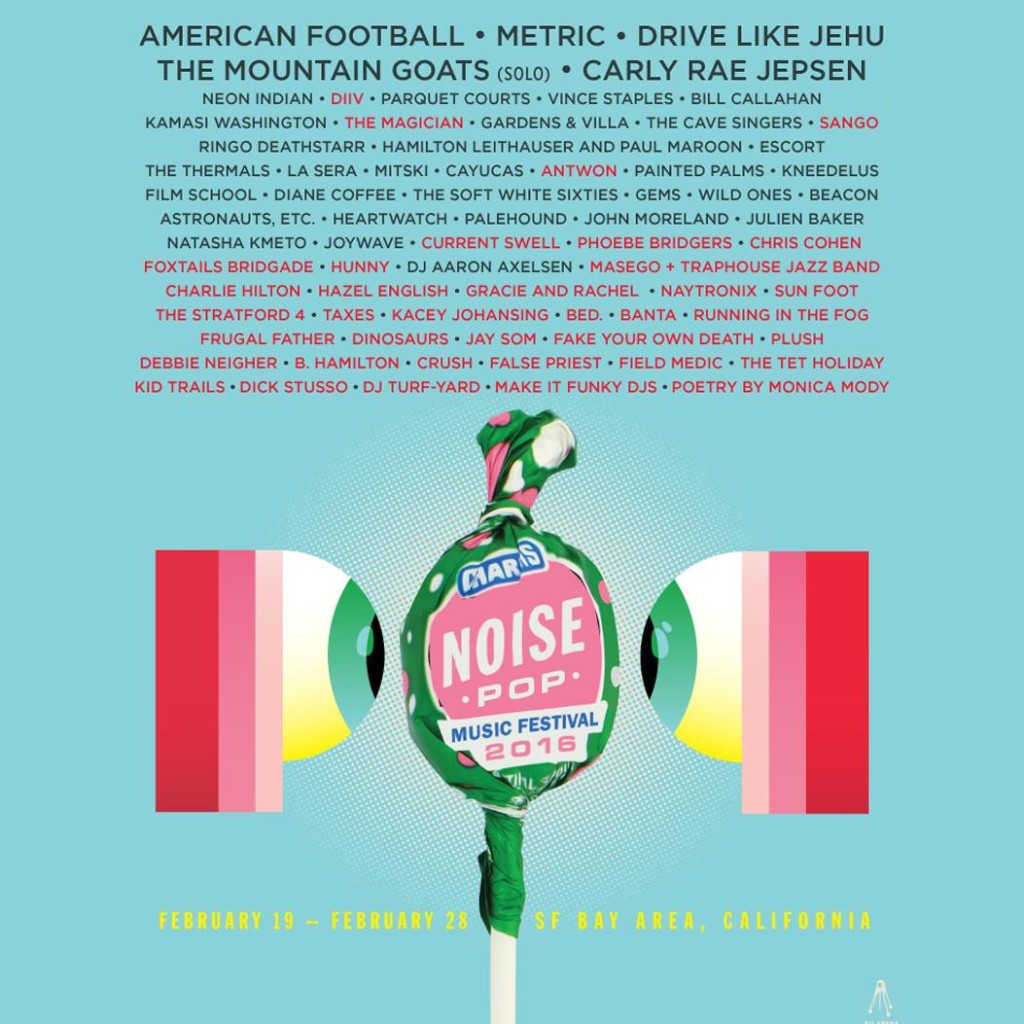 MORE:
Culture Collide Teams Up With Noise Pop for Global Music Festival
SF After Dark: Richmond and Chinatown Crawl with Heartwatch's Claire George