Painted Palms Prepares for Noise Pop, SXSW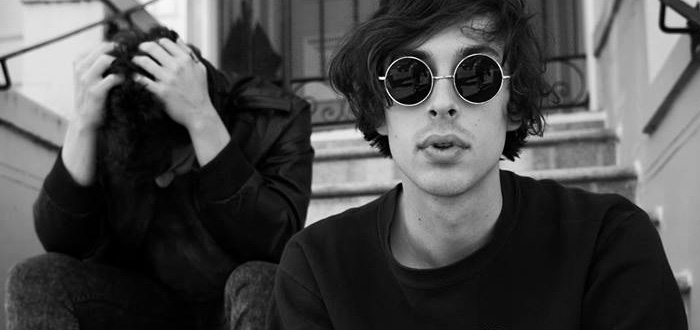 Painted Palms started as a long-distance partnership before inevitably converging in San Francisco after one member of the duo moved here a few years ago. However, cousins Reese Donohue and Christopher Prudhomme, originally from Louisiana, still find best results when they write music separately and trade ideas online before working together.
With time and space comes a washboard of modern electronica that flirts with 1960s psychedelic pop and haunting lyrics. We caught up with Donohue to talk about their unique approach for making music, linking up with Kevin Barnes from Of Montreal and heading to SXSW for the first time. Painted Palms also performs at Slim's on February 28th during Noise Pop Festival.
Painted Palms started out collaborating on songs through the Internet because of distance, and now have adapted and prefer this style. How come?
Chris and I have tried working in the same room. We've lived in the same apartment building, even in the same room. When we get together to write, we have different approaches. He's more spontaneous and I'm more deliberate and methodical. Whenever those two come into contact they tend to impose rather than aid each, so one person can be picking up on something the other person is doing and things get frustrating and confusing. We find that if we're separated by space and time, it works a lot better. There's a lot of clarity when we give each other time and space and not as much when we're in the same room.
Do you think the mystery of it affects your music?
Absolutely, there's the power of first impressions. But it's just about, as an individual, fully realizing what we're trying to say before we share a thought with another person. Like a stereotypical introvert comes up with a fully formed thought as opposed to an extrovert who works out his or her thoughts with someone else. It's a more introverted way of working together.
How did you pick San Francisco as a new home, and was it an easy transition from the South?
I moved out to attend school at Berkeley. After I graduated I wanted to move to San Francisco. It seemed like a lot fun, and it has been. I've been here for three for years. Chris moved here about 10 months ago. It was an easy transition because I was ready for a change of scene, Chris as well. We like it out here and it feels pretty natural and easy to get along.
On your latest album, Forever, there are great apposing elements between the music and the lyrics. The music is really upbeat and psychedelic while the lyrics are very introspective and honest and almost challenge the listener ("If you got a thing to say, say it now"). What was your head space during this record?
It was all over the place. We were experiencing a lot of really high highs and low lows, stuff in our personal lives. Chris and I haven't spent much time making music even though we are cousins and grew up together. This record was about experimenting with our creative relationship and seeing where we could take it. I can't speak for the lyrics, because that's Chris, but it's something that seems to make sense to us—the juxtaposition. It's like something out of a 60s pop songs, cheery melodies with the lyrics being really blunt and extremely cutting. It's weird because you feel like the intention wasn't for the songs to be that way; it was just how it worked out. Maybe the words didn't hold as much meaning back then as they do now.
Did you use live instrumentation on the recording of Forever? What was the recording process?
It was all done in my bedroom; all the instruments were recorded there. Chris recorded all the vocals in our practice space in the Tenderloin. But it was all done at home and by us.
How did you link up with Kevin Barnes from Of Montreal?
We put out an EP two or three years ago and Kevin found it through the grapevine and invited us on tour. At the time he invited us we had never played a show so we freaked out in good ways and bad ways. We went on a full North American tour and It was amazing. It's funny because I went to a lot of Of Montreal shows, so I was a big fan of theirs even before that.
You are making a trip to SXSW this year. Is this your first time? Anything in particular you're really excited about?
We're leaving in March and playing some shows on the way down. It is our first time but we'll be lucky to have some people with us who have gone before. We've heard a lot about it but we're going to have to get down there and make up our minds for ourselves about the experience. A lot of people talk shit about how hectic it is, but I just love outdoor festivals—and not like Coachella or Bonnaroo. In my hometown there's a festival called "Festival international de Louisiane" that plays world music like Madagascar and Cajun style, so I equate [outdoor festivals] with spring and that celebration. I'm looking forward to the craziness.
Ours and Yours directed a really cool video for the song "Forever." How was that experience? Did you have any part in the production?
The company is associated with Adult Swim and Tim and Erik, they write for a show called Hot Package. It's two guys from Los Angeles. We talked to them about loose ideas and what we wanted in a video and what we thought would be cool. It was an awesome experience. We went down to LA and shot in Joshua Tree. While we were out there we had such a big crew, like 11 people, that needed a place to stay so we found this old lady with a geometric dome on AirBnB and she let us stay with her.
Painted Palms play at Slim's on February 28th during Noise Pop Festival. More info.