Q&A: Lane 8 Debuts 'Rise' Ahead of Headline Tour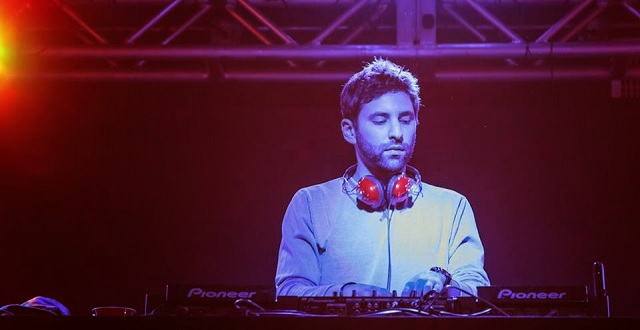 Bay Area native and former San Francisco resident Daniel Goldstein, who performs under the name Lane 8, embarks on his largest headline tour ever of North America and Australia, visiting San Francisco on Saturday, September 12 at The Independent.
The nascent house producer has a multi-textured album Rise set for release on July 17 via Anjunadeep, an independent record label based in London founded by progressive trance group Above & Beyond. His new record is currently streaming and can be heard in full at the New York Times. Soulful with melodic instrumentals, Lane 8's production skills for this new record are on full display with help from a number of collaborators.
Lane 8 currently resides in Germany, which he says has influenced the type of music he currently listens to. He had a festival appearance earlier this year at Coachella performing at one of his dream venues, the Do LaB stage. He's scheduled to perform at the upcoming Northern Nights Musical Festival, which has adopted a uniquely sustainable approach.
We asked Lane 8 about his musical upbringing, his best memories from Coachella, and what he has planned for the rest of 2015.
How did you start your music exploration?
It started because my dad had a guitar laying around the house. He was a self taught, knew five songs type of guitar player. For me, as a six or seven year old kid, that was pretty cool. He taught me some chords, and I learned from there. My sister was into it. We always took piano. Music was always important to us as a family and it just grew from there. When we were 11 or 12, we had a terrible garage band with one of our friends from the neighborhood.
When did you move from garage rock to into hip-hop?
It's hard to say how I got into it. I'd say through friends definitely. The Internet for me was basically my gateway to learning about hip-hop. The kind of hip-hop I was into then was not the stuff on the radio. At the time, DMX was one of the biggest rappers around. It wasn't the music I was into. I was into Pete Rock and CL Smooth and Big L and that type of stuff. I found out about that stuff from the Internet and Limewire to be completely honest. I guess it was that. I always really liked DJ Premier's production and Pete Rock's production. That's what got me into keyboards and sequencers, to make hip-hop beats in that style.
Who are some of your biggest electronic influences?
It's definitely Daft Punk. Booka Shade were always big. Kompakt, the label in general. I guess also the internet is what led me to compact. When I think back, it was weird to be a 16 or 17 year old kid listening to Kompakt. Very random. I listened to Tiesto, Search of Sunrise and downloaded every Kompakt compilation ever put out. That was my introduction to dance music and electronic music. I was always aware of Aphex Twin and Daft Punk and that sort of stuff too. The sort of techno and minimal is really what attracted me. That's what I thought I could emulate myself when I made music. That's what I often did back then.
The key is the internet. It was really, really important because that's where I found the music. It's not like a group of friends introducing me to stuff. It was more like me listening on my headphones by myself in my room type of thing. Being someone that has always looked for music on the internet as long as I can remember, it leads you in some unusual paths.
How did you get the name Lane 8?
[It] comes from swimming – in a swim race the slowest guy always gets stuck in lane 8, the outside lane. When I was in a garage band with my sister and our friend from swim team, we thought that would be a funny name. It just stuck over the years.
You're a California-native. What's your hometown and where do you currently reside?
Home town is Palo Alto. I lived there my whole life. Went to college in Los Angeles for four years. I then lived in San Francisco for a bit before moving to Germany.
How did you make the move from California to Germany?
I was living in San Francisco, fell in love with a German girl, we moved to Germany. That was one and a half years ago. I've been giving it a shot here in Europe, trying to build my profile. Being an American, my profile started out bigger in the States. The move to Germany was more for personal reasons. Not to say, living here has been a huge help. As a musician, I've developed a lot. My peers have changed. Different influences, traveling around, playing shows here. Being exposed to different ways of thinking and approaching it.
It's a huge benefit. Living here you get to play so many shows that you wouldn't get to play if I was still living in San Francisco. It would be too expensive, too difficult or whatever. I wouldn't get to play all these random little shows in Europe. Sometimes they are very humbling experiences and other times they're great learning experiences. Sometimes they're amazing parties. It's always a mix. Developmentally it has been very important. So many of the electronic artists that I like at the moment and people's music I really enjoy playing happen to be German at the moment.
When was the last time you played in SF?
I actually haven't played in San Francisco in quite a while. The last time I was in SF was September of last year – I played at Audio. Definitely coming later this year to the Independent, which I'm really looking forward to.
What do you miss most about California?
Definitely friends and family. As far as favorite things go – Mexican food would probably rank at the top of the list. I'm back so often, it's really not such a hardship. I always kind of joke about this that I see my parents more now living in Germany than I did when I lived in San Francisco. We get to spend quality time together. There's not a ton of stuff I miss because I still feel connected to that area. I never really felt that I was completely gone.
How did it feel to play Coachella this past year?
I did the Do LaB stage, which was amazing! It's so good! I went to college in LA and I went to Coachella as a student. So, to come full circle after having gone there as a 20, 21-year old and seen the Do LaB and seen the big stages, and been overwhelmed at the whole experience and wanting so badly one day to do that. It was pretty surreal. It was the first dream venue I've done. It's not to say I don't appreciate or I'm not happy to play an amazing club show. But that was the first one where I was like, holy shit, I'm playing the Do Lab. Six or seven years ago, I was a drunk, moronic kid running around these exact polo fields.
It was an amazing show. They've really stepped up their game. When I used to go to Coachella, the Do LaB was cool, but it wasn't what it is now. They have legitimate production now. It's insane. But they've always booked great music there. I think it's a cool crew. They have a very interesting take on the whole thing. I think they're kind of unique. Hopefully I get to do Lightning in a Bottle and stuff. I love their whole ethos and vibe there.
It's amazing, because Coachella has become such an enormous deal. They're really not booking that much lower level stuff. I don't mean that as an insult.
https://soundcloud.com/lane8music/odesza-bloom-lane-8-remix
Did you watch anyone else's sets?
You know who I loved was Caribou. That was the first chance I got to see them live. They were so, so good! Jon Hopkins was also really, really good. Unfortunately I didn't see Odesza. I like those guys a lot and I didn't get to see them. I had to fly out on Sunday. I heard they had the USC marching band out there, which was pretty cool. Caribou and Jon Hopkins were probably my two favorites.
Besides upcoming festivals, what's left on your to-do list before Rise launches?
I do these seasonal mixes. I'm finishing my Summer 2015 mix at the moment. That's my big project right now. There's a lot of stuff. I want to do more. I've done a few live sessions recently and I want to do more for that. Especially for songs around the album. I've done one with Solomon Grey, these two guys who are featured on my album a couple times. We have plans to do another live session, which is always good fun.
I've played a few festivals, but not a ton. I want to have a couple special secret weapons for the set and surprise people on that. I'm working on some private remixes at the moment.