SF Street Food Festival Unveils 2015 Chef Lineup, Adds Live Music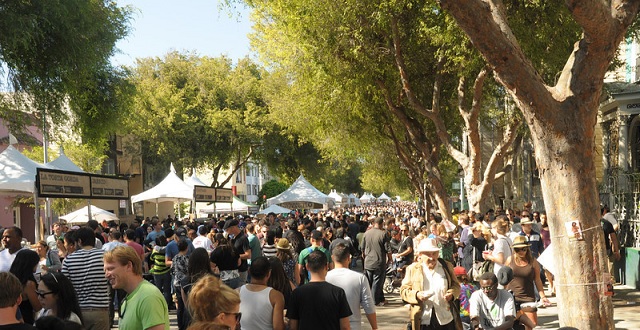 The full chef lineup for the seventh annual San Francisco Street Food Festival (SFSFF) has been announced, making its debut on August 15th and 16th at a new location in the Dogpatch with a diverse range of culinary talent gathering for a weekend celebrating food, community, and entrepreneurship.
After outgrowing it's former Mission district location, SFSFF 2015 will now take place near Pier 70 from 11­–6pm and will feature 80 curated vendors for two days of amazing food, drinks and entertainment. New to this year is a live music component throughout the weekend, highlighting an array of local Bay Area bands and DJs. The increased offerings are a result of La Cocina's new partnership with local organizations Noise Pop and The Midway to help develop the lineup and entertainment, helping take Steet Food Fest to the next level.
The Fest has also expanded to include two new elements to celebrate outdoor food around the globe: Islands and Chef's Counters. The Islands will provide a culinary oasis devoted to a single quintessential element of the food world, based on the following themes: tacos, dumplings, and seafood. Each island will offer a multitude of choices from an array of chefs showcasing their unique take on each themes. With only twelve seats, Chef's Counters will be there to give food enthusiasts a more leisurely and intimate experience. Chefs for both the Islands and Chef's Counters will be announced soon.
Highlights and Photos from SF Street Food Festival 2014

There will be a separately ticketed Saturday Night Spit Roast event happening on August 15, from 6-10pm, inviting some of the Bay Area's best chefs to a historic, waterfront urban space for an evening of live, local music presented by Noise Pop, an art and bar service curated by The Midway, as well as hors d'oeuvres and a sit-down meal. Participating chefs include those from Alabama's Jim N' Nick's; South Carolina's Scott's Bar-B-Que; local favorite 4505 Meats; New Orleans' Peche Restaurant; James Beard-honored Jardiniere; Redwood City butchery Gambrel and Co.; Delfina; North Carolina's Skylight Inn BBQ; Bi-Rite Markets; Wise Son's Deli; Josey Baker Breads; and San Francisco's own Dirty Habit SF. Passports and tickets to the Festival's special Saturday Night Pit Roast event can be purchased now.
Stay tuned for more updates about weekend entertainment and details about La Cocina's Food & Entrepreneurship Conference in the coming weeks.
Full Lineup:
4505 Meats
Aedan
Aina
Alicia's Tamales Los Mayas
Antonik's Philippino BBQ
Auntie April's
Bacon Bacon
Beijing Food Inc.
Bicycle Banh Mi
Binis Kitchen
Brazilian fried chicken
Burma Bear
Chairman
Cholita Linda
Crumble and Whisk
Curry Up Now
Delicioso Creperie
Dmaize
Eji's Ethiopian
El Buen Comer
El Huarache Loco
El Pipila
El Porteño Empanadas
El Sur
Endless Summer Sweets
Estrellita's Snacks
Fine and Rare
Four barrel
Fritas Shack
Frozen Kuhsterd
Gerard's Paella
Girl Friday Zeppole
Good Foods Catering
Hella Vegan Eats
J-Shack
Jeepney Guy
Kabob Trolley, LLC
Kin Khao
KronnerBurger
La Chida
La Luna Cupcakes
Lanxang Kingdom
Lers Ros
Little Red Riding Truck
Lonesome pizza
Los Cilantros
Maité Catering
Merigan Sub Shop
Mozzeria
Namu
Nombe Catering & Events
Nyum Bai
OSHA Thai Restaurant
Peaches Patties
Pinx Catering
Rasoi
Reem's
Rice Paper Scissors
Ritual Coffee Roasters
Sabores del Sur
Secret Scoop
Smokestack
Sugar & Spun
Sugarfoot
Sweets Collection
Tacolicious
The American Grilled Cheese Kitchen
The Creme Brulee Cart
The Lumpia Company
TheWholeBeast LLC
Three Babes Bakeshop
Three Twins Ice Cream
Wanna-E
Wing Wings
Yvonne's Southern Sweets