SF Street Food Festival Will Move to Dogpatch for 2015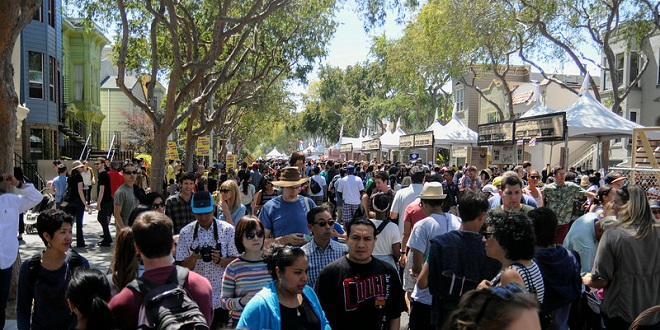 This year's seventh annual San Francisco Street Food Festival, a celebration of local food and drink, community, and entrepreneurship, will be held over two days at new locations in the Dogpatch at Pier 70 on August 15-16.
For the past six years, SFSFF has been held in the Mission District, but the event's organizer and business incubator La Cocina decided to expand it to two days this year after it outgrew its neighborhood location. Last year, the festival welcomed 50,000 guests and featured more than 80 local vendors.
"Since the first whiskey-fueled dreams of this event, we always imagined, or largely hoped, that this event would grow to a point where it required more space," says Caleb Zigas, La Cocina's executive director, in a release announcing the changes. "Our hope was that the entrepreneurial spirit of the businesses at La Cocina would inspire this city to truly celebrate the food and drink that we all love here. This year's event, with iconic Bay views, urban and industrial space as backdrop, and the opportunity to walk around with a cocktail while trying food from the best entrepreneurs in the Bay feels exactly like what we were looking for."
In order to successfully expand, La Cocina is partnering with local promoter Noise Pop, which recently held its 23rd annual music festival, and new creative space The Midway to help produce and curate the 2015 SFSFF lineup.
The full 2015 lineup of entertainment and details surrounding La Cocina's Food & Entrepreneurship Conference will be announced in the upcoming weeks. A small number of early bird passes for the 2015 edition of the festival are on sale now for $100.
Preliminary list of participating vendors:
Flour + Water
4505 Meats
El Buen Comer
El Pípila
Zella's Soulful Kitchen
Los Cilantros
Bini's Kitchen
Jardinière
More vendors to be revealed closer to the event date
Photos from last year: