Electronic dance music events promoter Insomniac announced the complete lineup for Electric Daisy Carnival 2015 in Las Vegas, with over 200 acts including Kaskade, Calvin Harris, Tiesto, Avicii and Flume.
Other notable performers slated to appear include Armin van Buuren, Above & Beyond, Carl Cox, Eric Prydz and Tokimonsta. General Admission tickets have already sold out, but VIP passes for the premier three-day EDM festival are still available. EDC this year takes place June 19-21 at the Las Vegas Motor Speedway.
As part of the lineup announcement, Insomniac founder and CEO Pasquale Rotella shared news about a new partnership with eBay to host an EDC Week Charity Auction. Fans can bid on once-in-a-lifetime artist experience items like making sushi with Krewella and joining Hardwell onstage. The auction closes on May 15 at 9 am.
Rotella declared, "EDC has grown so much since its move to Las Vegas five years ago. Each year, we push ourselves to give headliners a variety of music genres and an experience that goes beyond their expectations. Now that the lineup has been released, I'm excited to announce the EDC Week Charity Auction, which offers unique experiences incorporating EDC artists. These new offerings allow the artists and fans to share unforgettable adventures, while also giving back to the Las Vegas community."
Headliners include: Kaskade, Calvin Harris, Avicii, Tiesto, and Flume. Here's the entire 2015 lineup!
Kaskade had one of the biggest crowds at Coachella last month and filled his set with tons of laser light shows.
Calvin Harris has been named the highest-paid DJ for the past two yeas. Calvin Harris played EDC last year, so expect him to take his live show to the next level.
Swedish DJ Avicii is most well-known known for using classic soul vocal samples, such the 1962 Etta James sample used in his iconic dance track, "Levels." He will have plenty of tracks to choose from to showcase at EDC, including his recently released rendition of a Nina Simone's Feeling Good."
Dutch DJ and record producer Tiesto has had a a great year after winning the Grammy for Best Remixed Recording, Non-Classical for his remixed version of John Legend's Top 40 Hit 'All Of Me.' Tiesto always seems to know what dance-pop remixes to play regardless of the show environment.
Australian talent Flume is definitely a surprise to see on the EDC lineup this year. He's been on quite an impressive run since releasing his debut album, wowing Outside Lands last year. Those not heading to EDC can see him at two Bay Area college campus shows coming up later this month at UC Davis and Stanford.
2015 Line-up Poster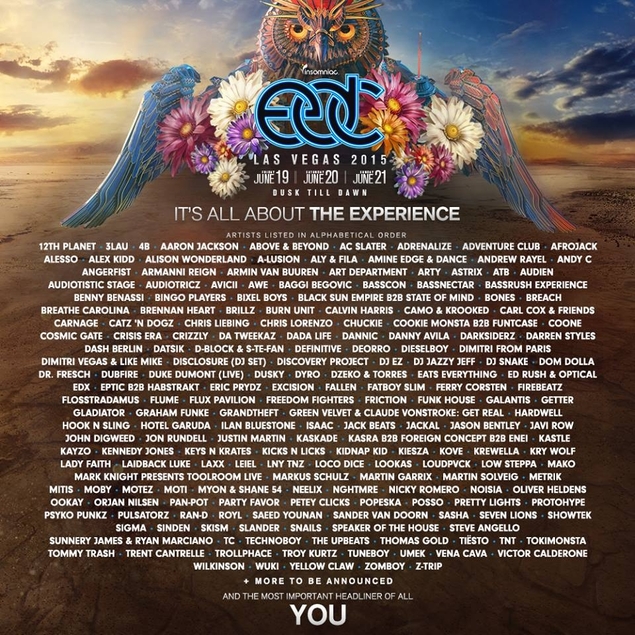 EDC 2014 Photo Gallery
Want more? Check out our entire EDC 2014 photo coverage!