San Francisco music fans can relive some of their favorite Outside Lands Music Festival moments at Lollapalooza this year with former Golden Gate Park headliners Metallica and Paul McCartney topping the lineup for Lollapalooza in Chicago's Grant Park July 31 – August 2.
News of the full lineup for the 2015 edition of Lollapalooza comes on heels of the Outside Lands and the Coachella Do LaB stage lineups, both revealed yesterday. Additional heavy-weight artists performing at Lolla this year include British acts Florence + the Machine, crooner Sam Smith and rock quartet alt-J. In addition, Bassnectar, Canadian alternative R&B act the Weeknd, rock band Alabama Shakes and folk-pop quintet Of Monsters and Men will also perform.
The Beatles legend Sir Paul McCartney, who performed the last concert ever at Candlestick Park, will play on the opening night of the festival on Friday, July 31. Over 100,000 daily attendees are expected to watch more than 130 bands and artists scheduled to play across eight stages over the weekend.
See below for the full lineup poster.
Now that most summer festival lineups have arrived, which festival is tops—Lollapalooza, Coachella, Outside Lands or Bonnaroo? Share your thoughts in the comments section.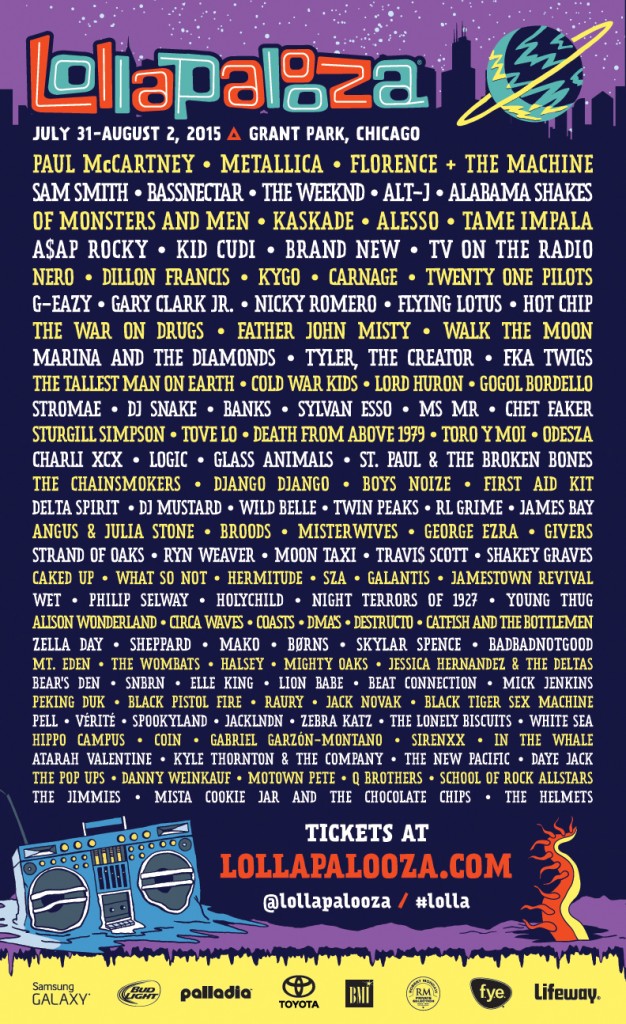 For last year's 10-year celebration of Lollapalooza in its current incarnation, headliners included Eminem, Skrillex, Kings of Leon and Arctic Monkeys.
Lollapalooza was originally conceived and created back in 1991 by Jane's Addiction singer Perry Farrell as a farewell tour for his band. The festival ran annually until 1997, and was revived in 2003.