Bassnectar Discusses Burning Man, Philanthropy and Drugs in the EDM Scene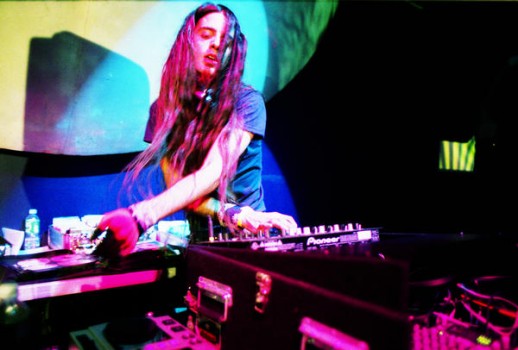 As Bassnectar, Lorin Ashton produces in an amorphous style with signature bass drops, rhythmic tempo ranges and a genre-bending blend of dubstep, hip-hop and metal, inspired in part by his formative years in San Jose's heavy metal scene.
Since emerging as a popular DJ at Burning Man, the producer has gone on to perform at most major festivals in the U.S. and overseas. He has built a reputation as a leader in the bass scene with a history of sold-out performances at a variety of worldwide venues. He returns to the Bay Area for shows in Oakland on Sept. 19 at Oakland's Fox Theater and Sept. 21 at the Event Center at San Jose State University.
We talked with him about the explosive growth of dance music, drugs at dance music events and the idea of music as a community experience.
Dance music has witnessed explosive growth over the last few years. Do you think the audience is continuing to grow?
I'm not too sure. I've been kind of having my head down working nonstop for so long that I don't really even like commenting on the current state of affairs—partly because I feel like very much an outsider in EDM, and that's by choice.
My natural interests seem to waiver outside the rules of the current trends. I'm so much more interested in my personal fan base, working with the musical ideas I have and creating the tours to be the best they can be. I'm not too sure about modern music outside of that.
Where do you see your music going next?
I just feel like it's going to continue for as long as I can. Doing my thing, letting that really unfold in honest and organic ways. Currently that's meant working nonstop and creating music for my live show.
This fall, we're unveiling for the first time ever what we call the UNS or the "ultimate nerd server." It is the most robust and insane video system that I am aware of in existence in terms of allowing me to sync every single sound or song in my set to a corresponding video clip and to combine them together in an immediate and completely live way.
Most DJs spin their whole sets with their hands in the air congratulating themselves while a CD player plays their set for them. I'm doing the opposite of that musically, becoming fully involved and immersed in the flow of the set.
Dance music for years has been about creating a community experience. Do you get a sense that there is more or less of a community as the genre expands?
For me, I'm interested in community as 50 percent of my art form. The idea is really to conjure the feeling that I felt as I kid at my first shows or raves and bring that new experience into new rooms and into peoples' lives.
I didn't know what to expect the last time we played in San Jose. I don't think I had ever played in San Jose before. I never thought that room at San Jose State University would work for a Bassnectar show. It was definitely not only one of the top shows of the year for me, it's one of my favorite venues in the country now.
While other festivals or shows seem to be having a lot of problems with drug overdoses and bad behavior, we had the head of security and production at San Jose State writing us a letter thanking us for having one of the best fan bases and crews they had ever worked with.
The misunderstanding of any form of music about drug abuse is something that I think is always debated, but certainly for me, [I've had] such an immersive music career and musical experiences of my own without being high on any kind of drug. I see that the same thing is true for so many friends and fans. I'm really excited about the idea that people can enjoy music and go just as far and deep into an experience while also really prioritizing their health and their safety.
To me that doesn't sound tame or boring. It's not like, "Oh, this is music light because we don't use drugs." It actually allows for a deeper experience because you can interact with each moment on a fuller level and remember what happened. That part of the community that does prioritize health reminds me of the '80s and '90s straight-edge scene in the punk rock world and death metal world. It was the most hardcore looking and acting individuals with an "X" on their hands to signify "I'm not fucked up and still enjoying this music." It really inspires me.
I'm all about creativity and going fucking wild, but as you go buck wild, doing it in a way that honors your nervous system because you've only got one.
What influenced you to incorporate charitable causes and philanthropy in your music career?
I'm just so grateful for everything that I have in my life and everything I've been given that I just honestly enjoying giving things back. It's a natural reflex for me and it's how I convey my awe of life and the world around me. I love to encourage other people to do that in any way they can. Giving $1 for every Bassnectar ticket for every show of mine is something I've been doing for as long as I have been doing Bassnectar shows. The other part is allowing people to get interactive and making people aware of community organizations that actually work around the clock to benefit their lives, family and friends and giving them a chance to support those organizations.
We have multiple causes, but the three that I'm kind of focusing on for the fall [are] basically net neutrality and the importance of keeping the Internet a free and easily accessible space for everyone. This is an issue that affects 8-year-olds up to 80-year-olds. It's about freedom of information, the right to privacy and use of an Internet that is the least corporately controlled and censored as possible.
Another one of the issues is mental health. It's more about people who may feel lost, confused, depressed or suicidal and or emotionally overwhelmed and don't know who to turn to and providing them opportunities to seek guidance and counseling to avoid suicide, self-abuse and to help them find their way to plug into life. The third is somehow contributing towards universal health care—free clinics that provide healthcare to the economically disadvantaged.
Early on, you were associated with parties at Burning Man. Did you go this year?
I've been to 12, but I haven't been in three years. I may go back again, but it's like anything that you've done 12 times—there's only so many times you need to do something. I just felt very thankful for the experiences that I had there, but these days I can barely keep up with my own schedule.
It served its place for me back in the mid '90s. It was a really important part of my life. At that time, there were few other chances to interact musically and culturally with freaks from all around the country. I think it's a great thing and I hope people have fun out there.
Your live music trajectory started by playing at Santa Cruz classrooms and forest raves, then San Francisco house parties, now to Coachella, Lollapalooza, Outside Lands and Electric Daisy Carnival. What's left on your list for venues to conquer?
It's funny you said that last word because I do feel that in any kind of career and business, whether it's a business career or artistic, is in some ways about conquering, even in achieving goals. I don't feel any urge toward that, but I feel the same strength and ambition to thrive that I've always felt.
My focus is to strengthen and nurture what I have been creating. I'm more interested in enjoying it and enjoying the special and magical rather than the size of it. Things may grow or increase; it will be a natural progression. I'm just really focused on sustaining the most special and magical things about the Bassnectar shows.
Do you get to spend much time in San Francisco or San Jose? Where are we most likely to find you on a day off?
That would be the last secret I would divulge. I will just say that I've got a never-ending love for the Bay Area both as a musical hub to play at and a perfect place to enjoy living.