Best of 2014: Lights Down Low's Favorite Tracks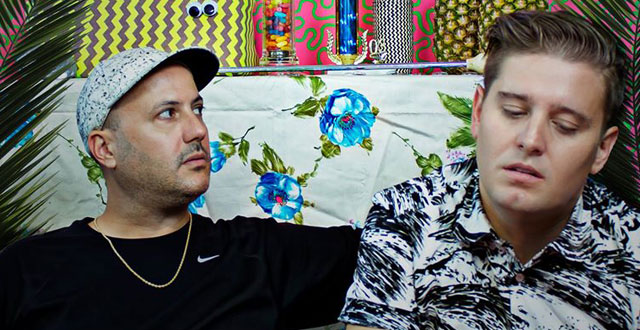 Lights Down Low founders and resident DJs Corey Sleazemore and Richie Panic have been involved with the San Francisco party scene for years.
Starting with basements and small venues throughout San Francisco and the Bay Area, the Lights Down Low brand is now known for some of the best dance parties in the city, hosting acts like Hot Chip and Hercules and Love Affair in 2014 for DJ sets and live performances.
The duo, which has since expanded LDL's reach to the LA underground scene, shares some of its favorite tracks from 2014:

Wild Beasts – Wanderlust
This reminds me of Hercules and Love Affair with Antony on vocals, which is a very good thing. Definite feels on this one. (Corey Sizemore)

Diddy at Burning Man – Noah 23 and Horsehead
Could anything feel better than being Diddy at Burning Man? Probably not. This is a great one to start your night or aggravate people at the after party. (Richie Panic)

ILoveMakononen – Tuesday
The TurnUp Anthem of 2014? Maybe. This song is so infectious and fun it was the soundtrack to many a pre-party and Uber rides to the club. (CS)

Paramilitary – Music For Your Plants (Arkitekt Remix)
Straight up Internet coming thru on this one, with weird Tumblr vibes and mysterious artists. It's a rare and wild warehouse party where I get to drop this one. (RP)

QT – Hey Qt
Are AG Cook and Sophie the most punk rock musicians around right now? This super Kawaii pop song was released as a brand song for a fake energy drink with over the top bubblegum flavor. The production seems to be a "fuck you" to current EDM culture. It's pretty punk, in my opinion. (CS)

Break Glass – Ben Sims
Put your hands up! That's what it says over 100 times in this slice of techno cream pie. It's a newer tune but one of my faves. The robots are coming for your children. (RP)

Ryan Hemsworth – Snow in Newark feat. Dawn Golden
We all cry. This song is made for crying. I appreciate that. (CS)

Put Your Number in My Phone – Arial Pink
The video is filmed in one of the most depressing malls in the world. Let's face facts: We have all been there, looking for love and wandering around with a masked man in a wheelchair. (RP)

CPI – Proseco (Brant remix)
Those hi-hats tho. Fuck man, the hi-hats and the acid. All I need is acid and hi-hats and I'm happy. Every time I have ever dropped this I am immediately trainspotted. It's a fucking banger. (CS)

Sneeze – Hnny
This is one of the few records that I bought this year—a slice of hard-to-mix repetitive heaven. The beat does indeed get sicker. (RP)
What are you favorite tracks of 2014? Share them in our comments section.