Broke-Ass Stuart Introduces 'Kinda Late Show' in SF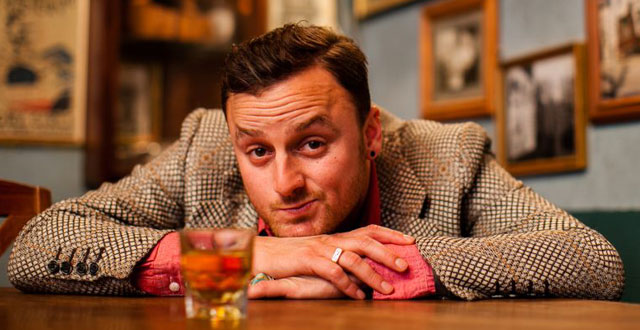 San Francisco writer and man about town Broke-Ass Stuart is readying his latest project, The Kinda Late Show with Broke-Ass Stuart, a live show of the "late night" variety with a distinctly San Francisco flavor.
Broke-Ass Stuart hasn't wasted any time in the 10 years since his zine, Broke-Ass Stuart's Guide to Living Cheaply in San Francisco, garnered him cult status and a book deal. He's since written two more guide books to being "young, broke, and beautiful," traveled the world on Lonely Planet's dime as a travel writer, created and hosted his own IFC Original Series and started an arts and culture website.
His most recent zine Love Notes and Other Disasters is a collection of musings on love, sex, nostalgia, loss and San Francisco.
The Kinda Late Show with Broke-Ass Stuart will be recorded live Nov. 19 at Doc's Lab before it makes its way to YouTube. We caught up with Stuart to discuss the project and life in San Francisco.
Where did you get the idea for The Kind Late Show with Broke-Ass Stuart? Is the show one-night-only or will it have a regular schedule? 
I actually had the idea about three years ago. I had heard that my IFC show, Young, Broke & Beautiful, wasn't getting picked back up and I wanted to keep doing fun stuff in front of the camera. I remember telling Allan Hough (from Mission Mission) about it at Ariel Dovas' yearly Hanukkah party. Allan and I were both like, "Whoa, that's a great idea!" and then I didn't do anything with it.
Since this is going to be both a live show and something we put on the web, it wasn't until I started hanging out with Alexandra Liss that I found someone who was down to handle all the technical stuff while I handled the being in front of the camera stuff. Then I reached out to Nato Green and Matt Lieb, both of whom I've known for years, and asked them to help me write. Alejandro Morales and Rachel Adams came on after that.
As for how often? We're going to do it once a month. We are currently booked for November 19th and December 17th. We haven't booked January yet.
While filming Young, Broke, & Beautiful, which cities did you find were the cheapest to travel in? 
For Young, Broke & Beautiful we shot in New Orleans, San Diego, Memphis, Boston, Baltimore and Detroit. Pretty much all of the cities were cheap besides San Diego and Boston. The best part of the show was that we really got deep underneath the skin of each city and got to expose the weird and wonderful. Because of that, each episode was like a love letter to the city, even places that need more love letters like Baltimore and Detroit.
How did you become a travel writer?
I just decided to be one. I started making Broke-Ass Stuart's Guide to Living Cheaply in San Francisco as a zine 10 years ago. People liked that and I got it in the hands of Suki Gear who was at Lonely Planet at the time. She liked it too, so I tried out for them and then I passed.
I spent early 2006 in Ireland writing for Lonely Planet. I'm the kind of person who, once I decide to do something, I do everything in my power to make it happen. I'm absolutely an insane person, just ask anyone who has dated me.
The city has felt major changes and price increases in the 10 years since you wrote Broke-Ass Stuart's Guide to Living Cheaply in San Francisco. Do most of your favorite haunts still hold up?
The city has changed so much! A lot of places have disappeared (remember No Name Sushi!?) and it's a bummer. I'm dismayed by how many classic SF institutions are closing and then fancy cocktail bars are opening in their stead.
Like, do we really need another fancy fucking cocktail bar? I heard that a peepshow themed cocktail bar is gonna open where the Lusty Lady used to be. I mean, how ridiculous is that? That epitomizes what's going on in SF.
People don't really want the grittiness and the realness that goes along with the creation of art and underground culture. They just want the implied essence of it, without any of the messy complications that go along with what it took to make the shit. Does that make sense? I guess all I'm saying is that if a peepshow themed cocktail place does actually open up in the old Lusty Lady space, I'm totally entitled to publicly jerk off there.
That totally makes sense, and I did read about the peepshow themed cocktail bar taking over the old Lusty Lady space. It seems like a lot of these old spots are being replaced by Disneyland rip offs of what they were before. Which places in SF still hold strong for you? 
There are so many wonderful SF institutions and I'm excited that SF Heritage created the SF Legacy program to help make it harder for these places to disappear. For me personally, Specs, Vesuvio, and many of the other old-school bars in North Beach are the most special. Both Spec's and Vesuvio allow you to feel like you've traveled back in time to an era when people cared more about A-R-T and less about IPOs.
What do you like most about living in San Francisco? 
That it has nurtured me and allowed me to achieve whatever successes I've been able to. Somehow San Francisco has made it possible for me to live this very bizarre lifestyle that I do, assuming of course that I'm still able to afford to live here.
Do you see a move to Oakland in your future? 
I'm gonna stay in SF for as long she'll have me. I mean, somebody has to keep making cool, non-app related, stuff in this city. We can't let Oakland, Portland and LA get all the wonderful talent. For real though, I've given my heart to this city. She keeps on breaking it but I'm a sucker for love. With that said, my landlord is trying to sell my building at the moment.
You've just released a new zine. What can readers expect? 
I'm so glad you asked about this. I'm really excited about the new zine. It's called Love Notes and Other Disasters and it's a 60-page collection of some of my more well known pieces (like "Living in SF Means" and "Why You Should Fuck a Writer") and some brand new stuff that's never been released before. Plus, it has art from talented locals like Wendy MacNaughton and Jon Stich.
It's been 10 years since I've done a zine and it's just really cool to be doing this kind of thing again. Other people seem to agree; I've already moved 100 copies in a week!
More details and ticket info for The Kinda Late Show with Broke-Ass Stuart.