Q&A: Capital Cities Return With 'Sky is Falling Down' Tour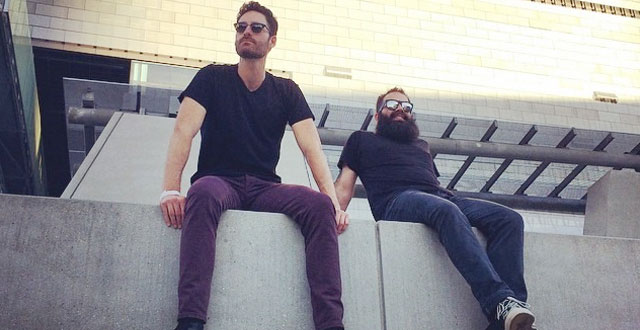 Los Angeles electro-pop outfit Capital Cities finish their "Sky is Falling Down" fall tour with four California shows beginning November 19 at Fox Theater.
The group was founded by Ryan Merchant and Sebu Simonian after the pair initially met on Craigslist to create jingles for TV commercials. After numerous fruitful sessions, they began to hone in on their own musical style, adding bass guitarist Manny Quinteror, Spencer Ludwig on trumpet, guitarist Nick Merwin and eventually drummer Channing Holmes.
The result was Capital Cities' debut hit single "Safe and Sound"—a track that was inescapable over the summer—and the group's first LA In A Tidal Wave Of Mystery. The band currently has plenty of favorable momentum after supporting the first U.S. leg of Katy Perry's "Prismatic" several high-profile festival gigs, including a dance-heavy set out Outside Lands.
We spoke to Ryan Merchant about the birth of Capital Cities, his favorite hangouts in San Francisco and what we can expect from new Capital Cities music in the future.
What was your original goal when you met Sebu on Craigslist in search of production services?
I was pursuing Craigslist because at the time I had written some songs and done a solo project. I was looking for a producer to help me bring my songs to life. At the time, my production skills were lacking. After already meeting with other producers, I randomly found this Craiglist ad link to Sebu's music from his band at the time. I thought the music was great, and he was a great producer and the songwriting was awesome.
We initially got together to work on two of my songs. During those collaborations, the workflow was really seamless and it was very easy to work on stuff. Soon after that I stumbled upon opportunities to do TV commercials. That's really where the chemistry blossomed and was also the birth of Capital Cities.
You spent three years making jingles for advertisements, but how did the band originally form?
We were pretty prolific during that period. We had these deadlines and were writing constantly every single day. We started writing songs together, coming up with cool stuff.
"Safe and Sound" was a special song. We knew that from the beginning. We developed it and started a band around it. While we were doing jingles, we started playing shows, promoting Capital Cities, and it took off.
Who are your biggest music influences?
I would say Michael Jackson is huge. David Bowie is a big one. Stevie Wonder, Jeff Buckley, Joni Mitchell and Jamiroquai are also a big ones for me.
You currently live in Los Angeles, but how do you have ties to San Francisco?
I grew up in San Francisco—my hometown. We moved all around the place. Right off of Fillmore Street at Fillmore and Bush, so Pacific Heights. I lived in Russian Hill for a while kind by Ghirardelli Square. Now my parents live in Pacific Heights.
When I was a kid I split time between San Francisco and Napa because my parents owned a business up there. I went to school in San Francisco and spent weekends up in Calistoga during the summer. I have a lot of ties to Calistoga.
Where are your favorite hangout spots in SF?
I left San Francisco basically when I went to college. I never really lived in San Francisco as an adult. I've been in LA for so long so, to be honest, my knowledge of San Francisco nightlife and culture is not what it used to be. It's not as much as other cities.
There are a lot of great restaurants in the Mission. Probably somewhere like the Italian family style restaurant on Divisadero near Nopa. I would probably hit up the restaurant scene. San Francisco has great restaurants.
What has been the craziest show of the year so far?
Well, Outside Lands was pretty insane as far as festivals. We played that show at the end of our Katy Perry tour. We had come off this arena tour for audiences that weren't there to see us. Then we went to Outside Lands there was a bunch of people that knew our music. That was a memorable one.
We did a run of festivals in South America in March playing in Chile, Argentina, Brazil and Colombia. When we went down there to play these festivals, we really didn't know how big our music had become and how big "Safe and Sound" had become in these countries. When we played our first show in Santiago, we played "Kangaroo Court," which was more an underground hit, but people just went crazy.
Can you share any funny moments from touring with Katy Perry?
On a tour of that magnitude, there's so much demand on her on a nightly basis. She put on a two-hour show, so she's pretty much off doing her own thing. We went on a bike ride once. We didn't really interact with her that much, although there were a couple times. She's really sweet, really nice and really down to earth.
Our first show on her tour, we were so nervous because we had this new lighting setup that we hadn't tested before and we weren't sure if it was going to work. We had this whole intro planned for the show and we came on stage at the wrong time and the monitoring didn't work. That was in front 12,000 people. Soon afterwards, we tweaked our intro.
It was very nerve-wracking in the beginning, but we got over it by the end. We're now completely desensitized from playing for nearly 15,000 people every night.
Your show at Outside Lands included some heavy dance remixes. Do you see Capital Cities pursuing a more electronic style on new material rather than indie pop or alternative rock?
Well, we are investing in visuals. For this tour, we have a very cool lightning setup that is very synchronized. That's kind of a big step up from what we were doing before. I see us going more live, with a mix with live music and dance music.
When we released the album, it was very much programmed. We were using synths, kicks, samples and drums. There's a few songs that have live tones, but pretty much most of the songs were electronic. We want to incorporate live bass and live guitar.
For our sound, I want to make it more about a live band rather than fancy beats. Obviously it will still have a lot of analog and synthesizers mixed it. It'll be more of a hybrid. We would probably focus more on the live side.
We definitely won't eliminate the trumpet sound anytime soon. Spencer just got a trombone that he has been learning and actually incorporating into live show, so we might have a little more trombone.