Interview: Delta Spirit Make Third Trip to The Fillmore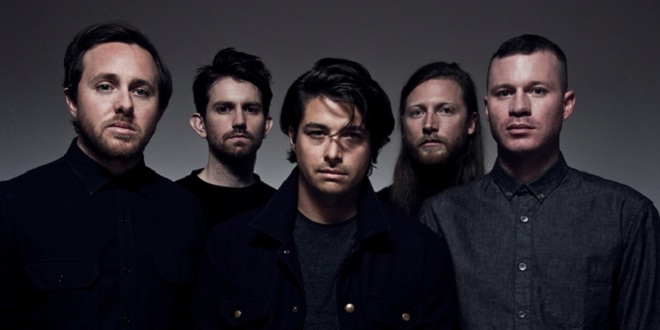 With roots in San Diego and Orange County, five-piece indie rock group Delta Spirit celebrate the September release of their fourth album, Into the Wide, playing one of five upcoming California shows at The Fillmore on October 25.
Anchored by harmonica and piano since 2005, Delta Spirit recently substituted those foundational Americana instruments on their latest record for more electronic gear, including keyboard and synthesizer.
Delta Spirit also has an extensive history in San Francisco, having played twice previously at The Fillmore in 2012 and 2010, as well as Café Du Nord in 2011 and Bottom of the Hill back in 2009.
Bassist Jon Jameson, who founded Delta Spirit with drummer Brandon Young, is supported by guitarist and lead vocalist Matt Vasquez, multi-instrumentalist Kelly Winrich and guitarist Will McLaren. We asked Jameson what the band enjoys most about San Francisco, why they moved away from California and the impact of Hurricane Sandy destroying their newly built home studio.
Delta Spirit has five California live show dates scheduled on your current tour. Is that a trend the band expects to keep and what do you enjoy most about San Francisco?
We sure hope so. We love California. There is so much good food in San Francisco!
You are known for intense live shows, who are the band's major musical influences ?
Too many to name, but we love music that comes to life live. That's what we strive for.
http://youtu.be/NYKIfMZs23M
The title of your 2010 album, History From Below, was inspired by historian and author Howard Zinn. What about Zinn did the band intend to acknowledge?
I guess it is mainly the idea of looking at things from a new perspective; not taking things as given to you by the powers that be, but looking a little deeper at what we take for granted.
Why did Delta Spirit decide to shake things up in 2012 by moving from San Diego to Brooklyn?
Well, we lived in Long Beach for three years and then decided to try something new. Will [McLaren] already lived there and we had a ton of other friends in New York City. It's a wonderful place to live.
Why did the band move again recently to Austin, Texas? How has that transition been and are you all settled yet?
Only Matt, our singer, is in Austin. Two of us are in Brooklyn still and the other two in California. We are the nation's local band.
Did the emotional misfortune of Hurricane Sandy destroying your newly built studio in Brooklyn's Greenpoint neighborhood have an impact on the band's perspective and ultimately your recent style?
Sandy was crazy. We missed a lot of it cause we were on tour, but there was six feet of toxic water whirl-pooling in our space and a lot of gear was lost. Between that and the extreme summer and winter the album seems to reflect that in its dynamics. The lyrics also have a feeling of yearning for nature and escape.
What was unique about Delta Spirit's approach on Into the Wide compared to your 2012 self-titled predecessor?
Having Ben Allen produce really brought the sonics to the next level and helped us to avoid the brotherly quarrels that we easily get into.