Chef Michael Chiarello's Coqueta Finds a Waterfront Home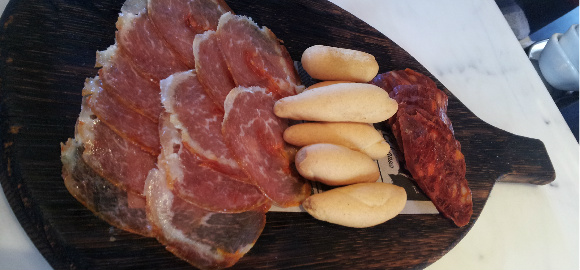 Restaurant life on The Embarcadero has never been more exciting – Charles Phan opened Hard Water recently and Loretta Keller has two new spots at the Exploratorium. And right in between the two is Michael Chiarello's first venture into San Francisco, Coqueta.
Chiarello said he has been looking for a space in San Francisco for a few years now and "schooled himself on the neighborhoods." With his highly successful Bottega in Yountville, he knew that the space had to fit his vision for the restaurant. And he thinks he's found that very space at Pier 5. "When the space presented itself to us, there were a lot of reasons I thought it fit what we were looking for. It's an exciting and up and coming area – with the America's Cup this summer, the Exploratorium down the street, just being in and around the waterfront. The foot traffic, whether its business people after work, those visiting the Ferry Building or just tourists in general," Chiarello said. "It's a lot different from say the Financial District, which is really busy during the week, but quiet on weekends. And in all honesty, opening a new restaurant had a lot to do with the rebound in the economy and the fact that, especially here in San Francisco, tourists are traveling more and more."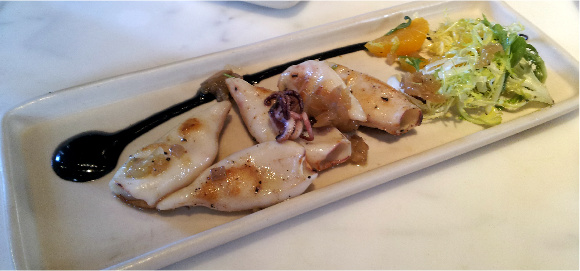 Coqueta is split into two spaces – the bar area with a communal table and seats along the wall with views of the Bay, and the dining room, which seats about 45, plus a chef's counter in front of the open kitchen that seats 10. Although I have never traveled to Spain, the interior and feel of Coqueta reminds me of a restaurant in a small Spanish town or village, with a very homey feel, but also meant to be a gathering place for colleagues and friends after work. While some were surprised that Chef Chiarello went with a Spanish-themed restaurant, what he calls his "mid-life crisis," it really has been something in the works for awhile now. "We actually had the idea for the restaurant well before we even had the space. I've traveled to Spain for a number of years now and to me, it's really like the new Italy. I think a lot of the flavors are the same. The style of eating and the generosity of the community in Spain really stands out to me and that's what we want to bring to San Francisco with Coqueta," he said. It also helps that his eldest daughter now lives in Barcelona.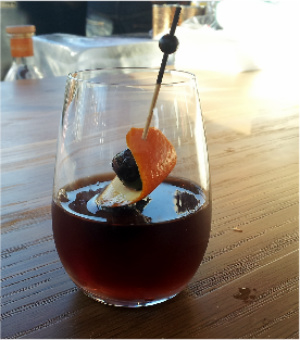 The menu at Coqueta is a joint effort between Chiarello and Chef de Cuisine Ryan McIlwraith and really brings that feeling of community with it. Plates are meant to be shared and passed around the table, from the house-cured meats to the pintxos that come around throughout the evening. Chiarello said that Coqueta will focus on many classic Spanish dishes throughout the different seasons, but will also have plenty of room for changes and tweaks as well. "Getting customer feedback is important and even getting feedback from our staff. Getting a sense of what is working and what isn't on the menu; I think we'll be able to adjust rapidly enough. We obviously want to be a market-driven restaurant, but customer-driven as well." The wine and spirits programs are also truly unique – cocktails have a Spanish sensibility to them, although there are also several plays on classics. And the wine program is heavily focused on Spanish and California wines.
Despite his success in Napa, Chiarello understands the differences in entering the San Francisco food-driven culture, but said he's more than up for the challenge. If the packed house during the first month is any indication, he's got another winner on his hands. Coqueta is located at Pier 5 on The Embarcadero and is now open for both lunch and dinner seven days a week.