Christopher Thompson Continues Evolution of A16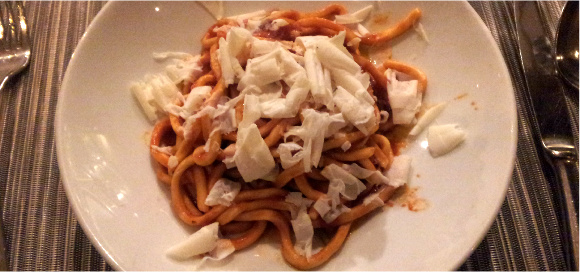 Walk down busy Chestnut Street on any weeknight and one thing is almost always for certain – A16 will have a packed house. Since opening its doors a little more than nine years ago, the Italian restaurant has dished out authentic cuisine to the masses.
Chef Christopher Thompson took the reins of the kitchen last May and has expanded on the restaurant's success – in his own style. "I am revisiting the classics, but tailoring it to my design and liking. We continue to work on sourcing ingredients and building and nurturing the relationships we have developed with our purveyors," Thompson said. "I think it's really important to celebrate the strengths of these farms and accentuate their products."
It's been a busy year for Thompson, who took two trips to Italy and also visited the A16 location in Japan. "When visiting Italy, I think my respect for Italian food increased tenfold. There is just a certain dedication to their craft. There is a real connection between the area, the people that live in that area and how they come to develop their own style. Getting to see the olive oil producers and the wineries where we get many items on our list from, touring these sites and seeing the differences from one sub-area to another was truly amazing." He said while in Japan, it was more of "a check-up" with their kitchen, as the two sides exchanged ideas , saw how each kitchen worked and made sure they were on the same page.
Although much of Thompson's first year has been spent getting things organized and implementing his own system in the kitchen, he has also brought changes to the menu as well, with more of a nod to butchering animal's in house and improving the salumi/charcuterie program. And with each passing season, Thompson takes a fresh approach. "I want to look at each season with a new set of eyes. How am I going to approach, say in the spring, items like spring onions and green garlic this year? I don't want to redo the same dishes we had last year. I think that becomes stale for both my team in the kitchen and for guests as well. So early on in the season, I'll get a sample of a product from one of our purveyors and use that as the prototype for what we're creating," he said. "Dishes aren't perfected in one try; they evolve as the season goes along. I think we are constantly trying to improve and stay current with our menu."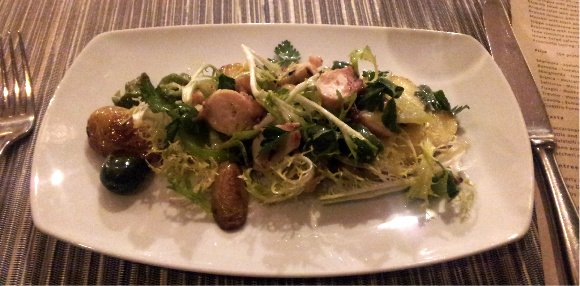 While Thompson does admit there are certain dishes that will never come off the menu (the maccaronara and burrata and crostini for example), he said the restaurant has never been busier, meaning he and his staff can't rest on their laurels.  And sitting at the chef's counter recently, it's easy to see that the team as Thompson said is "just working on doing everything better" and continuing to evolve as a restaurant.  Here are a few recipes that are not currently on the menu (although the rabbit dish should be appearing shortly).
Ceci Flour Tagliarini with Braised Rabbit Sugo
Ceci Tagliarini
Ingredients:
7 lbs Pasta Flour
4 lbs Ceci Flour
4 Each Whole Eggs
2-2.25 L water
1 T salt
Technique:
• Dissolve salt in luke-warm water. Whisk in egg and add to mixer.
• Add both flours and mix for 10 minutes. Check dough consistency at 5 minutes. Adjust if necessary.
Rabbit Sugo
Ingredients:
12 Rabbits (Legs removed and set aside for separate use.) Arms and saddle salted overnight.
3 Red Onions
3 Fennel Bulbs
10 cloves garlic
1 bunch rosemary
2T black pepper
1 Lg. Bottle White wine (1.5L)
2 gl. Rabbit brodo
1 can cherry tomatoes (drained of their packing liquid)
Technique:
• Roast rabbit in wood fired oven. Cool and transfer to hotel pan of adequate size for braising.
• Sweat onion, fennel, garlic and rosemary.
• Deglaze white wine. Reduce by half and add tomato and brodo. Bring to a simmer and pour over roasted rabbits.
• Braise, covered in 350 degree oven for at least one hour or until the meat easily pulls away from the bone.
• Cool rabbits in liquid. Pick rabbit meat and fold back into the braising liquid.
• Season.
Swordfish Ragu with Paccheri
Ingredients:
1K diced swordfish
5 each diced red onion
2 each diced fennel
15 each smashed garlic cloves
1 Large can cherry tomatoes or 4 pints fresh
200ml. white wine
3 bunches of chopped fresh parsley
1T dry oregano
180g sliced caper berries
1/2 C olive oil
Technique:
1. Season the swordfish liberally with salt.
2. Heat a large rondeau with half of the oilve oil and sear off the swordfish getting some color but not much. Set aside.
3. Heat the other half of the olive oil and lightly sweat the onion, garlic, fennel and parsley. cook 10 minutes.
4. Deglaze pan with white wine and reduce by half.
5. Add the oregano, caper berries, and cherry tomato and bring to a simmer.
6. Incorporate the swordfish and check final seasoning.
Use Neopolitan dried pasta like Faella or Granoro preferably one from Gragnano or a domestic bronze extruded pasta. For this dish I like paccheri.
A16 is located at 2355 Chestnut Street (between Scott and Divisadero).  And East Bay fans, a second Bay Area location is coming to Oakland's Rockridge neighborhood later this year as well.