In the Kitchen with Chef Robin Song of Hog & Rocks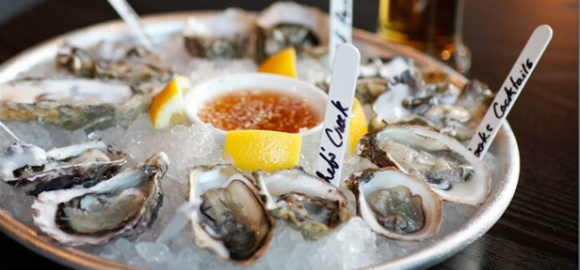 Spending time in the kitchens at Haven and Plum in Oakland, Chef Robin Song worked on his craft and some of the fine dining techniques seen at both restaurants. And now, he's bringing that repertoire to the more casual Hog & Rocks in San Francisco.
"I want to keep some of the traditional dishes that have been on the menu. I don't want the restaurant to lose the feel that it has," Song said. "But I also want to perfect those dishes, along with bringing in some other items to the menu. I'm looking at it as more contemporary bar cuisine , a lot of traditional flavors in different methods."
Hog & Rocks is not entirely changing its philosophy and menu but Chef Song, with the blessing of owner Scott Youkilis, is adding little bits and pieces to the menu for guests. "When I came in, my first thought was, if it's not broken, don't fix it. I knew the profile of the restaurant and what regulars have come to expect. But I also didn't want to let go of the technique-based style of cooking I had used at Plum and Haven and throughout my career, as that was important to me. I think the best way to describe it is we're trying to redevelop things on the menu, just small tweaks here and there, maybe add an ingredient or fine-tune part of the process in bringing the dish together."
Among those changes is a new group dining option called "The Feast," which offers guests a chance to share several different items, in a family-style group setting. Available for groups of six or more, the menu features four courses for $45/person and an optional boozy punch component for an additional $55/person.
Although Song is pushing forward with seasonal menus, he said those menus will rarely change within each season. "I think the menu will remain fairly stable. We'll just work on perfecting dishes and as we get later into each season, we'll swap out some components with some of the late bloomers of that season. We're also constantly looking forward to the next season, what ingredients will be available, what dishes might fill out the menu."
Song said that he is using Hog & Rocks "Specials Board" to test dishes out and see how they play with diners. "It's a good test drive of sorts for me, to figure out exactly what types of things might work and what probably won't play as well on our menu. It's given me a better opportunity to see the restaurant from the eyes of our guests and what they expect, their likes and dislikes."
Known for its terrific bar program, Song is also working on creating dishes that either pair well with items on the cocktail list or even going so far as to implement spirits into some of his food. "I've found the botanicals of gin work well with food, maybe even adding brandy to a dish. I think as we move further along, the relationship between the bar program and restaurant menu will become more and more seamless."
Like many chefs, Song said he's constantly thinking of that next dish (or dishes). He said moving forward, he would hope for Hog & Rocks to be an example of what is becoming "contemporary bar cuisine."
Here is the recipe for one of the signature dishes at Hog & Rocks, the Chicken Liver Mousse: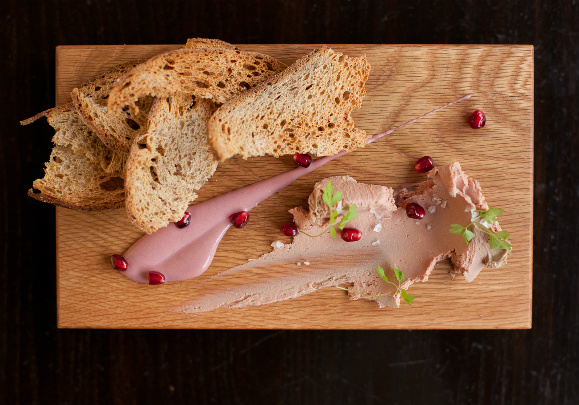 Chicken Liver Mousse
Ingredients
8 oz livers cleaned
1/2 C cream
1 stick of butter
50g shallots
20g celery
5g garlic
100g cream
36g port
2g pink salt
4G kosher
Pinch maldon salt or any nice sea salt
Directions
Start by soaking livers in 1/4c of the cream for 4hrs, preferably overnight.  The next morning, drain the livers well and give it a rinse in water. Pat dry onto paper towels. In a large, hot saute pan start with 1/3 of the butter and saute livers with salt and pink salt, you want to cook these 'til just firm. Than remove the livers and add vegetables. Turn the heat down to a low simmer and cook 'til soft.  Once softened, add the port and reduce 'til alcohol is removed. Than add remaining cream and reduce by half. Pour all contents in a blender
with the livers and while the blender is on, slowly add knobs of the remaining cold butter to emulsify.
Hog & Rocks is located at 3431 19th Street in San Francisco.
Photo Credit: Molly DeCourdreaux