Hog & Rocks Late Night Pop-up Brings Korean Classics to the Mission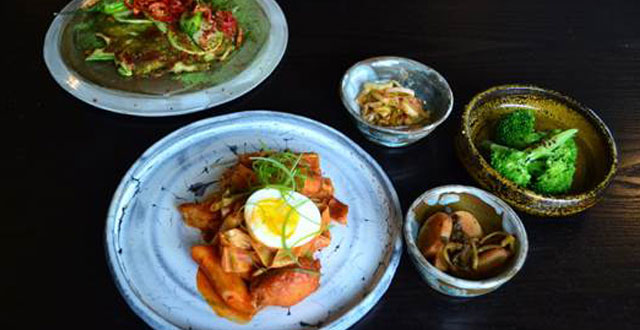 Hog & Rock's in the Mission is offering a special late night pop-up menu with authentic South Korean food starting this week with Chef Robin Song.
Every Thursday starting Sept. 18 through Oct. 16 , Chef Song's menu will be available from 10pm to 1am at Hog & Rocks.
The menu is inspired by South Korean street food drawing from Korean classics with a focus on local ingredients. All of the food from the late night pop-up menu will be served on plates that Chef Song made himself. When he's not in the kitchen he's an avid ceramist.
ALSO SEE: In the Kitchen with Chef Robin Song of Hog & Rocks
Song's pop-up menu:
Kimchi $5
seasonal fermented vegetables 
Namul $5
assortment of seasonal marinated vegetables 
Tofu Salad $10
silken tofu, mizuna, scallion, sesame
Zucchini Pancake $9
soy, peppers, cress 
Pork Belly Wraps $12
slow cooked pork belly, daikon kimchi, butter lettuce 
Kimchi Stew $9
kimchi, tofu, slow egg 
Spicy Pan Fried Rice Cake $12
fish cake, yuba, fermented chili
Spicy Black Cod Stew 16
braised daikon, soy, chili 
Bibimbap $15
namul, smoked egg, beef/spicy pork/veggie 
Crispy Half Chicken $18
pickled daikon, sea salt
White Rice/Multi Grain Rice $3
Sweet Rice Cake $5
peanut, cinnamon, summer pear 
Patbingsoo $7
milk ice, red bean, strawberry, mochi, perilla