DJ Q&A: subOctave & Blondie K of FRINGE
DJ subOctave and Blondie K started their popular indie music video dance party FRINGE at Madrone Art Bar 2 years ago. Before they celebrate the anniversary this Saturday, we chatted about how it all began and what a large part technology has played.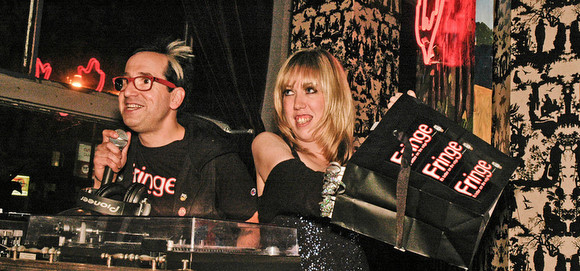 Two years ago Fringe got it's start. Tell me a little about it's beginnings.
Blondie K: Chris and I really wanted to DJ and also video DJ but it's really difficult to get your foot in the door unless someone has actually seen you DJ. We decided to get our own night to get our start.
subOctave: We went to the usual places to try and get a night including Madrone and initially got a Wednesday night where our closest friends showed up.
BK: They actually let us install a second video screen in the bar since we wanted one on the dancefloor. Madrone really loved the party and started giving us more and more great nights like the night before Thanksgiving and stuff like that and then we moved to third Saturdays.
So you were video DJing before Fringe?
BK: Chris (DJ subOctave) developed this video DJing software so we were working out the kinks of that before using it.
sO: I used to develop software for music applications for Apple and had a project to mix video and put in facts and other things, making DJing more visual. I had been developing a new way to DJ and my thoughts for the night originally were to have a good platform to try this stuff out on. This was my first opportunity to use it in front of others.
BK: We are actually the only people using the video DJing software but it's great, when guest DJs come through they learn it so quick since they are already so familiar with DJing software in general.
Do you make your own videos too?
BK: Over time we started to really like a lot of songs' remixes and want things to be in sync on the video as it is on the dance floor. There is quite a bit of prep work we do to get the videos ready.
sO: When it comes down to it, if we really want a song, we'll make a video. We'll take video of concert footage and cut that together and try to make it sync up with the music we are playing. We edit videos but try not to make videos that have nothing to do with the actual music. There are a lot of fan videos that are sometimes better quality than the band could actually make and we use them. It's a pet peeve of mine when DJs are playing videos with their music that have nothing to do with the music.
BK: Especially when it doesn't match up with the beat, that feels wrong when you're dancing.
sO: Your brain doesn't like to hear one rhythm and see another rhythm. It's actually uncomfortable and doesn't help get people into a groove.
Since you're video DJing, does that mean you both DJ at the same time or can one person run it all?
BK: The videos and music are prepared and in sync so we can DJ like any other DJ. The videos are matched up automatically. We'll do our own sets and go back and forth all night.
sO: The reason for that is so that one of us can interact with the people in the crowd at the event and hang out and talk to everyone. It's really nice to have a team so we can be closer to the crowd and not just in the booth looking down on the evening, we become a part of it as well.
You do Electric Feel on first Thursdays at the Lookout. How did that branch off of Fringe and how are the parties different?
BK: They actually approached us because they had heard about Fringe and wanted to bring Indie music into the bar. People who show up at Electric Feel have a real love for the music and really want to be there, plus we get great guest DJs to spin the party.
There isn't a huge difference in the music played during the events but Fringe gets much more crowded. The Castro is more about bar hopping and the Lookout is a hangout.
What do you guys do when you're not DJing these parties?
sO: I'm doing a music program startup for the Ipad and mobile devices, like what we use when we DJ.
BK: I DJ a lot of other events, and we're working on another version of Fringe at DNA Lounge which is a much bigger venue.
Anything crazy to expect for the 2 year anniversary party?
BK: We're doing a Two Door Cinema Club ticket giveaway for the concert at the Warfield. We'll also have special videos and buttons and our photographer Sadie taking photos and might also take some video to use later.
The 2 year anniversary of Fringe will be held this Saturday, July 16 at Madrone Art Bar.