NOLA Bounce Arrives in SF With Big Freedia
While bounce music may be vaguely heard outside of New Orleans, Big Freedia is about to change that while taking the world by storm with her vibrant energy and personable charm. She'll be hitting San Francisco this Thursday with a live performance at Public Works that is certain to turn the dance floor upside down.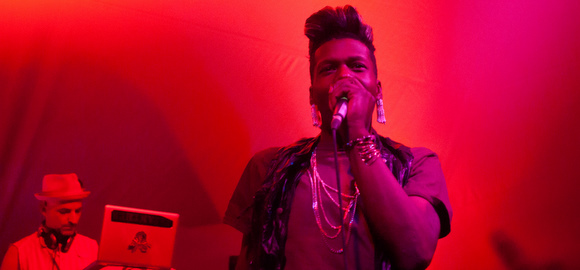 Every city has it's own local style of music to play in the clubs and where the Bay Area has the remenants of hyphy, New Orleans has bounce music, a quick, sampled beat with repeated raps or shouts overtop, often featuring call and response style. Big Freedia, part of the sub-genre "sissy bounce" that refers to gay or transgender artists, performs wild live shows often lasting only a handful of songs while taking the club by storm. Female crowd members surround Freedia while she leads the dance floor to literally shake their booties in the air while singing her sexually-charged lyrics and ordering the men to stay back. Take a look at the style in the recently released video for her song "Y'all Get Back Now."
You can hear small doses of it in the occasional Southern rap song, but if bounce music itself goes mainstream, Freedia is definitely the person to make it happen. She has a vibrant personal style that draws your attention and keeps it with her winning attitude and determination to entertain. Big Freedia performs alongside DJ Rusty Lazer as Public Works. Read some excerpts from a recent conversation with her.
Big Freedia on…
getting pumped up for her shows
"As long as there's people there, the vibes are good, and music is sounding okay, I'm amped already just going there."
what cities or events are the wildest
"The last thing was SXSW, the music festival in Austin — really crazy, lots of people, lots of shows, so it was a great time. The shows in New Orleans are crazy all the time because basically the whole club is doing what I command them to do. All the girls are feeling it and they're drunk and super excited. That happens a lot in New Orleans."
how she first met her manager and DJ Rusty Lazer
"He had been looking for me. We met at a second line — a parade in New Orleans that happens every weekend — and I was the queen of the parade. He came and met me while I was riding on the queen's car."
bounce music breaking through to the mainstream
"Just be looking for the new stuff that's coming. We're definitely going more mainstream now, trying to make me international. It's still going to have a bounce feel but it will cross over and have some different hip hop and some pop elements."
her personal style
"I generally have my own style; I just try to be me at the end of the day no matter what but I also try to look unique and come up with different ideas. I'm a decorator, so I'm inspired but a lot of colors and looks and people around me and the scene. I get all of that and collaborate and create my own illusion out of all of that."
what to look for in 2011
"I have a tremendous amount of shows about to happen. I'm going overseas a lot this year. The LP has been released. A new video is coming soon. Working on my third album to be released in 2012. A lot is going on and we're working hard to make that international crossover. My staff and I are working crazy overtime."
Big Freedia performs at Public Works on April 7th. Tickets are $7 in advance. Doors open at 9pm.