Outside Lands Festival Survival Guide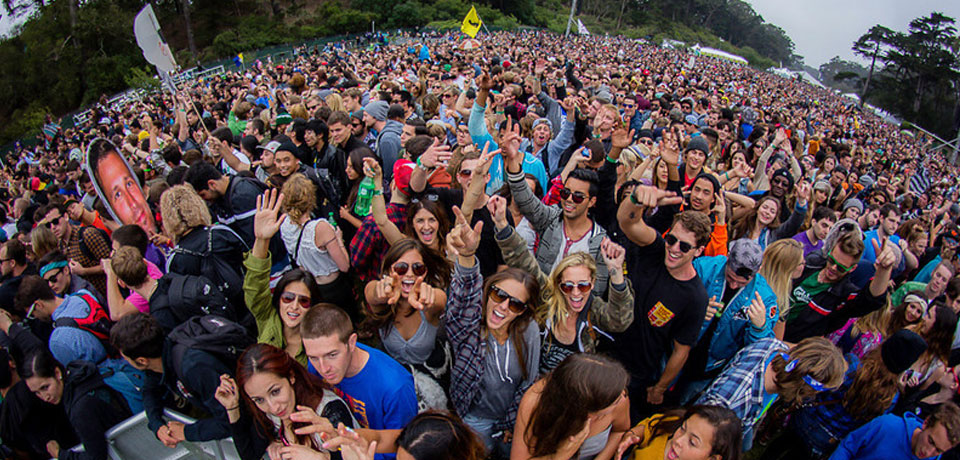 Outside Lands Music Festival returns August 8th – 10th at Golden Gate Park for three more days of music, food and other entertainment with Kanye West, Tom Petty and the Killers headlining. With six stages and 60,000 people attending the sold-out festival each day, it can be a little daunting for beginners not familiar with the festival landscape. Here are a few tips ensure its an epic Outside Lands weekend.
Find a New 'Favorite' Band
Most people are familiar with the headliners (Kanye West, Tom Petty and the Killers this year) but Outside Lands also consistently hosts great under-the-radar bands on its smaller stages. It's a great opportunity to check out a variety of new bands that you normally wouldn't pay to see, and it often makes for much-needed break from the big crowds that crowd stages for larger acts. Look for playlists and artist profiles online to get familiar with new bands.
Plan a Loose Schedule and Set Meeting Points
With bands on six stages throughout the day, there are bound to be some schedule conflicts. Figure out which bands you want to check out before the festival (there's an app for that) and factor in the amount of time it will take to traverse from stage to stage. Also, cell phone reception can be spotty. Find a central meeting point to reconnect with wayward friends who get lost in the mix.
Hang With the Ladies
Outside Lands has a particularly strong lineup of female-fronted bands this year, including LA rockers Haime and Warpaint, electro pop from Chvches and roots rock from Jenny Lewis.
Dress in Layers
Golden Gate Park has its own unique microclimate. A sunny and mild day downtown or in the Mission can turn into a day-long fog fest at Golden Gate Park. It's not uncommon for festival-goers to dust off their winter gear for chilly and moist nighttime weather. Even if it's foggy, sunscreen is a good idea.
Find a Ride
Getting in and out of Outside Lands can be a nightmare. There are extra busses going to and from Outside Lands at peak times, but expect lines and crowded buses (leave the festival early if you want to avoid this). Cabs are scarce, but they can be found circling nearby the festival, and rideshare apps like Uber will likely have a long wait. There is bike parking at the festival and a safe route mostly away from traffic heading east through Golden Gate Park and the Panhandle until Divisadero Street. Forget about driving and parking nearby after noon. The festival shuttle to and from downtown, is our preferred option for a low-hassle ride.
Bring an Appetite
Outside Lands does a great job curating local restaurants, vendors. Explore the food booths for offerings from some of San Francisco's best eateries. We recommend sharing with friends to try more dishes. Also, new for this year, Outside Lands is introducing GastroMagic with celebrity chefs and a new stage with Duck Sauce, Holy Ghost! and Big Freedia.
Drink Good Beer and Wine
In addition to great food, Outside Lands offers a variety of microbrews at Beer Lands and several wines at Wine Lands—perfect for those looking to refresh their palate with drinks beyond the standard 3-4 options at most festival drink stations.
Dance in the Dome, Laugh in the Tent
Dance music fans can escape into the Heineken Dome for a full lineup of DJs throughout the festival. The Barbary Tent, featuring some of the biggest names in comedy, is another great escape for those looking to take a break from the music.
Keep the Party Going
Check local listings for official and unofficial Outside Lands night shows and after parties. Tickets for intimate concerts at the Independent with Death Cab for Cutie and the Killers sold out quickly, but there is plenty of action at other San Francisco venues for those looking to keep the party going all night.
Stay Hydrated
Outside Lands is an endurance test. With beer and wine flowing freely and constant movement from stage to stage, it's easy to forget about water. Stay hydrated to avoid crashing before the night is through.
Expect the Unexpected
Good or bad, there are always surprises at Outside Lands. Lineup changes happen and things break but there are also unexpected side shows, musicians hanging out in the crowd and random acts of weirdness. A highlight in previous years was Jack White's unannounced performance in the trees before his set.