Fireworks Displays in the SF Bay Area for Fourth of July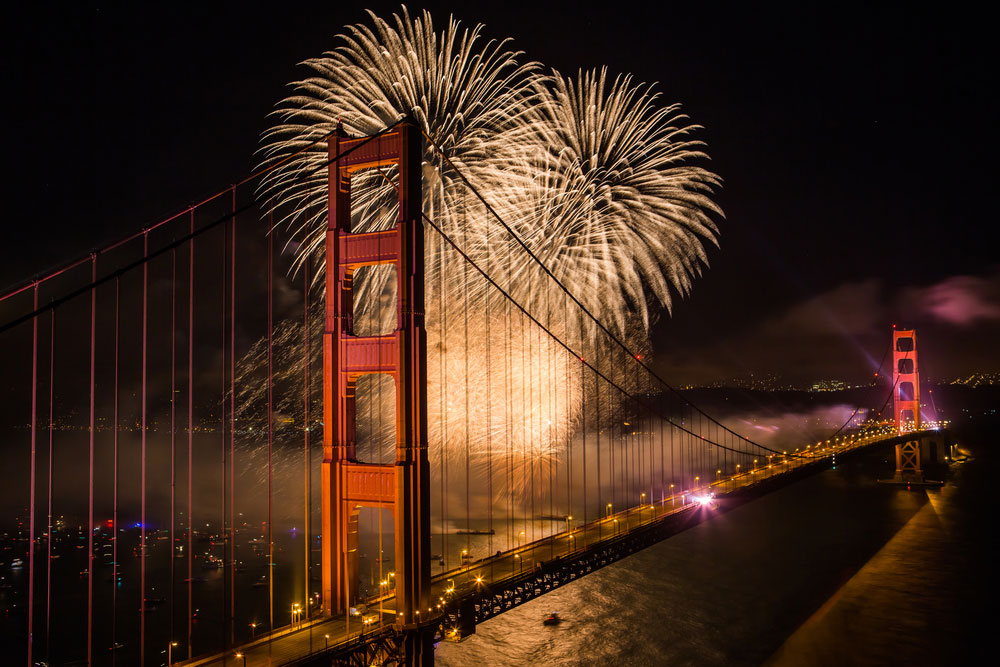 With the Fourth of July falling on a Thursday this year, Independence Day 2019 begins the weekend one day early. Here is a guide to some of the best family-friendly events and fireworks celebrations in the Bay Area.
For more events celebrating Independence Day, please visit our calendar.
Fireworks Views in SF
SAN FRANCISCO
To view fireworks and avoid big crowds along the Embarcadero or Fisherman's Warf, there are plenty of easily accessible spots to take in the fireworks displays. Ideal vistas points are Bernal Heights Hill, Mount Davidson, Corona Heights Park, Tank Hill, Ina Coolbrith Park and Twin Peaks. The peaks don't offer an up-close view, but they offer a fun nighttime adventure.
Pier 39
SAN FRANCISCO
Big crowds head to Pier 39 for the Fourth of July waterfront celebration. Family activities and live music are planned throughout the day before a prime fireworks display over San Francisco Bay. Festivities start at noon and end around 9:30pm, when the fireworks show begins. Live music at 12pm including local 80s party band Tainted Love at 5pm. Fireworks start around 9:30pm.
Fourth of July at Shoreline
SOUTH BAY – MOUNTAIN VIEW
An annual Fourth of July tradition, the 4th of July Fireworks Spectacular with the San Francisco Symphony returns to Shoreline. This year's program includes Bernstein, Copland, Williams and more.
Marin County Fair and Fireworks
NORTH BAY – SAN RAFAEL
The 2016 edition of the Marin County Fair features five nights of fireworks and another solid lineup of performers, including The Wallflowers, Kool and the Gang, Sheila E, Plain White T's and Foreigner. The fair is open from 11am-11pm, featuring carnival rides, arts and crafts, farm animals, horse shows, a petting zoo, science exhibits and music. Fireworks are shot from three barges over a lagoon on each night of the fair.
Red White and Beats
SAN FRANCISCO
Drink, dance, and party in your flyest red white and blue attire as you cruise alongside a breathtaking skyline. What could be better than an all inclusive, premium open bar, dance party with front row seats to the fireworks and expansive views of the bay?
Red and White Fleet Fireworks Cruise
SAN FRANCISCO
With four cruise departures from Pier 43 ½ on July 4, Red and White Fleet takes visitors on a brief cruise of San Francisco Bay before securing an ideal viewing spot to see the fireworks over San Francisco Bay. The first two ships leave at 7:45pm, and another pair departs at 8:15pm. Tickets are $85.
USS Hornet Fourth of July
EAST BAY – ALAMEDA
Hangout on the flight deck of a military ship on July 4 with live music, games, prizes and a bounce house for kids. Tours of the famous aircraft carrier take place throughout the day. Fireworks from other Bay Area events can be viewed on deck at night. The event runs 1pm to 10pm. Tickets are priced $15 – $25, free for children under 5 are free with paying adult.
Berkeley Marina Fourth of July
EAST BAY
University Avenue in Berkeley hosts live entertainment, arts and crafts vendors, carnival rides and dragon boat rides. It goes from noon to 10pm. Fireworks begin at 9:30 pm.
Hornblower 4th of July Cruises
SAN FRANCISCO & EAST BAY
All cruises include open bars and the evening cruises include dinner and a front row seats to the San Francisco Fireworks Show!
The IndepenDANCE Family Fireworks Cruise
SAN FRANCISCO
Bring the entire gang along for an amazingly enjoyable event. Take in the biggest fireworks show on the West Coast, includes an open bar for the adults, a live DJ for all to enjoy, and a delicious full dinner buffet for all attendees and their families.
Napa County Fair and Fireworks
NORTH BAY – CALISTOGA
Independence Day festivities arrive at the Napa County Fair with live music, entertainers, competitions, rides, and end with a fireworks celebration. There is a parade in Downtown Calistoga at 11am.
Fourth of July in Sausalito
NORTH BAY
Sausalito features a full day of 4th of July celebrations. Festivities begin at 10am with a parade at Second and Main Street. The parade route will wind along Bridgeway and Caledonia and end with a town picnic at Dunphy Park at noon. The celebration moves over to Gabrielson Park at 6:30pm with live entertainment and a fireworks display over the San Francisco Bay at 9:20pm.
Fireworks Cruise on USS Potomac
EAST BAY – JACK LONDON SQUARE
Cruise on Franklin Roosevelt's "Floating White House", the USS Potomac to Fireworks locations along San Francisco Bay.
Fourth of July in Jack London Square
EAST BAY
A carnival setting takes over Jack London square with bubble wrangler, jugglers, magicians, magicians, festival dancers, Dr. Solar's Traveling Medicine Man Show and more. Activities include bicycle and kayak rentals, live music and tasty eats. This is a day time family activity ending at 4pm – no fireworks.
Top Image Credit: fireworks image from Shutterstock