SFMTA Makes Additional Reductions to Muni Service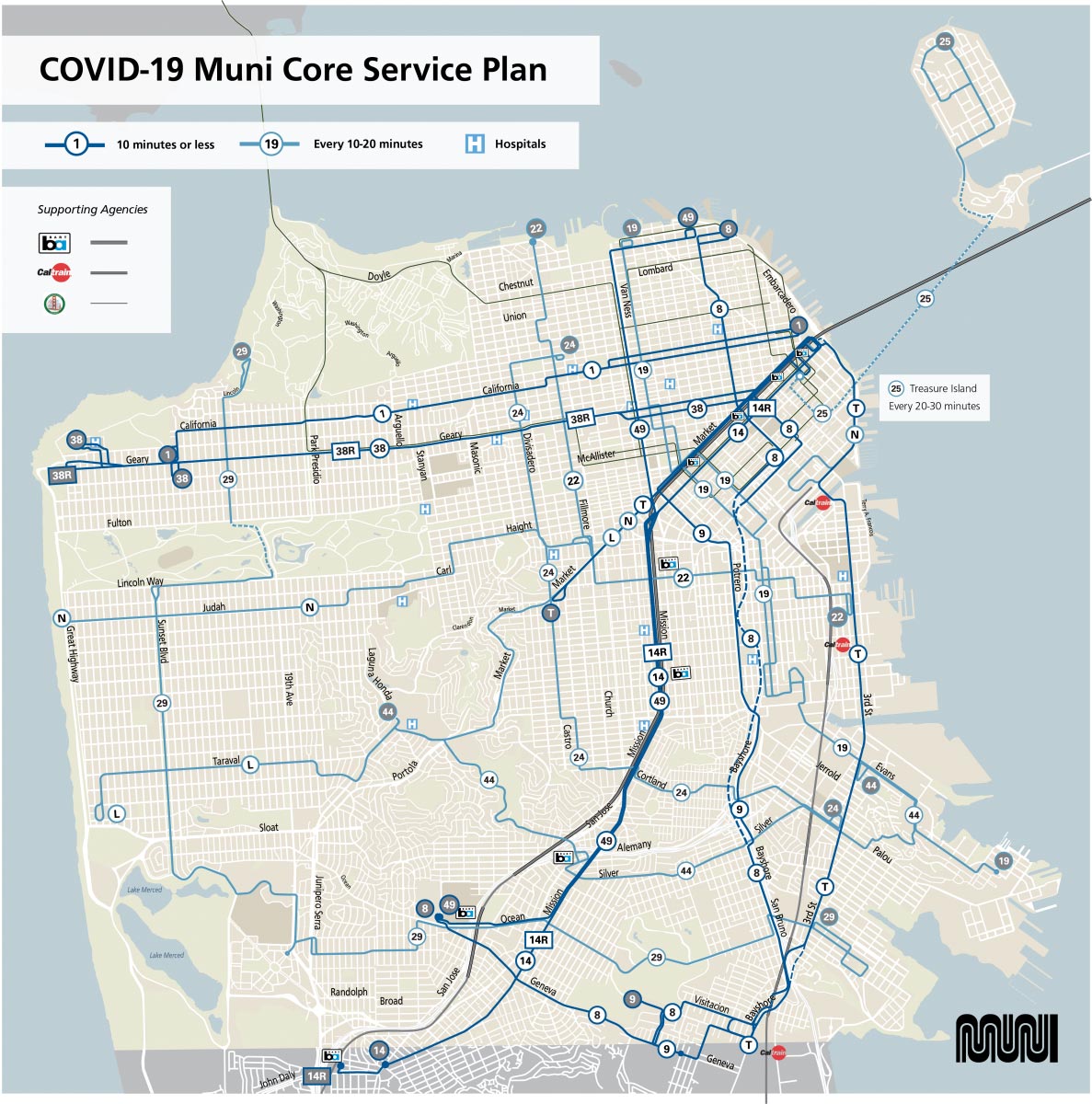 With falling ridership and dangers to drivers increasing, SFMTA has announced a series of moves that it hopes will correctly balance the essential needs of San Franciscans, like nurses, cooks, custodians, and others who rely on MUNI. Commuters who usually ride a bus line that's getting cut will notice immediately and will have to plan accordingly.
These lines are bringing back some service:
Starting this Saturday, 4/25, the 5, 12, 28, & 54 will be back in service with modified routes. Weekend 38R svc will return. The 9, 714, L Bus, and N Bus will have headway frequency modifications.
www.sfmta.com/blog/muni-updates-restoring-some-our-service
To address the needs of older adults and those with a disability, the SFMTA is announcing the Essential Trip Card (ETC) to help older adults and people with disabilities pay for essential trips in taxis. We are thankful that taxis have stepped up to serve this critical need.
www.sfmta.com/blog/essential-trip-card-helping-older-adults-and-people-disabilities-navigate-reduced-muni-service
Here are the 17 core routes that will remain active:
* N Judah Bus
* L Taraval Bus
* T Third Bus
* 1 California
* 8 Bayshore
* 9 San Bruno (passes SF General)
* 14 Mission / 14R Mission Rapid
* 19 Polk
* 22 Fillmore
* 24 Divisadero
* 25 Treasure Island
* 29 Sunset
* 38 Geary / 38R Geary Rapid
* 44 O'Shaughnessy
* 49 Van Ness/Mission
Muni Prepares to Deliver Essential Trips Only
Our priority is to be fully transparent with the community. Our goal is to restore normal service as quickly as possible. However, in the interim, we will prioritize our available resources based on connections to medical facilities, Muni's Equity Strategy, and data from customer travel patterns we've observed during the COVID-19 shelter-in-place order. In order to maintain frequency, and sufficient social distance on these services, we will continue to operate 17 routes, while temporarily eliminating services on others.

More details on the exact service plan will be available soon, so stay tuned and thank you for your patience as we all get through this difficult time together.