Where Families Can Get Free Breakfast, Lunch and Supper in San Francisco During School Closures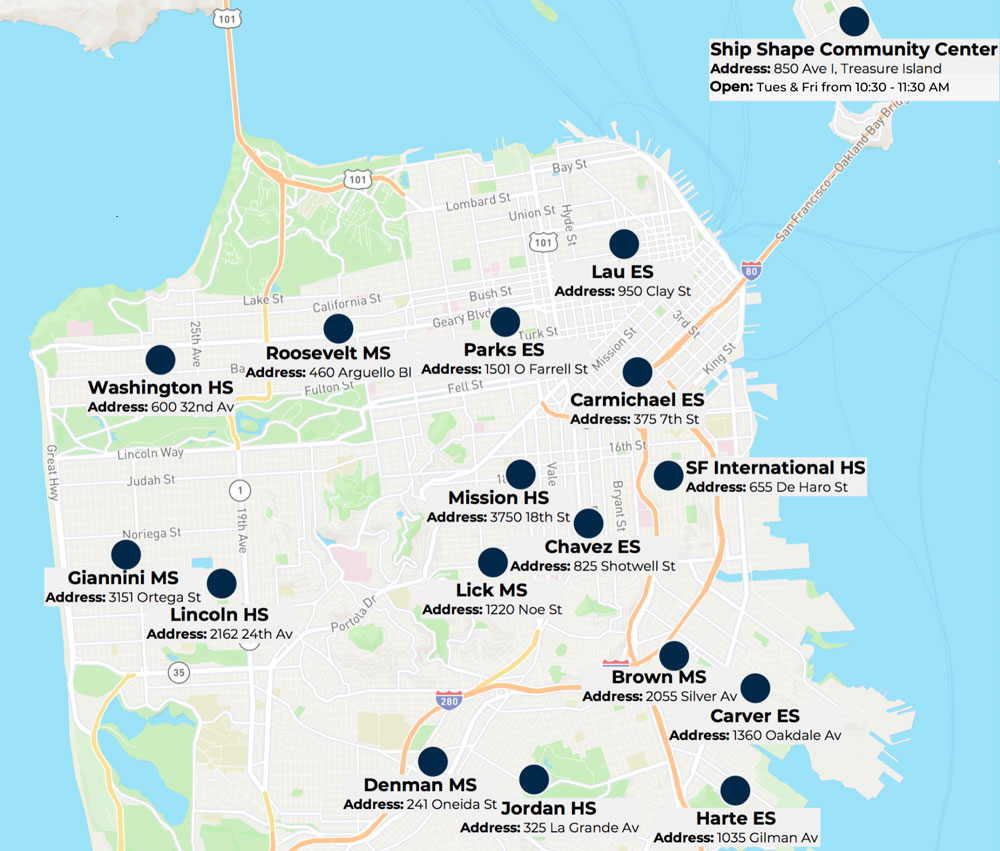 Today Mayor London Breed announced the San Francisco Unified School District is offering free meals to be served at several locations around San Francisco for families with children while schools remain closed (May 1st).
No identification or proof of school enrollment is required, but a child must be present. Breakfast, lunch, supper, fresh fruit, vegetables and milk will be provided to take home. Shelf-stable meals will also be available. Families will not need to enter the school building for pick-up.
Beginning Monday, March 30, we will be open two days per week but continue to provide five days worth of food. This new schedule reduces the number of days families need to leave home for pick-up but the amount of food each child will receive remains the same.
Download flyer version of map, follow updates here.
Some local restaurants have mentioned on our their social channels that they will also offer meals to families in need. So far that list includes 1608 Bistro on Bush Street but if you know of others please let us know.
Update: Breed also announced today that the Main Public Library and 37 Rec and Park buildings will operate as emergency care facilities for children of parents on the front lines of the coronavirus outbreak AND low-income families.
Both agencies will suspend regular indoor programming effective Friday, March 13 at 6 p.m. Parents on the front line include San Francisco-based hospital staff, Department of Public Health employees, and activated Disaster Service Workers. more info
SF Public Library: We will close to the public at the end of business today thru March 31. During this time, we will help support the child care needs of low income families and parents on the front line of the COVID-19 outbreak. Thanks for your patience and understanding. We're in this together!
Have more information? Send us a tip!
Free Grab and Go Meal Sites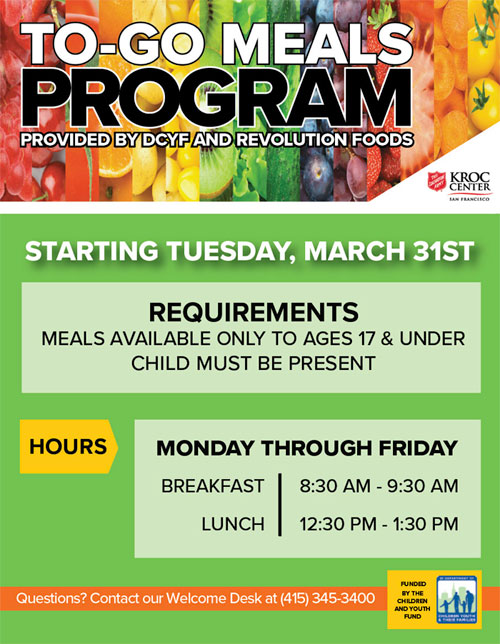 South San Francisco Unified School District is also offering free meals for children at the following schools: El Camino High School, South San Francisco High School, Parkway Middle School, Westborough Middle School. Meals will be available Monday through Friday, March 16 – April 3rd Full details here