SF Coffee Festival Highlights Roasters and Samples of Their Creations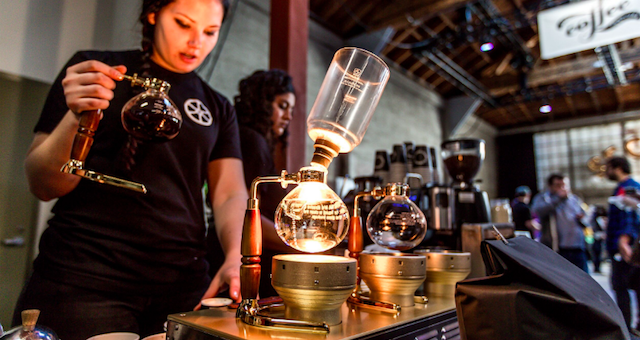 This November, the San Francisco Coffee Festival brews up an impressive lineup of local coffee roasters and performers to officially kick off SF Coffee Week. For the first time this year, the two-day festival will take place at the sprawling indoor Festival Pavilion at Fort Mason. Expect to meet unique bean purveyors, such as local icons Ritual Coffee Roasters and Red Bay Coffee, who serve up specialty offerings that can't be found anywhere else.
"As one of the leading coffee roasting companies in the South Bay, we are super stoked to to part of SF Coffee Fest to share our values and increase women representation in the coffee scene," notes Mariana Faerron, CEO of Tico Coffee Roasters.
Attendees can fuel up with more than a couple expresso shots and sample snacks from eateries like Third Culture Bakery and Cochinita. There will also be coffee-related speaker panels, art exhibits and stages with live entertainment, like Spooky Mansion and The Turnouts.
"We are thrilled with how 2019's San Francisco Coffee Festival is coming together," mentioned Craft Hospitality founder Sam Gelin, in an event press release. "It's power to bring diverse groups of people together under a common culture and community. Coffee is a catalyst for world peace, right?" said Karla Gutierrez, one of the festival's event producers.
The festival has enjoyed a steady rise in fandom, like the slow trickle of a single-cup pour over. Since its launch in 2016, coffee has moved on to small-batch roasters, adopting an interest in the origin and craft. This "third wave" is a movement that goes beyond sustainability, ethical farm practices, or where a coffee bean is grown, it's the craft person's expertise that allows different roasters to highlight subtle taste profiles; all in pursuit of that flawless cup of joe – coffee, for coffee's sake.
In her frequently referenced book, Wrecking Ball Coffee Roasters, author Trish R. Skeie once wrote, "The third wave is, in many ways, a reaction. It is just as much a reply to bad coffee as it is a movement toward good coffee."
"There's a story behind every cup and who better to tell it than the roasters themselves."
~~~~~~~~

San Francisco Coffee Festival
Saturday, November 2nd & Sunday, November 3rd, 9am – 4:30pm
at Fort Mason Center for Arts & Culture – Festival Pavilion, in San Francisco
Photo Credit: Image used on SF Station Homepage by NordWood Themes on Unsplash