Native Cat Recordings – Why Jenny Gillespie Mason Founded a Feminist Label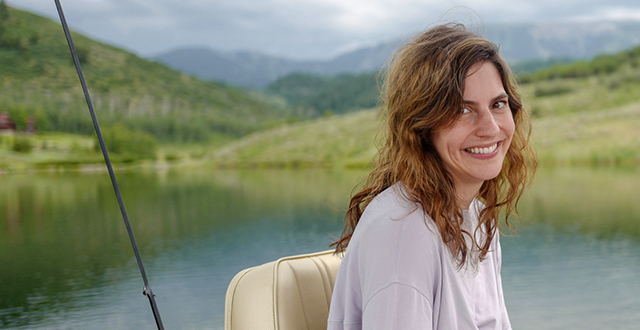 "It's so wonderful to be able to offer the gift of a home for these artists that are so incredible."
After years of putting out her own records, Jenny Gillespie Mason did what a lot of us are too afraid to do: she started a record label. In 2010 the label began as Narooma Records, and in 2018 that was reborn as Native Cat.
The little label has had a big year. It's only June and in addition to several singles, they're busting out almost one album per month. In April, we got our hands on John Vanderslice's The Cedars, in May we heard Red Steppes' Arcs, and in June we'll see both Meernaa's Heart Hunger and Brijean's Walkie Talkie. This impresses me because Native Cat is mostly operated by Mason herself.
I had the pleasure of sitting down with Mason, who is a musician herself, and has had her hand in multiple projects over the years, both as a highly-acclaimed solo act and, most recently, in the band Sis.
"What do you think is the most helpful way to support your artists?" I ask.
"For one thing, following them online; showing that they have people listening and supporting. And the other is a simple answer, but just coming to their shows and buying records and merch directly from the bands." She explains that in addition to the whole cutting-out-the-middleman bit, it's just easier on musicians who don't have the time or shall we say, savvy, to brand themselves and run a whole business based off their music. But that's where Native Cat comes in.
As with most labels, "[We] basically act as the liaison between the artists and the listeners, the venues, the artist relations… we just keeping things moving on time."
I have to say, she is all smiles and positivity. I mention this and she smiles again. "It's so wonderful to be able to offer the gift of a home for these artists that are so incredible. I can totally trust each artists' direction and creative collaboration… I like to be as hands off as I can be." Mason adds that she is a mother of two. My ears perk up.
"Do you find it difficult to be a woman in this industry, and especially a mother? I feel a lot of women start to have to choose between their art and their children; and have to make sacrifices regarding how to make creative time for themselves."
Mason says that she hasn't had too much trouble as a woman in the industry but she refers to Native Cat as a feminist label that produces music that is female positive. She adds, "As far as my creative time? I'm actually able to be a lot more focused and productive because I know that I'll have say, exactly two hours to get work done instead of four hours, or instead of just endless time… and I think that I play a supportive, nurturing role to the bands that has only gotten stronger as I've become a mom."
It's not hard to see the positivity and the creative collaboration flowing throughout each project. There's been a lot of overlap of the bands on the label. Rob Shelton (keys) of Meernaa often plays with John Vanderslice; Doug Stuart (bass) plays with Brijean and also plays with Meernaa; Andrew Maguire (percussion, glockenspiel) plays with Sis and Meernaa and the list goes on.
"I know most of your artists are based in Oakland," I say. "Any interest in signing folks from around the country?"
"Absolutely! I think down the road… we're always keeping an ear out for musicians who aren't signed yet who we feel we connect with." Moments later we hear a lovely folk lady's voice playing at the cafe where we met. She points up. "Who is this, do you know?" she asks. We pause and listen and I refuse to take out a gadget to figure out who it is.
"Well maybe this is a good transition," I say, pointing again to the speakers. "What kind of music are you keeping an eye out for?"
"There can be such beautiful healing through music, and so much of the music on this label is so transportive…" Artists on Native Cat range from folksy to jazzy disco infusions, to experimental to alternative rock and combinations of all of the above.
I asked if there's anything particularly inspiring she's reading at the moment. She smiles and says enthusiastically, "Yes! It's called How to Break Up With Your Phone and it's all about exactly that. Just disconnecting and feeling peaceful out in the world." We discuss how important it is to just let your mind relax, to take in your environment, and how important that process is for growth as a musician or any kind of artist. "But just anyone, not just creatives, of course," she adds with a smile.
For some relaxing musical adventures, check out every one of the artists on Native Cat. It's like discovering any good brand: if you enjoy one band, you'll probably love them all. Stay tuned for June's big releases and more on the way, later this summer.