Places to Watch the Golden State Warriors in the 2019 NBA Finals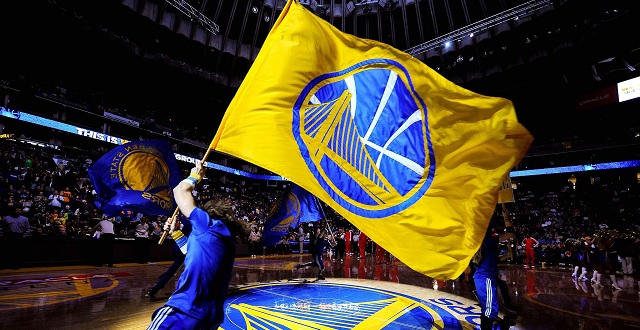 Improbably enough, the Golden State Warriors are back in the NBA Finals – again! In hindsight, it was foolish to doubt they'd be in this position; trying to three-peat and win a fourth championship in five years. But it's been a long season; feels like two or three seasons. Yet here we are DubNation, with our team four wins away from concluding another successful season!
There are countless places to watch the finals, so if you don't have a go-to spot, spend a little time to map it all out. Use the finals schedule and list of great bars below to find a place where you can watch the Warriors hopefully win another Larry O'Brien Championship Trophy.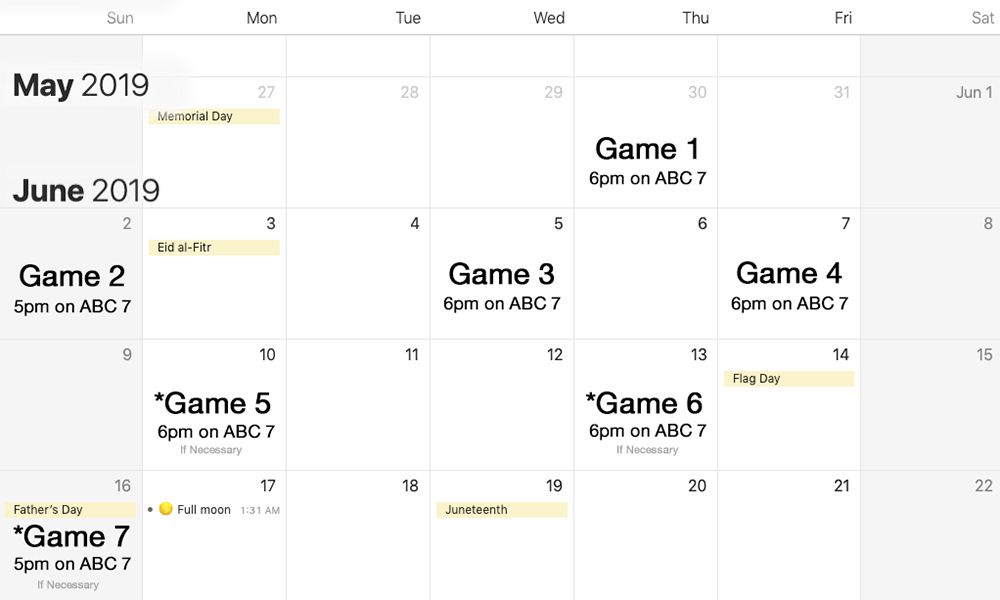 San Francisco
Nickies – 466 Haight Street (Lower Haight)
Pub grub and dance spot known as a great place for large groups. Open early on the weekends for those early games with $7 bottomless mimosas 10am-2pm. Food options range from Deviled eggs, hot wings, to The bacon jalapeno poppers and super solid nachos.
Emporium – 616 Divisadero
Get some coinage and go retro at the arcade bar while watching the game projected on their massive screen.
The Royal Exchange – 301 Sacramento Street (Downtown)
Pull up to the bar, TV's abound. The beer will be flowing and the food is surprisingly good. On weekdays, it will be crowded with people getting off work.
Ted's Sports Bar – 312 Harriet Street (SoMa)
Lots of booths for seating with prime viewing, along with a pool table in the back surrounded by flat screens. Tons of sports memorabilia on the walls from all the local teams. Cheap pitchers of beer, plus get down and dirty with the popular grilled, spicy and sweet chicken wings.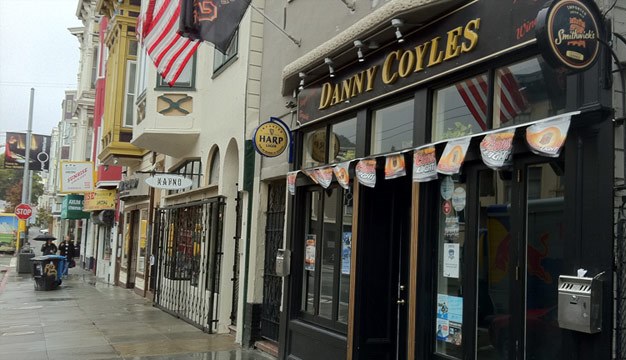 Danny Coyle's – 668 Haight Street (Lower Haight)
This place has many TVs and a huge projector in the back. It's pet-friendly and they allow patrons to bring food into the bar to eat while watching the games. The beer list is decent, plus a $6 shot of Jameson whiskey and Tecate deals are a flowin'.
Aces – 998 Sutter Street
Celebrate the ups and downs of the finals with a frozen irish coffee or uncover the mystery of the Kuku juice at this East Coast meets West Coast bar.
Valley Tavern – 4054 24th Street (Noe Valley)
Find standard booze selections and no-frills food items like fries, wings, and burgers. For sunny days, there's a big outdoor patio with plenty of TVs for watching games. This bar is super spacious with bar seating, booths and regular tables up in the back.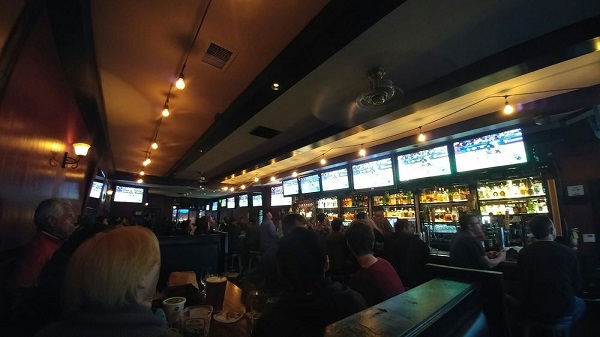 Blackthorn – 834 Irving Street (Inner Sunset)
Highlights include comfortable leather chairs, pool tables, lots of flat screen TVs above the bar area, and a hidden patio in the back. This is a fun place that can get loud in the evening—a great atmosphere to meet some fellow fans. No food served, bar snacks available.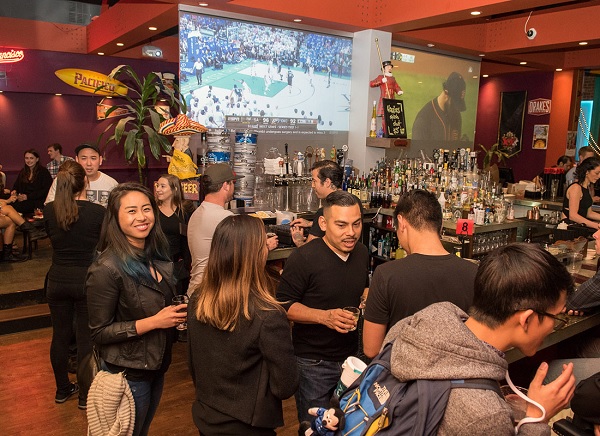 Golden Gate Tap Room
Golden Gate Tap Room & Grill – 449 Powell Street (Union Square)
Multi-floor space has giants televisions, pool tables, shuffleboard, skeeball, and arcade games. Bar bites include carne asada fries, pot stickers, truffle mac 'n cheese, and jalapeno poppers. Can get crowded, so best to arrive early if you want to snag a table.
The Lark Bar – 29 3rd Street (Downtown)
This small dive bar just reopened this year after being known as Dave's. The place has a casual vibe with high top tables with tall chairs and lots of bar stools. Classy and cheap drinks like a tequila mule, old fashion, and coffee-flavored cocktails.
Oakland
Oracle Arena Watch Parties (Oakland)
Come together with Dub Nation and watch the NBA Finals at Oracle while the Warriors are on the road. Games 1 (May 30th) and 2 (June 2nd) of the NBA Finals on the big screen, plus game night concessions and merchandise.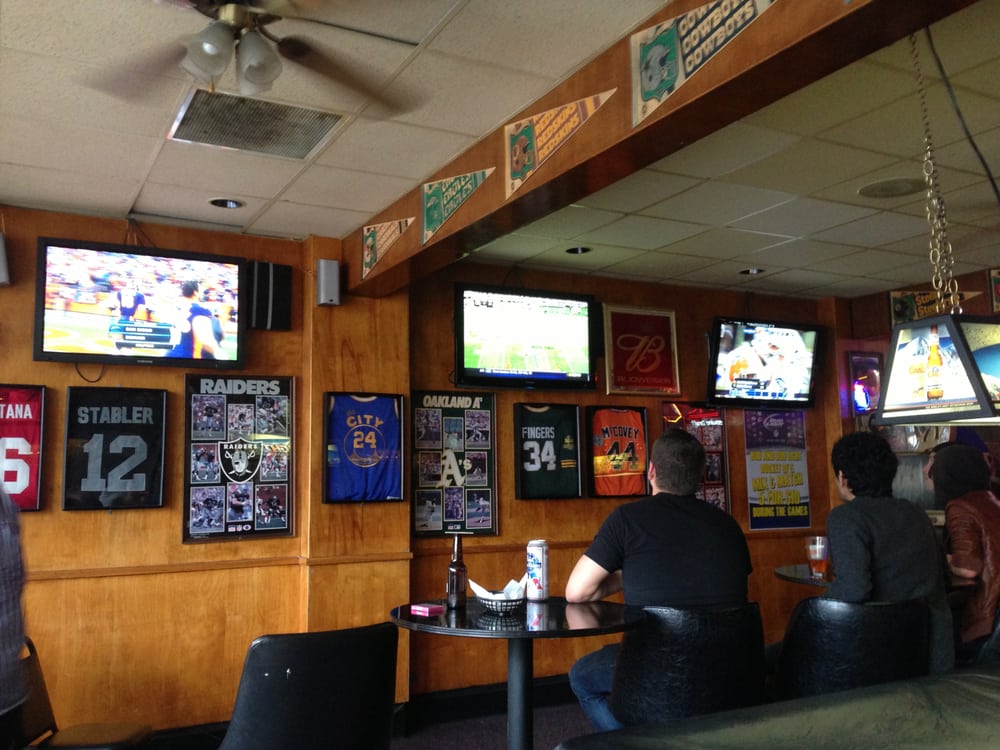 George & Walts – 5445 College Avenue (North Oakland)
This cash only, casual spot has two pool tables, a few arcade games, tons of seating, and TVs almost 360 degrees around. Plus reasonably priced drinks and food, including burgers, fries, and chicken wings.
Mad Oak Bar 'n' Yard – 135 12th Street
Tacos in the back room and the game projected on a brick wall outside will draw a lot of fans, as will the extensive list of beers on tap – get there early and rsvp ahead of time to guarantee entry.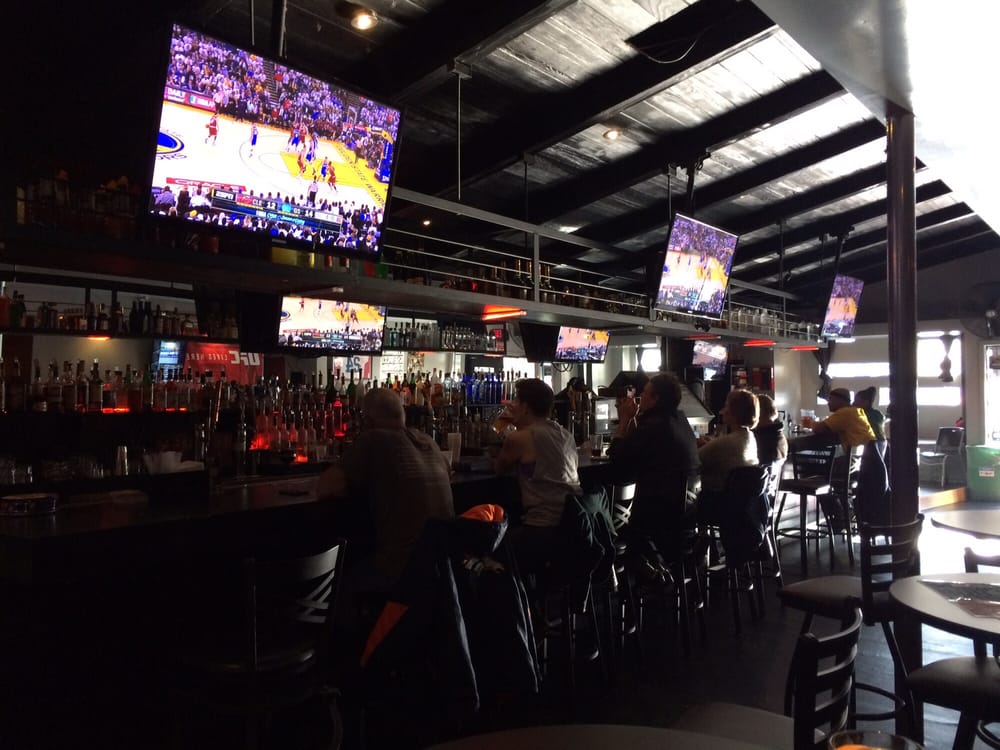 Halftime Sports Bar – 316 14th Street (Civic Center)
You can find lots of TVs and even board games to play at this downtown dig. There's also domino in full effect here, including chances to win some cash money. The atmosphere is also livened up with some DJ action during commercial breaks.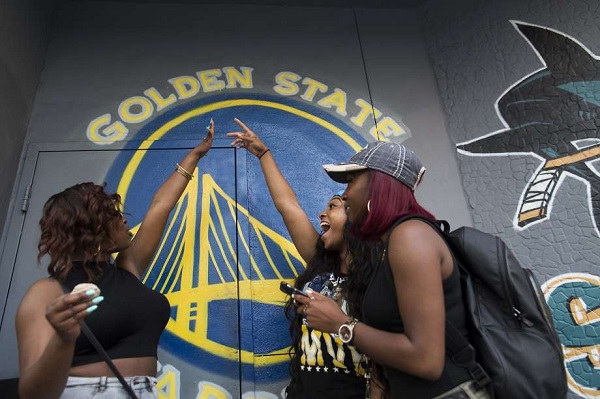 Halftime Sports Bar
Aisle 5 – 3320 Grand Avenue
One of the newer establishments in town, with lots of open space and a modern atmosphere. Tasty food options like wood-fired pizza, rack of ribs, and smoked brisket sandwich. Expansive beer selection on tap, including Berryessa and Fieldwork.
The Legionnaire Saloon – 2272 Telegraph Avenue
Multiple TVs, plus pinball machines, live music and occasional comedy nights. The no-nonsense late-night venue has two levels, with the ground floor functioning as a traditional sports bar vibe. Happy hour every day but Sunday from 4 til 8pm makes it a perfect spot for game day.
Peninsula & South Bay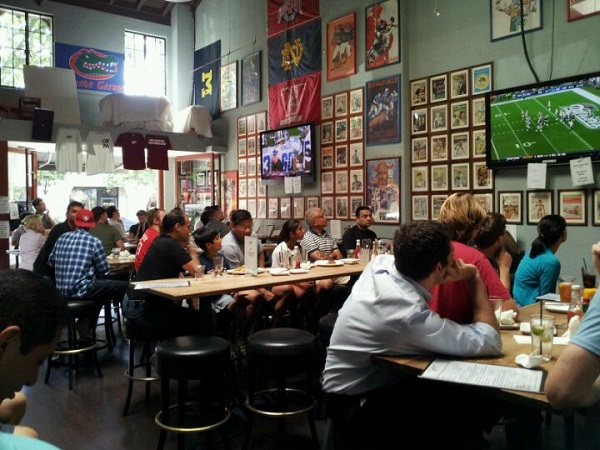 The Old Pro
The Old Pro – 541 Ramona Street (Palo Alto)
20 large TVs and lots of open space means this place can get packed in a hurry with a lively atmosphere for big games. Fun bar activities include beer towers, a mechanical bull, and happy hour specials. Loud location on the weekend and a solid late-night destination.
Doghouse Sports Lounge – 1336 N 1st Street (San Jose)
This spot might look a bit sketchy from the outside, but there's lots of fun going on inside, including free popcorn. Tons of TVs, serving cheap (and strong) drinks and a relaxing vibe. Also there's alternative entertainment such as air hockey, foosball, pool, darts, and a pinball machine.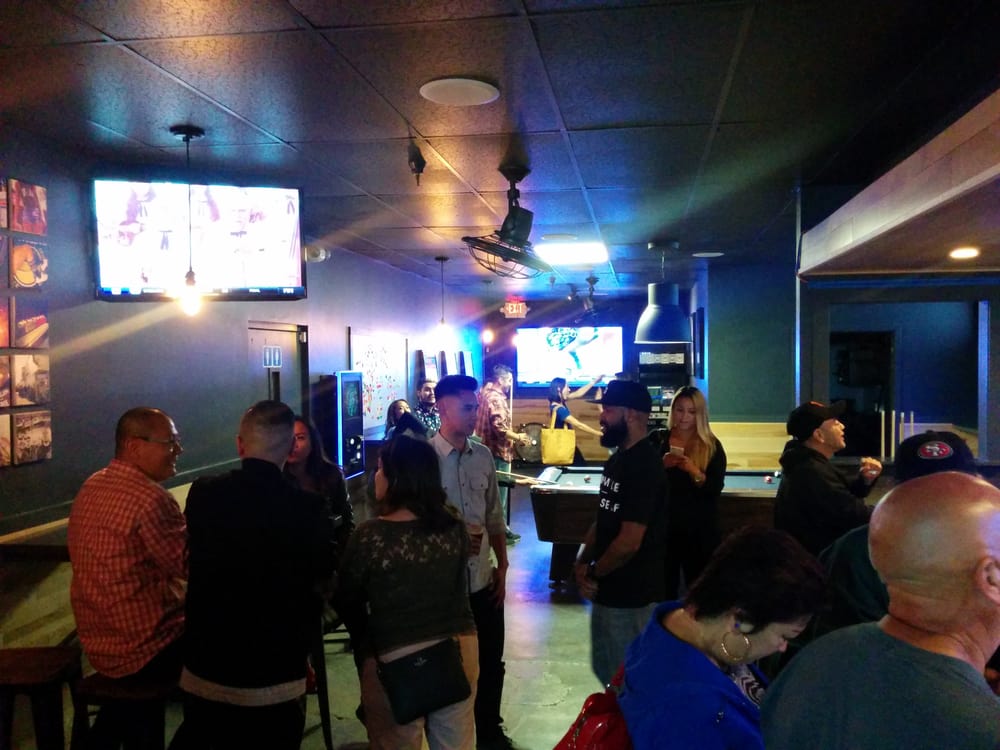 Hometown Heroes – 303 Grand Avenue (South San Francisco)
This bar makes for a good after-work happy hour. Giant TVs, a pool table, and even a Plinko game.
Last Stop Sports Bar and Lounge – 6192 Mission Street (Daly City)
This happy hour hot spot has solid and affordable booze and liquor selection. No kitchen means no food, but you can bring outside meals. Their DJs generally play hip hop jams during halftime – maybe this will be your big chance to bust out a move or two.
BarrelHouse – 305 California Drive (Burlingame)
Good vibes, dark wood interiors, and good service are what we think of when we think of this spot. Wine, cocktails, and beer are offered. Hang at the bar area upfront or chill in their small seating area. There are two TVs here, plus an outdoor area shared with a kitty corner pizza joint.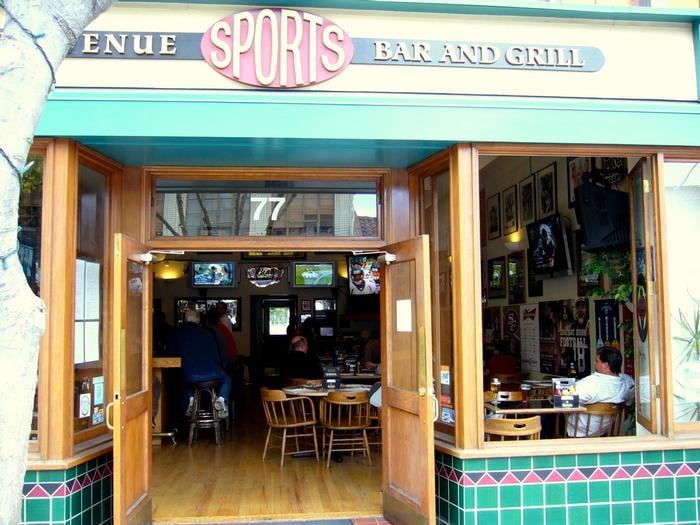 3rd Avenue Sports Bar – 77 E 3rd Avenue (San Mateo)
Solid beer selection, reasonably priced drinks, and 8 TV's. This place can seat a lot of people but can also get crowded on big game nights.
~~~~~~~~

Let's hope this amazing Warriors run ends with another celebration; doing it up one last time for The Town.
Feel free to share some of your favorite spots in the comments below.