Support Your Local Artists, One Selfie at a Time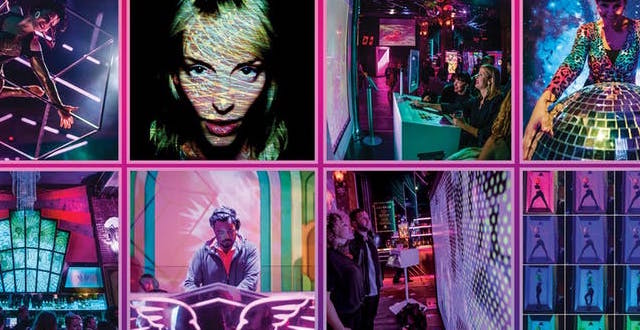 If you do a search for 'great SF Bay Area artists' it's sure to turn up a rabbit hole of results. Technology is funny like that. It can't always replace what you're sure to learn from hands-on experience.
From May 6th – May 9th, The Great Northern will be packed with immersive art for SNAPSHOT; the epitome of what it means to experience art. Each day is broken down into three sessions: one Happy Hour session (5pm – 7pm) and two nightly sessions (at 7pm and 9pm) with added performances.
Over four days SNAPSHOT will host over 40 different artists, including a photo booth for Celebrity Face Swap and a light reflective metal installation by Dominic Fontana.
Performances by the Golden Gate Dolls and Capacitor will bring mind-bending circus tricks, aerial artistry and theatrics.
Limited tickets are available for each session and events happen in 2 hour sessions so guests get ample time to experience all the installations. All of this complexity is intentional.
"One thing I was trying to do is let people play with whatever in the space, so, not have something that's off-limits" said Justin Young, founder of event company Musepop. "A lot of our stuff can be kind of dangerous for people who aren't trained on it."
Young started Musepop, which is hosting the first annual SNAPSHOT event, for very specific reasons. He used to exhibit his art and attend larger shows, but always felt there wasn't enough space to take in all that was there.
He also discovered people wanted to be more involved; they wanted to be captivated by what they were exposed to. They wanted to connect with art, not just be passive spectators.
"I think this generation wants something a little more exciting than just having to go around and go to art galleries and look at stuff that costs $25,000," said Young. "It's not like you go to a museum and you go straight to the walls, it's more like you're living it."
It's hard enough to get everyone into the same room, let alone interested in what's going on in there.
Viewing artwork happens through disparate channels these days. Social media has become a platform where one can freely exhibit their wares, and traditional gallery museums have gradually become a thing of the past.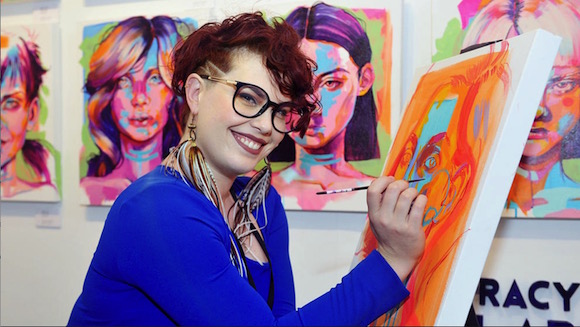 Artist Tracy Piper in the studio (photo courtesy of Rick Nocon)
These changes aren't necessarily a bad thing, Young reflects, since they have also helped cultivate a deeper fascination with participatory art. The Museum of Ice Cream and the Color Factory are crowning examples of this trend in action.
The only thing missing from that equation, he said, is the trickle down for the artists who make them possible.
"I see a lot of these kinds of things popping up," said Young. "All that stuff is done really well, but I wonder about what real impact that has on the local artist economy."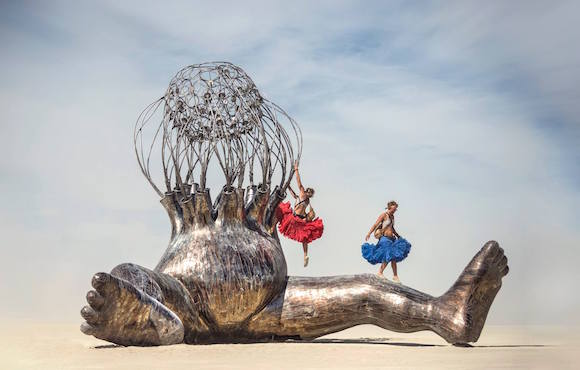 "Brainchild" by sculptor Michael Michael Christian (Photo by Cliff Baise)
SNAPSHOT is an attempt to create a space that's both affordable and fun, but also gives back to the community that builds it. Each artist is paid a stipend for their work and receives proceeds from the event.
It's not easy to put together a large, multi-faceted show that isn't the Fyre Festival. Even just finding a space to play in can prove trying. So, why not DIY in spaces that might also benefit from throwing this kind of party?
Musepop wants to help bring artists together, but also provide them with more locations in which to show their work. It's especially important in San Francisco where rents are soaring and alternative gallery spaces are losing out.
Block art by Ron Sandoval / RONDOVAL
"Spaces like nightclubs are really interesting places for artists, especially during the week, because they have so much infrastructure," Young said. "They have pre-built in lighting systems, they have great sound systems, they have all these toys that people want to play with — except they're closed."
Young crosses his fingers that the upcoming festival will garner a following that will help launch more events like this one going forward.
SNAPSHOT
Runs May 6th – May 9th
at the Great Northern, 119 Utah Street, San Francisco
Performances take place in the 7pm and 9pm sessions only. On Thursday May 9th, expect a special late night closing party that will run until 2am.
Tickets start at $25 and include a complimentary craft cocktail from Great Northern's award-winning mixologists.