Free Stern Grove Concerts are Back with The Isley Brothers, Toots & the Maytals, Mitski and More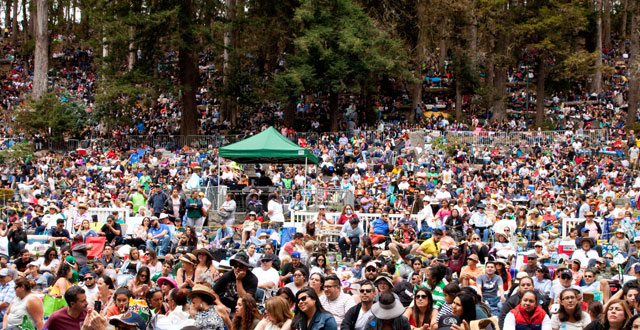 Stern Grove Festival, the free summer concert series held annually in Stern Grove, announced its full lineup for 2019, featuring Digable Planets, Toots & the Maytals, and the Psychedelic Furs, plus R&B legends the Isley Brothers concluding the festival at the "Big Picnic" benefit show.
Celebrating its 82nd run in 2019, the Stern Grove Festival is a series of free Sunday concerts held throughout the summer in Sigmund Stern Recreation Grove in the Sunset District of San Francisco. No tickets are required but admittance is on a first-come, first-served basis. Attendance can swell up to 10,000 for the most popular shows.
Rising stars like Mitski (whose album Be the Cowboy was ranked among the best albums of 2018) and other up-and-coming artists will also be performing at the festival. And, as in previous years, the San Francisco Symphony and San Francisco Ballet each have dedicated days to perform.
Every summer Stern Grove Festival presents a diverse range of musical styles, from reggae and latin music to classic soul and indie rock. Ziggy Marley, M. Ward, Thao & the Get Down Stay Down, Femi Kuti, the San Francisco Symphony, and the San Francisco Ballet performed at last year's festival.
In addition to live music, the festival hosts a variety of food trucks at concerts as well as free yoga classes at noon before the shows, offered by Office Yoga instructors in the West Meadow.
The full lineup for Stern Grove Festival 2019:
June 16th – Digable Planets, Bang Data
June 23rd – Los Van Van, Banda Sin Nombre
June 30th – Galactic, Baby & the Luvies
July 7th – San Francisco Symphony (Edwin Outwater, Conductor)
July 14th – Mitski, Madeline Kenney
July 21st – Toots & the Maytals, Lee Fields & the Expressions
July 28th – San Francisco Ballet (Helgi Tomasson, Artistic Director)
August 4th – The Psychedelic Furs, James
August 11th – Pink Martini, Barrio Manouche
August 18th – The Isley Brothers
Stern Grove Festival
Free concerts every Sunday at 2pm. Recommended to arrive 2-3 hours before to find a good seat.
Sigmund Stern Grove is located at 19th Ave and Sloat Blvd.