Lightning in a Bottle is on the Move in 2019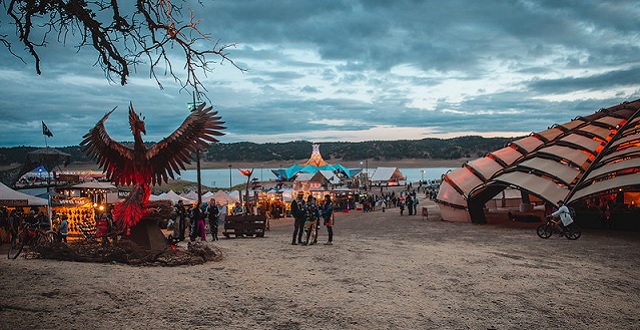 The annual Lightning in a Bottle (LIB) Music Festival is making a few big changes for 2019. The event will now take place two weeks earlier (May 8th – 13th) at a new outdoor venue, the Buena Vista Aquatic Recreation Area in the Central Valley, near Bakersfield – no more Lake San Antonio Recreation Area.
Hosted by live events promoter the Do LaB, LIB invites electronic musicians to perform across multiple stages for six consecutive days, all while reinforcing themes of wellness, sustainability, and creativity.
LIB 2019 tickets go on sale tomorrow, February 14th at 10am.
Four- and five-day wristbands are available to purchase, with a layaway option to divide the cost into payments. Vehicle Passes, Bus Passes, and Boutique Camping must be purchased separately in the main ticketing event. Tickets On Sale Saturday, Feb 16th, at 10am PST
February 15 Update: The phase one lineup has been announced, with Disclosure, Santigold, and a 3D live performance experience by Flying Lotus among the heavyweight electronic artists performing on the Lightning stage. See below for the list of artists for three of the six stages.
March 5 Update: The phase 2 lineup has been revealed (see updated poster below), which includes a bevy of artists performing at the remaining stages. Welcome additions include LA-based fusion outfit Ozomatli, future bass act Bishu, drum n' bass artist Jamal, and local SF resident O'Snap.
LIGHTNING STAGE
Disclosure
Flying Lotus
Big Gigantic
Santigold
Gramatik
Toro y Moi
Elohim
Masego
Khruangbin
Cautious Clay
Jan Blomvquist
Rising Appalachia
Channel Tres
Frameworks
ÌFÉ
WOOGIE STAGE
Dj Koze
Recondite
Lane 8
Bedouin
Luttrell
Rampue
Shiba San
Holmar
Escapade (W&R + Ardalan)
Nico Stojan
Damian Lazarus
OMNOM
Gorje & Izhevski
VNSSA
Doc Martin
Zach Walker
Ben Annand
Anton Tumas
Rachel Torro
THUNDER STAGE
The Polish Ambassador
G Jones
CloZee
Dimond Saints
SHADES
OPIUO
Soulection
1788-L
Spectrasoul
CharlestheFirst
Anna Morgan
Desert Dwellers
Manatee Commune
kLL sMTH
Jade Cicada
ill-esha
Axel Thesleff
Soohan
Mat the Alien
Megan Hamilton
Aabo?
PRSN
dela Moontribe
Over its history, LIB has seen numerous venues changes. It started back in 1999 in the Los Padres National Forest, then moved to Angeles Crest Forest in 2004, followed by a relocation to Santa Barbara in 2006. In 2010 it was held at Silverado Canyon and in 2013 it moved to Temecula for one year before settling in 2014 at Lake San Antonio, near to town of Bradley on the central coast. The new lakeside location is close to Bakersfield, about two and a half hours south of last year's location.