All Things Peculiar and Nothing Short of a Dark Cabaret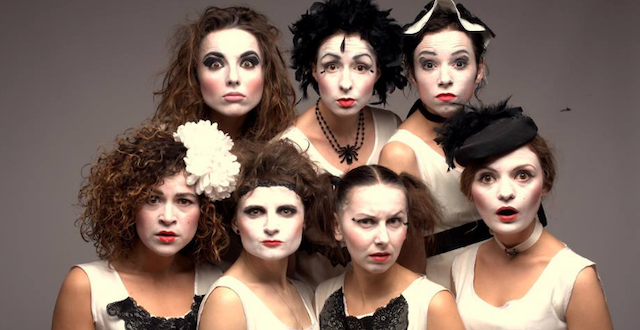 It's difficult to define the strange. What feels oddly peculiar to one person, might not bear the same uncanny fruit it does for another. When it hits us, though, it's like the slow buzz from a cocktail: one part curiosity, two parts the thrill of a new discovery.
It's a feeling you'll immediately understand when you step through the doors of the 19th Annual Edwardian Ball. Over the course of two nights—with The World Faire on Friday, January 25th, and The Edwardian Ball on Saturday, January 26th — the Regency Ballroom will take attendees on a trip aboard the dark corners of the imagination.
Dispensing a healthy dose of spontaneity and mischief, the two-day event ritually delivers a mysterious description of what will occur, in place of a full lineup of affairs.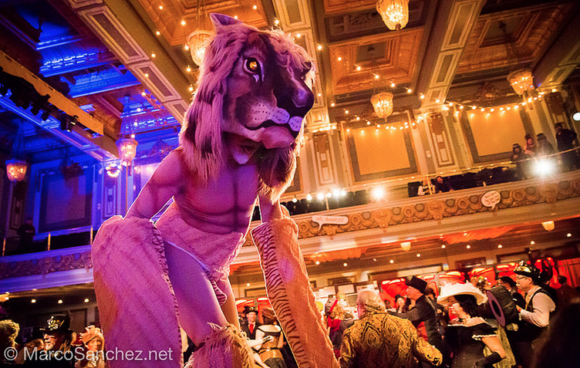 The Edwardian Ball, 2018 (Photo by Marco Sanchez)
What it does promise is an intoxicating mix of libations, ingenious installations, and a stacked roster of musical, theatrical and acrobatic performances, including a particularly enticing debut from the Dakh Daughters.
Over Friday night's World's Faire, the six member all-female performance troupe, Dakh Daughters, join the Edwardian Ball from halfway across the globe in Ukraine. The band will be performing the last leg of their very first tour throughout the US and Canada.
Both their sound and story nestle flawlessly with the overarching ethos of the Edwardian Ball, with onlookers astutely coining their style "Dark Cabaret."
Descending onto the stage with an authoritarian air, their faces painted a caustic clown white, there's an immediacy to their message. Its members swap out everything from violin and accordion, to piano and cello.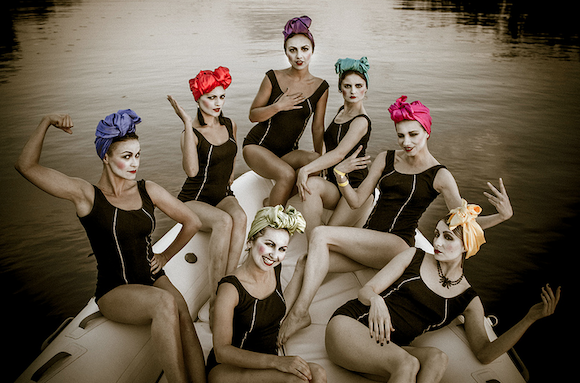 Dakh Daughters (Photo by Olga Zakrevska)
At the heart of the Dakh Daughters performance is an elegy to the revival of Ukrainian folk music, interlaced with hints of punk cabaret, modern French rap, and the throbbing bass of apocalyptic drum beats.
Each show reveals its own subtleties, as both wardrobe and character teeter between innocent stark white satin and the allure of red lipstick and lace.
For nearly six years prior to the band's first real show in Paris, the girls spent time cozying up to one another, singing and performing at the Dakh Contemporary Art Centre in Kyiv. It's a formative detail they now attribute to their success.
https://www.youtube.com/watch?v=6wCgZh-nczY
Each song has a different tone and interpretation, while the veil of theatrics always lurks close behind. The Daughters dominate the stage in a brazen clamor of operatic voices, at times. It's a scene in which another band's fragility might have easily dissolved the act into chaos.
They instead stand connected with one another, as well as their audience, exchanging looks, instruments and vocals as if they're in a theatrical, neo-Gothic rendition of musical chairs.
It's like watching a tumultuous boudoir circus orchestrated by six slightly deranged, but undeniably charming, sisters.
Some songs are comical; one references the adoration of a fluffy cat that's white as snow. Others are vulgar, even abrasive at times, as members scream along to a murder ballad recited by a knife-happy former lover.
Each of their misfit songs is like a miniseries to a larger body of work you can't quite put your finger on. Behind them, a loose translation of their lyrics into English dances across a screen.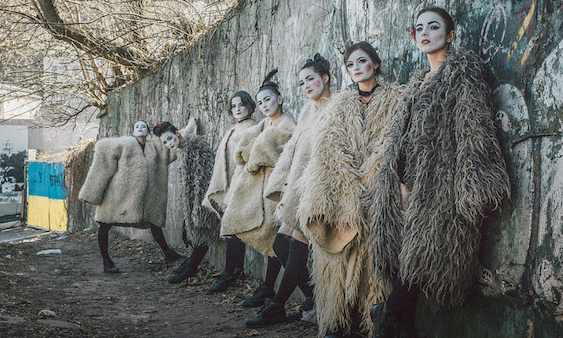 Dakh Daughters (Photo by Olga Zakrevska)
In fact, the unpredictability of it is what helps define it.
"We have very strong, deep feelings like joy and sadness, love, hate, anger, curiosity and much more—like life," said Tetiana Havrylyuk. "Probably the thing which brings everything together is love. It also has this joy and pain inside of it, right? The questions, the sadness, and also the happiness."
Puzzle pieces eventually begin to fit together as intricately as the ebb and flow of emotion. There's something altogether intimate, poetic and disturbing as each Daughter holds the spotlight to sing in rage or lament in sorrow.
Historically, the Edwardian Ball has attracted and hosted participants who operate somewhere along the fringes of the typical. To place the artists into a culturally normative musical genre would be a disservice.
Attendees have come to expect nothing less from this fully artist-run production—an often overlooked dimension of the event that has helped it exist in such unfettered glory.
For the event's co-producers, Justin Katz, event founder and Rosin Coven band member, and Mike Gaines, director and producer of Vau de Vire Society, it was an obvious choice to collaborate with the Dakh Daughters.
"When I saw them, I was immediately fascinated by the way they're [technically] a musical group, but they come from a theater background and use a lot of literary play, character and reference in their performances," said Katz. "Also, there's this sort of 'beauty of darkness,' which i think is also a quality of the Edwardian Ball that really stands out."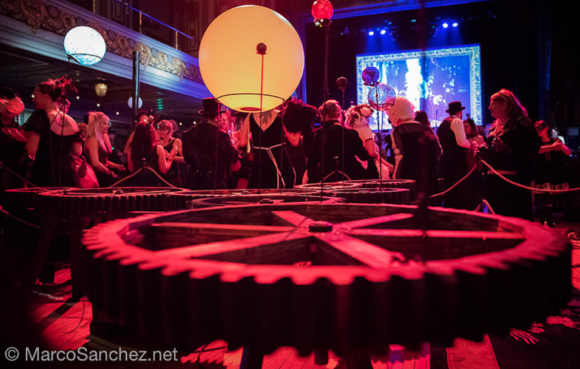 The Edwardian Ball, 2018 (Photo by Marco Sanchez)
Much of the Dakh Daughters' body of work borrows from from writers of the past, creating what can only be understood as 'Contemporary Greek Art'. The music is often infused with literary inspiration from the band's director Vladyslav Troitskyi, who helped model their most popular song "Rozy/Donbass" after Shakespeare's Sonnet 35.
It refers to Donbass, an Eastern Ukrainian city that became riddled with civil war following 2014, that was once known as the "The City of a Million Roses" for its plots of blooming flowers.
The first lines lead with, "No more be grieved at that which thou hast done: Roses have thorns, and silver fountains mud." Coincidentally, the song was written one year before the Ukrainian conflict broke out.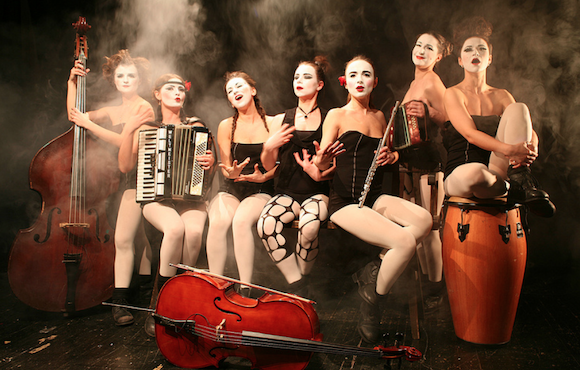 Dakh Daughters (Photo by Tetiana Vasylenko)
Since then, it's launched them into local celebrity status, with the original video amassing over half a million views.
One can hardly ignore the perfect example of anti-mimesis here. It's the idea that life imitates art, and not the other way around as Aristole first proclaimed when he said "art imitates life".
"We have this idea that the artist is a prophet a bit, not because he's so cool, but just because ideas are just flying all around us all the time," said Havrylyuk. "The artist is just the one who's catching the idea, gives it a form, and then gives it to the people.
Of course, the Edwardian Ball's producers are no stranger to metaphor, analogy and drama. Each year, they pick a short story from the late illustrator and comically grim cartoonist Edward Gorey and fashion the evening events around its theme.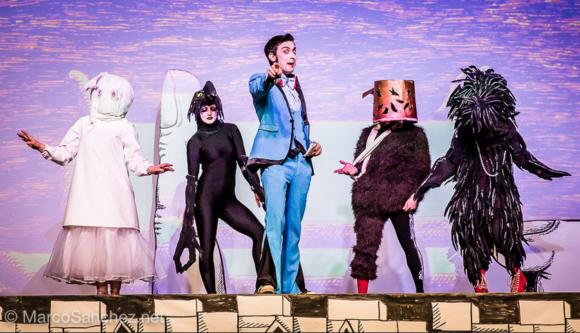 The Edwardian Ball, 2018 (Photo by Marco Sanchez)
Gorey had an affinity for aiding in his characters death at his story's end. However, participants can expect something a little different from "The Epiplectic Bicycle" this year.
Here, you'll find the halls filled with fine art, a marketplace of Victorian-era trinkets and structural installations that serve as the backdrop for the author's tale.
Alongside legendary Bay Area collectives like Kinetic Steam Works and Cyclecide, the curators have constructed "The Rose Pedal Garden" in a nod to both bicycles and clever word play. Katz describes it as "an overflowing English garden, turn-of-the century, meets a sort of bicycle-mechanique wonderland."
Whether in music, through painting, or with the curation of a yearly event like the Edwardian Ball, there's a certain provocation for us to venture just beyond the usual and forge into the unknown.
https://youtu.be/dlGjgIk3ha4
Cover of Perkalaba's song "Zozulytsya"
It seems fitting the Dakh Daughters are set to play against this rosy backdrop, with an entourage that's simultaneously alarming and enchanting.
Ambiguity repeatedly proves to be a quality of what makes the artists and the event itself interesting. Uncovering the narrative behind performances from groups like Vau de Vire Society and, now, the promising Dakh Daughters, is what keeps attendees coming back.
Amidst whatever chaos ensues, the participants help the event to succeed—crafting their own unique experiences of the unfamiliar.
"Maybe the Gorey sensibilities have rubbed off into the production as it is. Instead of force-feeding, you leave it up to the imagination," said Gaines. "Every guest that walks through the door has an imagination and they're wearing it on their sleeve. We're only outdone by the people that walk through the door."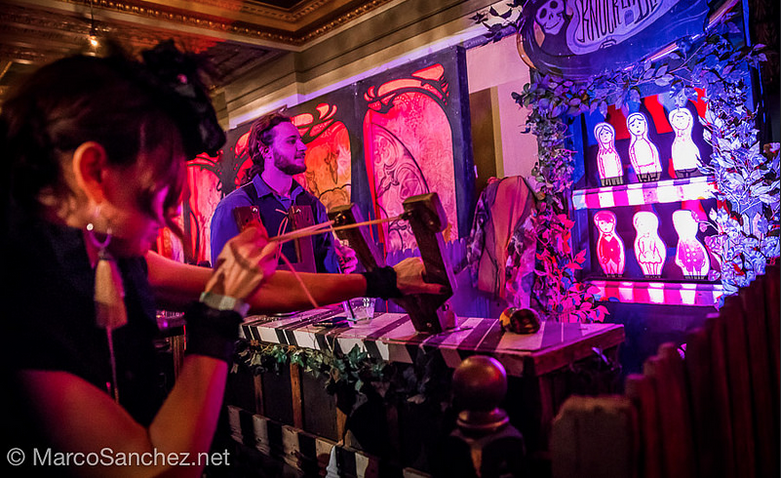 The Edwardian Ball, 2018 (Photo by Marco Sanchez)
Learn more about the six members of the Dakh Daughters (Nataliya Halanevych, Nina Garenetska, Zo, Solomiia Melnyk, Tetiana Havrylyuk and Ganna Nikitina) and their upcoming shows.
Expect other intrigues from the Dark Garden, Belinda Blair's Mechanical Doll, Capacitor, Dangerous Puppets, Dr. Solar, Earles of Newtown, Green Valley Puppet Theatre, French Oak Gypsy Band, The Grand Artique, Junk Parlor, Owl Tree Tarot, Shadow Circus Creature Theatre, Tyger's Elemental Readings, Van Goat and many more.
The 19th Annual Edwardian Ball
The World Faire is on Friday, January 25th
The Edwardian Ball is on Saturday, January 26th
Both days at at The Regency Ballroom, 1290 Sutter Street
8pm – 2am / $25 – $175