Burger Boogaloo 2019 Lineup Announced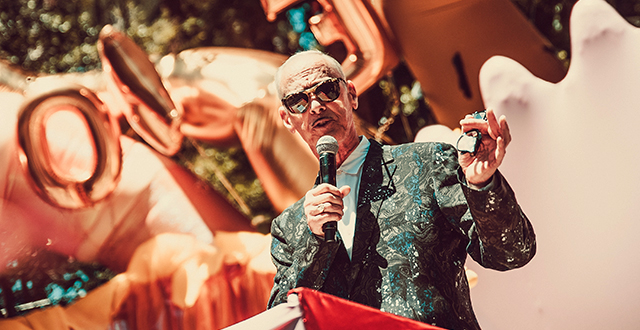 The tenth anniversary Burger Boogaloo stays true to its punk rock roots, and to host, John Waters, as well. July 6th & 7th will be two days of ecclectic, irreverent, classic punk & rock music; all-the-while making a financial commitment to address a critical Bay Area need.
"Burger Boogaloo is the perfect cult gathering of young and old music rebels who hate everybody in the world except each other. Being asked to host this lunatic festival for the fifth year in a row makes me feel all warm and scuzzy inside." – John Waters
The lineup features historic punk rockers and young up-and-comers: The Jesus and Mary Chain, The Scientists, Shannon and The Clams, Sheer Mag, Dead Boys, Jayne County & the Electric Chairs, Amyl and the Sniffers, Billy Childish, Phantom Surfers, Nikki Corvette, Terry & Louie, and Derv Gordon of the Equals.
Burger Boogaloo will host a series of fundraisers, including Camp Fire & Punks With Lunch Benefit Show at The Uptown, to raise money for those in need.
To that end, Burger Boogaloo is partnering with The Homeless Action Center in 2019. It's the only legal service program in the Bay Area that focuses exclusively on public benefits advocacy as a critical tool to reduce and end homeless.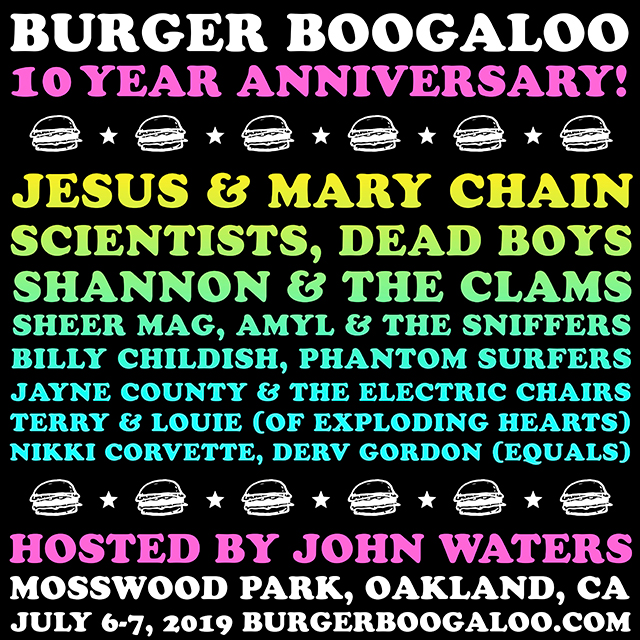 Burger Boogaloo
July 6th & 7th, 12noon – 10pm
at Mosswood Park, 3612 Webster Street, Oakland, 94610
DAY 1 – Saturday, July 6th – The Jesus and Mary Chain, The Dead Boys, The Dwarves, NOBUNNY, Sheer Mag, Phantom Surfers, Amyl & the Sniffers, Terry & Louie, Nikki Corvette
DAY 2 – Sunday, July 7th – The Jesus and Mary Chain, Shannon and the Clams, King Tuff (performing Was Dead), The Scientists, Davila 666, Derv Gordon, The Chats, Musk, Timmy's Organism
Get Tickets
GA WEEKEND PASS – $129 / VIP WEEKEND PASS – $199