The Women's March Unites the Bay Area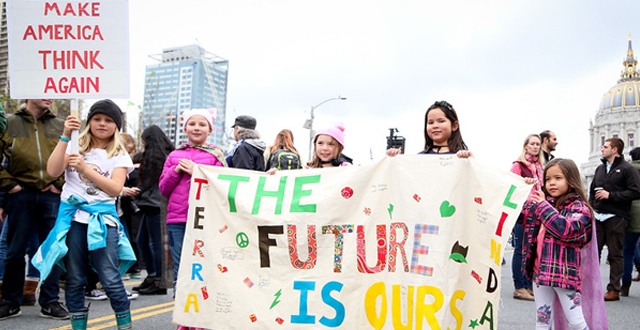 The Women's March is a march of victory, a march of power, and a march of support. Victories in women's rights have been seen throughout the world and in the #MeToo movement, but the movement to unify and empower everyone who stands for human rights, civil liberties, and social justice for all is far from finished.
Here we are now, in 2019, with the marches returning and still plenty of reasons to march. Take a deep breath after yet another turbulent year, show your support, connect with like-minded humans, shed light on injustices that still need conquering… All are welcome to be part of this wonderful day.
On Saturday, January 19th, 2019, the Women's March in San Francisco, Oakland, and San Jose are just three of many marches and events that take place locally.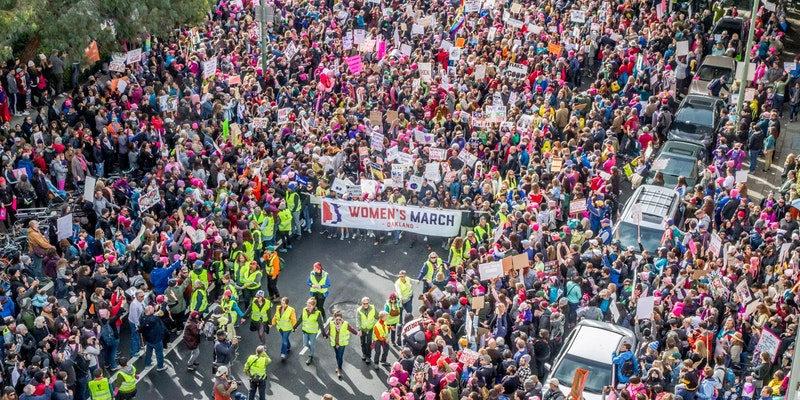 Photo: Women's March Oakland
This year's event continues to proclaim the message of equal justice and equal rights for women everywhere. The Women's Marches of the last couple of years have witnessed millions of marchers stand in unity to show their solidarity in the continual struggle for equality.
https://www.youtube.com/watch?v=uacLB0ExziY

As stated by the SF Women's March organizers, "This rally and march is designed to engage and empower all people to support Women's rights, Human Rights, Civil Rights, Disability Rights, LGBTQIA Rights, Workers Rights, Immigrant Rights, Reproductive Rights, Indigenous People's Rights, Social and Environmental Justice, and Tenant's Rights. Our feminism must be intersectional and we must continue to organize as such… (We want to) help provide resources for people to Organize Locally, Register to Vote, Vote, Women Run For Office (especially WOC), and Elect Progressive Women & Allies."
As always, act within the lines of common sense, be safe, be respectful, and come with an open heart and mind. Dress in layers and comfortable shoes. Check the weather and dress appropriately, there will be a chance of rain.
All photos by Gabriella Gamboa
~~~~~~~~

Women's Marches in the Bay Area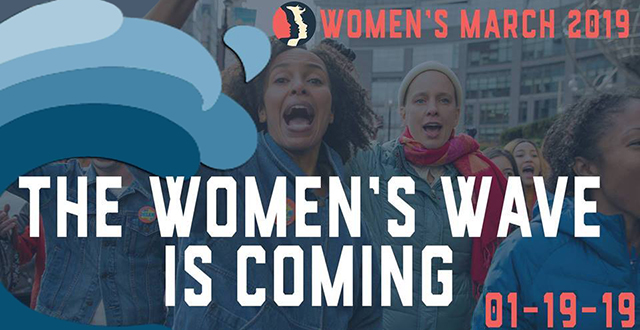 San Francisco: The Women's March San Francisco will take place at 11:30am in Civic Center Plaza. (RSVP) The rally starts at 12noon, march starts at 1:30pm and head down Market Street to the Embarcadero. (1.7 miles). This year's emcee is Mona Shaikh. Speakers at the Rally include: Aimee Allison, Maimona Afzal Berta, London Breed, Alicia Contreras, Clair Farley, Marci Glazer, Gilda Gonzales, Marge Grow-Eppard, Sam Lew, Annita Lucchesi, Aurora Mamea, Jessica Nowlan, Kanyon Sayers-Roods, Terisa Siagatonu, Natasha Singh, and Rebecca Solnit.
Oakland: The Women's March Oakland rally will begin at 10am at Lake Merritt Amphitheater. (RSVP) The 2019 march is co-hosted by Women's March Oakland, Black Women Organized for Political Action, and the Martin Luther King Jr. Freedom Center. Speakers at the Rally include: Alicia Garza, Arushi Avachat, Barbara Lee, Hai Yan Wu, Janetta Johnson, Jennifer B. Lyle, Kimberly Ellis, Leili Davari, Leili Davari, Nikki Fortunato Bas, Stacey Milbern, and Xochitl Oseguera.
San Jose: The Women's March San Jose starts in front of San Jose City Hall at 11am. (RSVP) This year's emcees are Chandra Brooks and DJ Rockaway. Speakers at the Rally include: Fiona Ma, Karina Dominguez, Aisha Wahab, Zahra Billoo, Alison Brunner, Michele Dauber, Guillermina Huerta, Katiuska Pimentel-Vargas, Sera Fernando, LouMeshia Brown, Giao Tran, Taarini Kaur Dang, Corina Cihuachimalli, One Billion Rising Dance, Teresa Castellanos, LaToya Fernandez, Sabrina Brennen, Mila Romero and Tarzine Jackson, and LaTasha Turner.
Santa Rosa: Women's March Santa Rosa 2019 starts at Courthouse Square at 10am. The emcees are Tyler-Avery Lewis and Pinkeo Phongsa. Speakers include: Rabbi Stephanie Kramer, Victoria Fleming, Esther Lemus, Marta Cruz, Celeste Austin, Raquelle Myers, Jayden Lim Lyndsey Rose Burcina, and Mandy Brooks.
Alameda: Everyone Belongs Here Human Rights Vigil begins at 12noon at the corner of Park Street & Santa Clara Avenue.
Tri-Valley: The Tri-Valley Women's March 2019 will begin at 1pm at Amador Valley High School in Pleasanton.
Walnut Creek: Women's March Contra Costa – Together We Rise starts at 10:30am at Civic Park.
Napa: Women's March Napa Valley "Truth to Power" begins in front of City Hall at 10am.
Petaluma: Women's March Petaluma starts at Walnut Park at 11am.