January Food and Drink Events for Your Calendar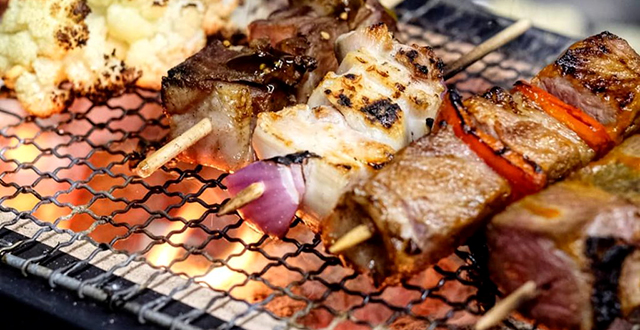 Now that the bells and whistles of the New Year celebrations have quieted down, and all the hangovers have been nursed, it's time to welcome in 2019 with all of its glory. New foodie celebrations and restaurant openings await. Here are a few food and drink opportunities we're excited for this January; and you should be too:
Try Mediterranean fare at Noosh
Bringing their Eastern Mediterranean influences to San Francisco, Noosh comes from the husband and wife chef duo Laura Ozyilmaz (Eleven Madison Park, Saison, Istanbul Modern SF) and Sayat Ozyilmaz (Le Bernardin, Mourad, Istanbul Modern SF). They are joined by the co-founder of Lazy Bear, John Litz. Expect clever design, bold flavors and a new reason to head to Filmore Street.
Nibble Like a Mouse at The Cheesemonger Invitational
A cheese competition? Sign us up! The Cheesemonger Invitational is a cheese party-meets-competition, takes place at The Midway on January 13th. Sample cheese from Cowgirl Creamery, The Cellars at Jasper Hill, Neal's Yard Dairy, Vermont Creamery, Essex Street Cheese, and many others. Try some fondue and grilled cheese. Cheese makers will compete at this celebration of the most addictive food of all. $65 tickets are available.
Buy All the Jerky at Made by True
Have you ever been to a store dedicated solely for the ultimate road trip snack? Now you have the chance to do it. In late December, the local jerky brand, Made by True, opened its first brick and mortar store in the Marina. The store features delicious jerky, biltong (a South African variety, thinner and more delicate), jerky trail mix (!) and other goodies. Stop by and stock up at 2266 Union Street, San Francisco.
Drink All the Zin at the Zinfandel Experience
Some wines are not for everyone, but Zinfandel seems to be a safe crowd-pleaser for most palates. Why not celebrate the Grand Tasting thrown by ZAP – Zinfandel Advocates & Producers organization. Some ZAP events are member only, but this one is open to all. Winemakers will present their finest and food bites will be served. The only thing you need to do is get a ticket, and show up on January 19th at Pier 27. Then it's all about the swirling and tasting. Tickets start at $80.
Indulge at the Great Mac'n'Cheese Melt-Off
More cheese? SoMa Street Food Park is hosting a different kind of event that features cheese. It's the Great Mac'n'Cheese Melt-Off featuring over 15 food trucks, each serving their unique variation of everyone's favorite comfort food. Expect mac'n'cheese pizza, all-you-can-drink beer and a generally cheesey atmosphere on January 12th. Tickets (with the unlimited beer) are $36.
Check out New Restaurants at SF and Oakland Restaurant Weeks
Restaurant Week, with set menus and genuinely good deals, are great for checking out new spots or revisiting old favorites. SF Restaurant Week runs from January 23rd – 31st, while across the bay, Oakland's Restaurant Week takes place January 11th – 20th.
Feast on wagyu with Gozu and Avery
Ittoryu Gozu, a soon to be open SoMa restaurant, is doing the trendy thing and popping up at Avery for three nights wagyu beef and robata-style cooking. Tickets are $98 (available now), but they get you all the beef you can imagine. Wednesday, January 23rd – Friday, January 25th, first seating at 5:30pm, last seating at 9:30pm.
Get to know a new sommelier at Foreign Cinema
On Thursday, January 24th, Foreign Cinema will host their annual Somm Takeover. Wine Director Shannon Tucker will invite Francesca Maniace (Che Fico), Essam Kardosh (Ayala), Andrew Paul Nelson (Fool's Errand; The Source; Companion Wine Company), and William Duplain (Gus's Markets; Trundle Bar) will curate the restaurant's by the glass and flight programs for the night, giving you the chance to discover new sips. 2534 Mission Street, San Francisco.