Update: At the A's FanFest in Jack London Square, besides discussing #1 pick Kyler Murray and the upcoming season, more details were released about the gondola that would connect BART with the proposed stadium.
Each gondola would ferry 30-35 people, making the ~one mile trip along Washington Street in about three minutes.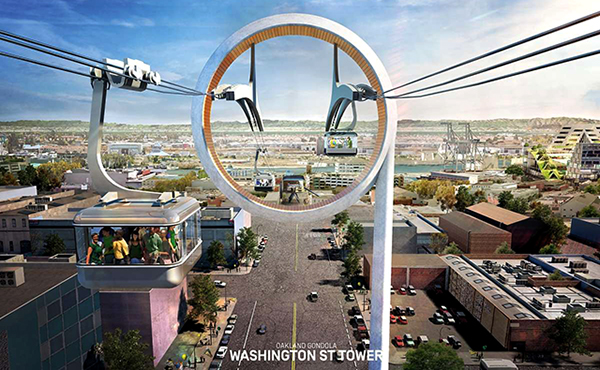 ~~~~~~~~~
A dreamy proposal for a downtown stadium for the Oakland A's has magically appeared. The plans are ambitious and look amazing. Yet, there've been proposals before and each one's been shot down for various reasons. A's President Dave Kaval cautions, "This is really going to be an important six months as we get into the critical negotiations." This time though, the vested interests (the city of Oakland, the A's owners, and the Port Authority) are all seemingly in alignment on the rough outlines of the project.
Oakland Mayor Libby Schaaf appears to be backing the project as well, calling the plan for the Howard Terminal ballpark "truly visionary", "community-serving", and "a step in the right direction."
The 32,000 – 34,000 seat waterfront stadium near Jack London Square, designed by the Danish architectural firm Bjarke Ingels Group is visually dramatic. The renderings that have been released harken back 100 years when smaller, more intimate ballparks were prevalent.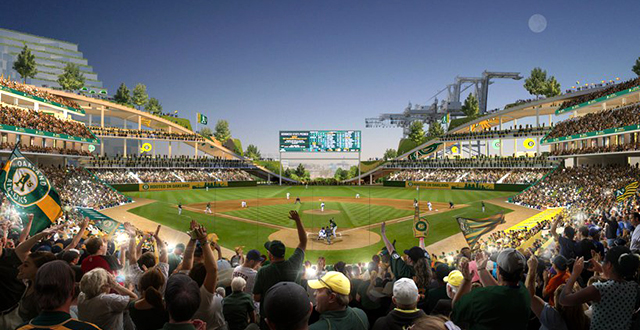 The location of the ballpark would give fans access via BART, Amtrak, and the San Francisco Bay Ferry. Is it possible that an arial gondola could be added to shuttle people to and from downtown? Again, the word "dreamy" reappears.
Not only would a new stadium keep the A's in Oakland, it would likely increase their woeful attendance, that, even when the A's are contending, has been a blight on the team. Imagine the A's regularly selling out.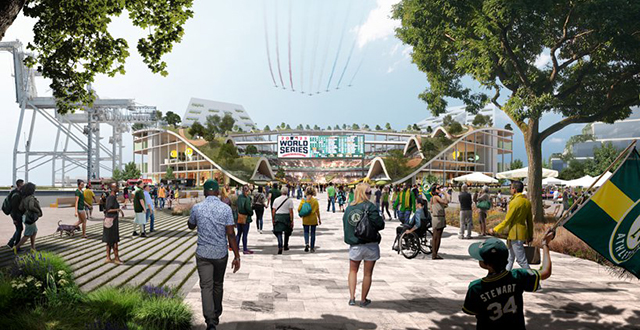 Additionally, the many shops, bars and restaurants in the area would immediately benefit from thousands of patrons flooding the area on game days. AT&T Park is a testament of how a stadium can anchor a neighborhood as it gradually fills in with living residences and offices.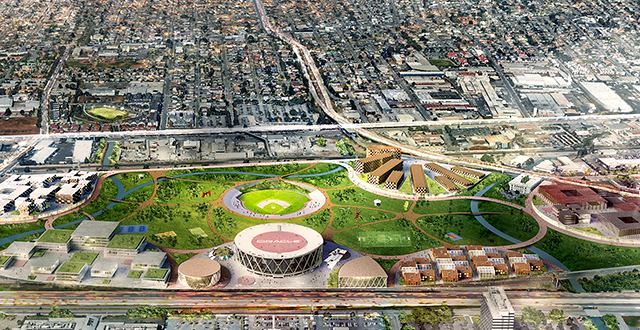 The other outstanding feature of the plan is how it envisions the transformation of the current Coliseum site. Imagine "that" parking lot and old stadium blossoming into a park with sports fields, housing, offices and a shopping center; all while keeping Oracle Arena as an entertainment center.
Mayor Schaaf concludes, "This is the right project, in the right neighborhood and at the right price to our taxpayers." And for the moment, A's fans have reason to dream.
Renderings courtesy of the Bjarke Ingels Group