Shop Till You Drop at These Local Holiday Bazaars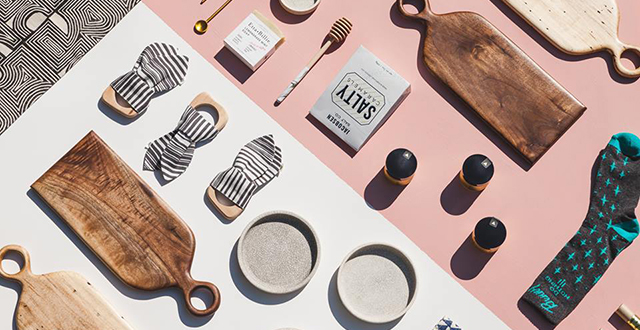 Let's face it – holiday markets are 20% about the shopping and 80% about the atmosphere. You don't have to spend endless dollars to enjoy beautiful objects, festive cheer or the occasional wreath. If a locally made, thoughtfully selected gift or two end up in your bag, more points for you.
In the spirit of the winter and the holiday season, we've endevoured to list a few chic, well-curated bazaars where you'll earn those points while shopping local.
December 1st: UNDSCVRD Holiday Pop-up, 11am – 6pm
435 Brannan Street, San Francisco
UNDSCVRDS, the monthly Filipino festival, is back for a festive installment at Colorbloq, a new stylish gathering space in the SOMA. See the space for the first time and shop Filipino crafts, clever fashion and accessories, as well as delicious bites. Full bar, DJs and all-age access, including small children? We're in.
December 2nd: Jewish Museum Holiday Textile Bazaar, 11am – 5pm
736 Mission Street, San Francisco
Hanukkah or not, anyone can enjoy unique textile-centric treasures from a reliable source. Reflecting on its current hit exhibition, Veiled Meaning: Fashioning Jewish Dress, The Contemporary Jewish Museum is hosting a one-day-only market of textiles, ornamentation, and gifts by local and visiting artisans like indigo maven Mira Blackman, quilter Carrie Vawter and more.
December 7th: West Coast Luxe, 10am – 6pm
1954 Union Street, San Francisco
Luxurious jewelry and caviar? Everyone's holiday should include those. Women-owned brands Bells & Becks, Frances Austen, Gem Breakfast participate in this festive three-day pop-up, located at the Caviar Company, in the Marina. FaceWest will also be providing lip and lash touch-ups for those who feel so inclined. The event also takes place on Saturday, 11am-6pm, and Sunday 12pm-4pm.
December 8th: The Assembly's Holiday Bazaar, 10am – 5pm
449 14th Street, San Francisco
It's never a bad idea to visit the gorgeous Assembly, especially when the premise is transforming the space into a "shopping oasis". While some vendors are still being finalized, partners include the very chic cannabis wellness brand Dosist, Cuyana, Raised Real, and Minted. It's a wellness angle where visually stunning gifts are guaranteed.
December 8th: Marigold's Holiday Market, 11am – 5pm
2681 21st Street, San Francisco
While in the Mission, why not venture further and check out the two-day holiday market at Marigold, everyone's favorite flower shop. Vendors include vintage brand Encourage Vintage, shoe empire Freda Salvador, Guittard Chocolate and more, plus flowers by the Marigold ladies and wine by Sophie James.
December 12th: Be West Holiday Market 3pm – 8pm
2505 Monarch Street, Alameda
Two Bay Area powerhouses, West Perro and Bestowe Gifting, are teaming up for a hip bazaar at an especially feel-good location; the Hangar 1 distillery in Alameda. Expect Mohinders shoes, Nipomo blankets, Katie Gong sculptures, Jamnation jams, and other local staples, plus BBQ, live music, wine sampling, and a photo booth.
~~~~~
December 16th: Stag Dining's Cerf Club Holiday Craftsman Market 12pm-5pm
925 O'Farrell Street, San Francisco
Sip free mulled wine and shop for a plethora of crafts from Stag Dinings network of artisan friends. Expect handmade hats from Hampui Hats, spirit decanters from Reclamation Etchworks,Town Cutler's hand-forged chefs knives, Tribe Design's butcher blocks and wine chillers, and Thimbleberry Pottery ceramics. Re-fuel with snacks by Stag (short rib poutine, mini caramel apples) and sample wine from Merchants of Thirst and Stag's own Cerf Club label.
~~~~~
December 17th: NEEKO Holiday Market, 2pm – 6pm
2505 San Pablo Avenue, Berkeley
Berkeley's beloved boutique Neeko is all aboout chic East Bay vibes. For those who like to wait as long as possible to do their holiday shopping, the shop is hosting a one-day market a week before Christmas, with vintage clothes from AsA Vintage, jewelry and decor from The Latch Key, ceramics from Sarah Duyer,  and more. The neighboring Algortihm Coffee Co. will be serving hot coffee.