SF Sketchfest 2019 Lineup Announced: Margaret Cho, Adam Savage, Carol Burnett, Jenny Slate, Reggie Watts, David Cross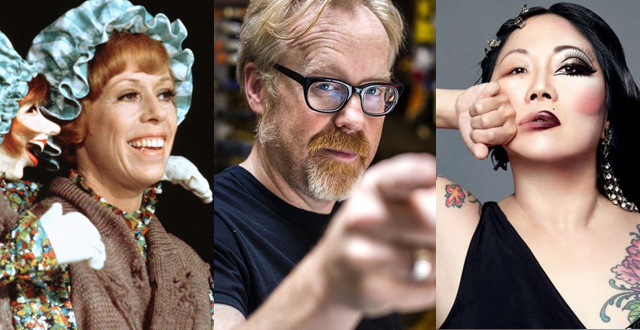 Since its founding by David Owen, Cole Stratton, and Janet Varney in 2001, SF Sketchfest has been the place for local and big-time talent alike to showcase their unique and hilarious comedy stylings.
Including sketch, improv, podcast recordings, live-readings, film screenings, music, surprise celebrity cameos, and much more, the announcement of comedy festival lineup is one of the most highly anticipated events in the SF Bay Area entertainment world.
Some of 2019's highlights include a tribute to comedy legend Carol Burnett, spotlights on SF native Margaret Cho, W. Kamau Bell, Julie Klausner, and Evil Dead's Bruce Campbell, as well as a night celebrating the film classic "Best in Show" featuring some of the cast live on stage.
~~~~~~~~
LINEUP UPDATE: ROUND THREE
* Cartoon Network's "We Bare Bears" IRL in the Bay Area with voice talents Bobby Moynihan (Panda) and Eric Edelstein (Grizz), creator Daniel Chong and creative director Lauren Sassen
* Wheels Off with Rhett Miller, special guest Dave Hill and more
* Brent Weinbach with Max & Nicky: A Very Weinbach Opening Night
* "Weird Al" Yankovic and Lucy Davis join the cast of Audible's "The Pole Vault Championship of the Entire Universe"
* Heather Matarazzo joins the Peaches Christ Roast
* Tilda Swinton Answers an Ad on Craigslist (Third Show)
~~~~~~~~
LINEUP UPDATE: ROUND TWO
* Four Kids, One Dumb Night: SF Sketchfest celebrates the 35th Anniversary of The Kids in the Hall and the release of author Paul Myers' new biography, "Kids in the Hall: One Dumb Guy". Dave Foley, Kevin McDonald, Mark McKinney and Scott Thompson join Paul Myers for a conversation about the group's beginnings, followed by a screening of their cult classic film "Kids in the Hall: Brain Candy".
* Puddles Pity Party: The 'Sad Clown with the Golden Voice' brings heartfelt anthems and a suitcase full of Kleenex for a show peppered with a brilliant sense of the absurd, mixing lots of humor with the awkward, tender moments.
* "Crashing" Live with Pete Holmes, Judd Apatow and Madeline Wise: an in-depth and hilarious conversation plus a few surprises with the team behind HBO's hit show "Crashing".
* An Evening with Baroness Von Sketch: Spend an evening with Aurora Browne, Meredith MacNeill and Jennifer Whalen, members of the award-winning CBC/IFC series "Baroness von Sketch Show" for an inside look at the weird and wonderful world created by this all-female comedy powerhouse.
* Gettin' Better with Ron Funches: Live podcast taping with actor/comedian/writer Ron Funches
* Brunches with Funches: Giggles & Nibbles: Join Ron Funches and his friends (including Hari Kondabolu) as they perform comedy while you nibble on assorted brunch delectables.
* Busy Tonight: Join host Busy Philipps and her special guests for this very special SF Sketchfest live adaptation of her hit E! talk show "Busy Tonight".
* Rhea Butcher: Headlining stand-up from the comedian and "Take My Wife" co-creator & co-star.
* James Adomian: Comedian and actor known for his standup, characters and impressions takes the stage for a headlining show.
* Jordan, Jesse, Go!: Live taping of the freewheeling comedy podcast about life in your twenties and everything else with hosts Jesse Thorn and Jordan Morris.
* Best of Edinburgh International Spotlight: Gina Yashere, with Karinda Dobbins
* Jak Night & Zack Fox: Cancelled Comedy Tour: Stand up, music and interviews, everything is on the table for this variety show hosted by Jak Night and Zack Fox.
* SF Sketchfest Threesome: Jackie Kashian, Andy Kindler & Kevin Pollak
* Mortified
* Kevin McDonald Improv and Sketch Workshop: Kevin McDonald of Kids in the Hall brings his sold out workshop back to SF Sketchfest for a 5th year.
* Impro Theatre: Twilight Zone UnScripted with Edi Patterson and more
* The Crossword Show with Zach Sherwin
* THUNDERBULGE: LA's Most Electrifying Comedy Male Revue
* Greetings, From Queer Mountain with Michael Foulk and more
* Thinkers + Drinkers with Robert Strong
* Tilda Swinton Answers an Ad on Craigslist with Tom Lenk (Second show)
~~~~~~~~
Also notable next year is the brand new addition "SF Sketchfest at The Speakeasy: An Immersive Comedy Experience," which will showcase six performances at The Speakeasy, a 1920s themed Prohibition-style venue, where you can explore the space and choose your own comedic adventure.
Some of the comedians appearing at this year's festival:
Margaret Cho


Reggie Watts


Janeane Garofalo


Best in Show Tribute w/ Cast Members


SF Speakeasy Experience


Todd Barry


W. Kamau Bell


Carol Burnett
See the full lineup of comedians at sfsketchfest.com!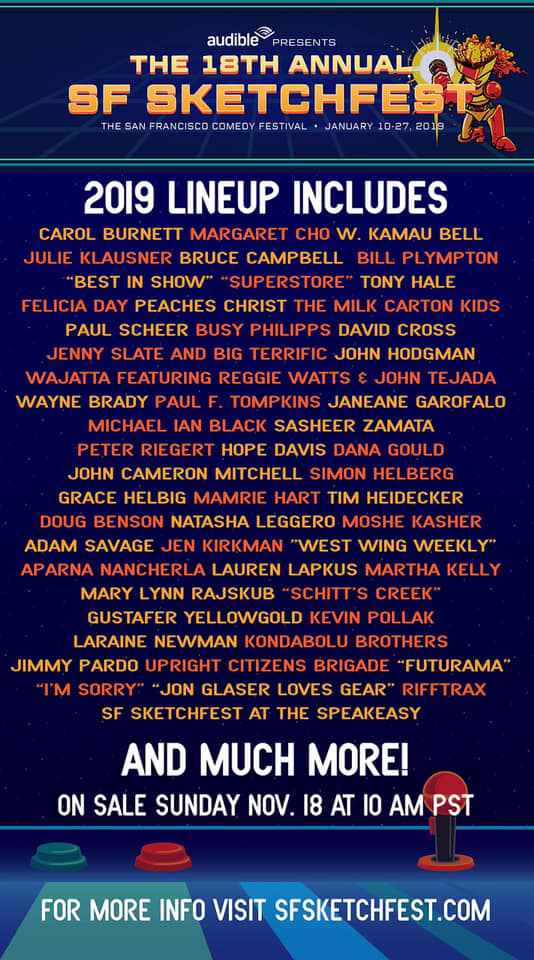 Tickets for each of the 100+ events go on sale at 10am this Sunday.
The 18th Annual SF Sketchfest
runs January 10th – 27th, 2019