Put These Upcoming Food & Drink Events on Your Calendar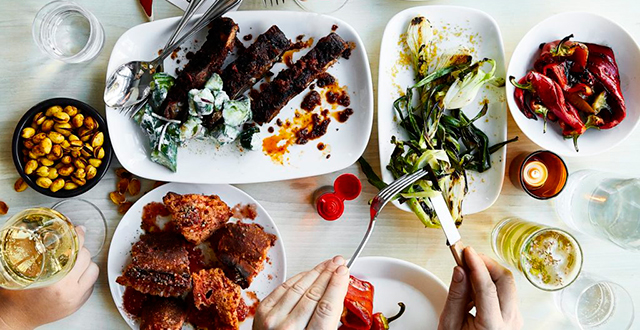 Where to sample the best new pasta dishes? How to enjoy beer and yoga (or bacon!) on the same day? When to book tickets for the hottest dining experience? We got you covered. Put these November food & drink events on your calendar, secure your seats, make reservations and get tickets now.
Have a spooky cocktail at the Terror Vault
With Halloween behind you, chances are the excellent Terror Vault will be a tad less terrifying, crowds-wise. Happening at the San Francisco Mint until November 3rd, the Vault offers a terrifying, yet informative experience, minus the cheesy scare tactics. Included in the ticket are inventive cocktails by Ronnie Buders, the mixologist at BIIG, featuring names like Crime de Mint and Zombie Puss.
Grab free lunch with Comstock Saloon and Lo-Fi
North Beach favorite Comstock Saloon is teaming up with Lo-Fi, the elevated alcohol brand, for Free Lunch Friday.  Comstock often comps the newly launched lunch for the first people who order two drinks, and on Friday, November 2nd, starting at noon, Lo-Fi will cover the drinks too; inviting the first 15 guests to Lo-Fi Spritz cocktails. The bottom line – lunch will be completely free.
Try creative Italian food at Prairie
Chef Anthony Strong, of Pizzeria Delfina fame, has proven his classic Italian chops. Prairie, his new Mission venture, plays with the boundaries of Italian cuisine, serving Korean-style (and gluten-free!) rice cakes on the pasta menu and wrapping cured guanciale in mochi. On the familiar side, 'destroyed bread' in addictive tomato sauce and creamy 'deluxe' burrata are standouts. Add the friendly, unbuttoned atmosphere and the fact you can actually hear your fellow diners, and you got yourselves a hit. Book ahead – Prairie is showing up on everyone's radar.
Enjoy yoga at a brewery
On November 10th, Anchor Public Taps, the fun-loving, spacious Potrero Hill brewery, is hosting a healthy-meets-boozy event with Apres Yoga; a San Francisco / Denver-based event organizer. The idea behind Breathe, Bend, and Brew? An hour-long yoga class in the brewery's space, before opening hours, followed by mingling and sampling of Anchor's offerings. Tickets are $25.
Feast on bacon and beer
Coming to AT&T Park on November 10th, Bacon and Beer Classic is an annual festival, happening for the first time on such a large scale. On the agenda are over 100 beers from regional breweries, bacon dishes by anyone from Rooh to Humprey Slocomb, a home brewing demo, an obligatory bacon eating contest, lawn games and more. Tickets are $59 – $119.
Sip mezcal at Mexico in a Bottle
What better way to spend a Sunday than tasting the smokey, complex perfection that is mezcal? On November 11th, Public Works and Mezcalistas are hosting Mexico in a Bottle, a traveling event dedicated to the spirit. Expect tastings of mezcal and agave purveyors, bites by restaurants like Lolo and Calavera, and Mexican crafts and souvenirs sold on site. Tickets are $80.
Take out-of-town guests to Ayala
You know you'll have family in town for Thanksgiving, and they'll want to go to Union Square. With the upcoming opening of Ayala at Hotel G, eating near "The Square" needn't be a compromise. When a menu, composed by Melissa Perfit of Bar Crudo and chef Bill Montagne, is highlighted by a raw bar, fine steaks, and cocktails, even the pickiest eater will be happy.
Get drunk on seafood at La Mar
La Mar Cebicheria Peruana needs no introduction. In November, the waterfront restaurant launches a titillating liquid nitrogen-centered cocktail menu. To celebrate properly, La Mar's offering include a decadent seafood platter for 2 – 6 people. Find a group of friends, go all out, and while you're doing so, give thanks for La Mar.
Tackle Turkey Day with a Japanese twist
Civic Kitchen is the city's newest cooking school. On November 18th, before Thanksgiving hits, the school's Japanese Pantry series tackles the most American holiday. Turkey, the Japanese Way is a unique cooking class with chef Greg Dunmore, who will walk you through yakitori, perfect-for-Thanksgiving miso soup, and other unexpected dishes. What better way to round out a cooking class, than to sit down to share a unique meal. $145 tickets are available.
Dine at the circus with Kaleidoscope
To finish the month in style, look no further than Circus Bella's new Kaleidoscope show, coming to Treasure Island, starting November 30th. Think  aerialists, acrobats, jugglers, a live band and circus-themed food & drink by the chefs of Mersea. Lots of whimsical fun will be had; plus you'll get to say the words 'circus' and 'island' in one sentence. Tickets are $39 – $150.
Invade the Lazy Bear Den
Ever dreamt of going to Lazy Bear but never found the budget? With the  Lazy Bear Den, the restaurant's new upstairs wine-centric offering, you sort of can. The Den, complete with small bites and a vast wine list, is the Bear's affordable spin-off, featuring the plush plaid, but none of the pretense.
The Lazy Bear Den opening is slated for December 1st, so for this one, just be patient. By the time the Lazy Bear Den opens, you'll be ready.