Dia de Los Muertos in the San Francisco Bay Area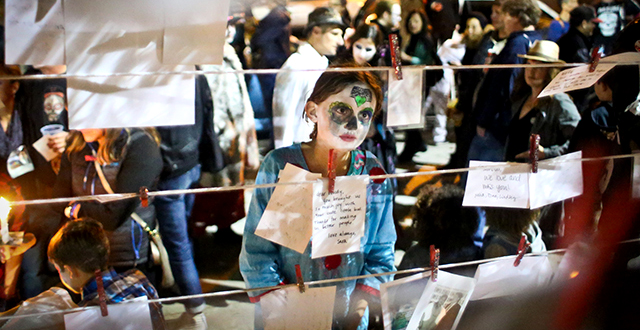 If Halloween is a day to dress up and pretend to be a spirit, The Day of the Dead (Dia de los Muertos), brings the opportunity to better connect with the spirit world. In Mexican culture, it's manifested in a three-day celebration filled with craft making, altar building & offerings, and visits to the graves of loved ones.
In San Francisco, the annual Day of the Dead parade attracts flocks of residents cradling mementos in remembrance of the dead who form a thrumming procession that echoes along the corridors of the Mission District.
Aside from this huge gathering, there are plenty of other ways to partake in the annual tradition that honors the cycle of life and death. Here are some events around the Bay Area that will have you connecting with those loves who have passed on.
Day of the Dead Ritual Procession
El Colectivo de Rescato Cultural hosts the annual procession to celebrate Dia de los Muertos. Procession leaders invite participants to remember the ways in which the Ancients struggled to create order out of chaos.
Mission District, 22nd at Bryant Street, San Francisco
The procession ends in Garfield Park at the Festival of Altars, 8:30pm at 26th & Harrison.
Friday, November 2nd at ~7pm; Free
Oakland Ballet Presents Luna Mexicana
Hosted by the Oakland Ballet Company, Luna Mexicana is a dance performance that follows a young woman's dreams as she attempts to revive her relatives and friends. This family-friendly performance weaves festive dancing, colorful costumes and traditional Mexican folk music with modern electronic fusions. The audience is encouraged to attend in Day of the Dead costume and face paint.
Paramount Theatre, 2025 Broadway, Oakland
Friday, November 2nd at 7:30pm & Saturday, November 3rd at 4pm
Day of the Dead Celebration in Pittsburg
Exhibits, bingo, arts & crafts and live music at the Pittsburg Marina.
Pittsburg Arts and Community Foundation, 51 Marina Blvd, Pittsburg
Friday, November 2nd – Sunday, November 4th, 1pm – 5pm
Community Day: El Dia de los Muertos
Visitors to the San Jose Museum of Art this Saturday will get a chance to learn about and participate in some of the traditions of Dia de los Muertos–the Mexican holiday to honor the dead.
San Jose Museum of Art, 110 S Market Street, San Jose
Saturday, November 3rd, 11am – 5pm
Dia de los Muertos Community Concert
Latin American music and culture at SF Symphony's annual Day of the Dead celebration! This year features acclaimed conductor Jacomo Bairos, leading the award-winning fiddling and vocal ensemble The Villalobos Brothers.
SF Symphony, 201 Van Ness Avenue, San Francisco
Saturday, November 3rd, 2pm
Designed to educate the community and honor the loved ones who have passed away. There's face-painting, live music, car show and dance performances.
Downtown Vallejo
Saturday, November 3rd, 10am – 6pm
Dia de los Muertos in San Rafael
The mission of the Day of the Dead – Dia de los Muertos celebration is to reunite the diverse communities of San Rafael with the purpose of sharing a grateful acknowledgment of the continuing ebb and flow of existence.
Albert J. Boro Community Center, 50 Canal Street, San Rafael
Saturday, November 3rd, 3pm – 9pm
Dia de los Muertos in Redwood City
Casa Circulo Cultural, in partnership with the San Mateo County History Museum and the Friends of the Library, celebrates the Day of the Dead, a beautiful ritual in which we happily and lovingly remember their loved relatives who have passed with music, dancing, and free activities for children.
Courthouse Square, 2200 Broadway Street, Redwood City
Sunday, November 4th, 4pm – 9pm
Fruitvale Día de Los Muertos Festival
The Unity Council Día de Los Muertos Annual Festival is a free, outdoor festival that brings over 80,000 people to the vibrant, culturally-rich Fruitvale neighborhood to enjoy world-class live music, family-friendly games, rides and activities, traditional Latin American artisans, and the stunning altar artistic installations created by community members paying homage to los Muertos.
Fruitvale Village, E 12th Street at 34th Avenue, Oakland
Sunday, November 4th, 10am – 5pm
Closing Event for Honoring our Ancestors by Fighting for the Future: Closing Reception
Now in its 19th year, SOMArts' Día de Los Muertos exhibition is one of the most internationally diverse Day of the Dead celebrations in the United States. Over the years, this group exhibition has brought together a wide variety of perspectives to honor, remember, and celebrate the dead.
SOMA Arts Cultural Center, 934 Brannan Street, San Francisco
Friday, November 9th, 6pm – 9pm; $7-10
Photos by Cheryl Guerrero and Gabriella Gamboa