Connecting San Francisco to the East Bay by Bike or Foot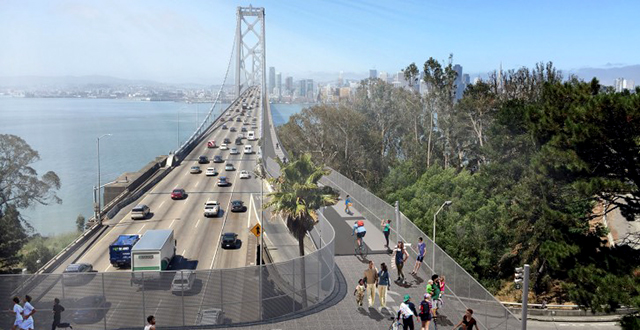 The dream of being able to cross the Bay Bridge, from San Francisco to Oakland, by foot or bike, is one step closer to actually happening. Imagine commuting to work, walking up to take a few pictures, walking over to Treasure Island… the conceivable options of how people will use the connection of the East and West Bay are almost endless.
This is a civic meeting that you should not miss.
The project team, led by planners and engineers at Arup, are ready to reveal their preferred design in detail. This is a last step before a design would be able to move forward into environmental review, approvals, and then, eventually, construction.
Attendees will be able to see renderings, a 3D model, and even take a virtual reality tour of the path on the West Span.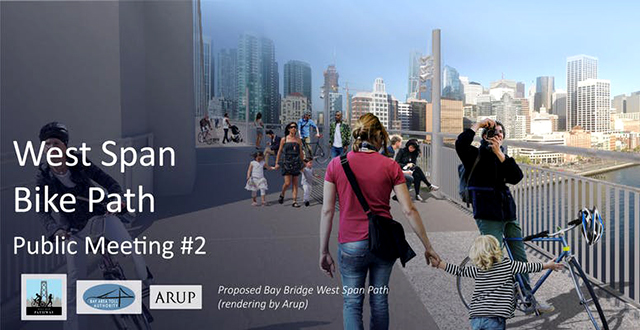 Register to Attend the Bay Bridge West Span Public Meeting
Monday, Nov. 19 from 6pm – 8pm
Bay Area Metro Center
375 Beale Street
San Francisco, CA 94105

Please join the Bay Area Toll Authority, Arup and other project team members to learn about and offer feedback on the proposed San Francisco-Oakland Bay Bridge West Span Bicycle, Pedestrian and Maintenance Path project.

This meeting will feature a presentation on the preferred design as well as a Q+A, interactive workstations, and a virtual reality experience where you can stand on the proposed path and see the Bay like never before.
https://www.youtube.com/watch?v=lvLclANdjNI