Ten of the Bay Area's Top Pastry Chefs are Participating in this First Annual Bake Sale Benefit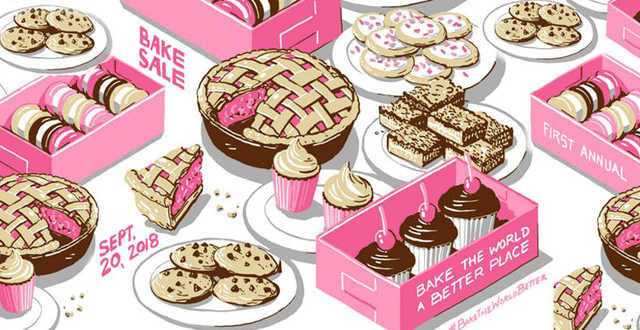 Carbs are known to have magical power over will and logic, so imagine what would happen if San Francisco's best pastry chefs teamed up to seduce you with their best creations? Resistance is pointless. Bake the World a Better Place, the first annual benefit bake sale of its kind, is an upcoming chance to taste a variety of dreamy desserts—all while benefiting a good cause.
On Thursday, September 20, Bluestem Brasserie's downtown eatery will be the epicenter of pastry desserts as they bring together ten big-name chefs for the benefit. The participating chefs include Nicole Krasinski and Kathleen Kwuan of State Bird Provisions and The Progress; Penelope Lao from Liholiho Yacht Club; Myrhissa Bautista from Cockscomb; William Werner from the pastry wizard Craftsman and Wolves; plus Bluestem Brasserie's Lori Baker.
For the ticket price of $45, guests will receive six pastry tokens and will face some very tough choices. Plus two drink tickets are also included, as well as other surprises. Proceeds from the bake sale will be dedicated to CUESA's Foodwise Kids, a free program for elementary school classes emphasizing healthy eating habits. CUESA (Center for Urban Education about Sustainable Agriculture) is the organizing force behind many of our local farmers' markets, and is a nonprofit focused on sustainable food systems through these markets and educational programs for the community.
Bake the World a Better Place
Thursday, September 20th 5:00pm – 7:00pm
Bluestem Brasserie, 1 Yerba Buena Lane, San Francisco
Tickets are available here
Participants:
Bluestem Brasserie: Pastry Consultant Lori Baker
b. patisserie: Owner + Pastry Chef Belinda Leong
Liholiho Yacht Club: Pastry Chef Penelope Lao
Craftsman and Wolves: Owner + Pastry Chef William Wener
State Bird Provisions + The Progress: Co-pastry Chefs Nicole Kasinski + Kathleen Kwuan
Perbacco: Pastry Chef Eleana Rosenthal
Stones Throw: Pastry Chef Tara Lewis
Waterbar: Pastry Chefs Erica Land + Brittany Greenbaum
Cockscomb: Pastry Chef Myrhissa Bautista
Humphry Slocomobe: Owner + Pastry Chef Jake Godby