Shipwreck, self-proclaimed as "San Francisco's premier literary erotic fan fiction event" will be hosting their next event and its Moby Dick-themed. This spicy-yet-humorous evening of readings will take place on Thursday, September 6th at 7:00 pm at the Booksmith bookstore on Haight street.
Shipwreck happens on the first Thursday of each month at Booksmith. And each month, Shipwreck keeps it fresh by picking a new classic novel as a theme and focal point for six featured writers. Each writer is then assigned a character to write an erotic story about. Each story is then blind-read by Baruch Porras-Hernandez, then the audience votes on their favorites. The winning writer is invited back to next month's reading.
This month's writers include Corin Chellberg, August's winner Louis Evans, Ash Fisher, Ali Meza, Rebecca Rubenstein, and Brian Troutwine.
Tickets are $12 in advance and $15 at the door. Your ticket includes an open bar for 21+ and admission to the afterparty at The Alembic.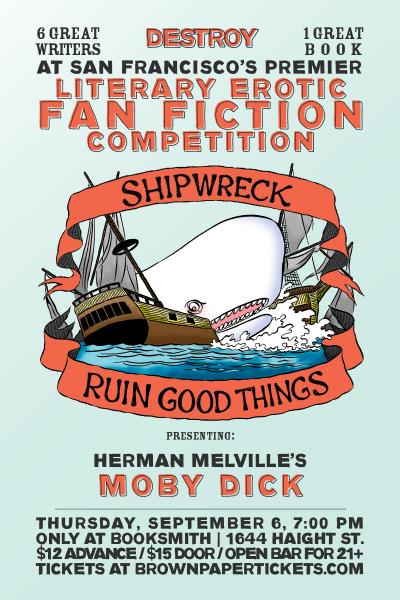 Shipwreck Presents: Moby Dick
September 6, 2018
Booksmith, 1644 Haight St.