20 Biggest Moments from Outside Lands 2018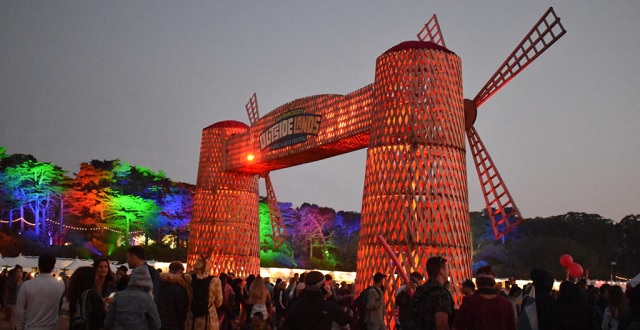 After three action-packed days of sensational music, tasty cuisine, and entertaining outdoor activities, Outside Lands wrapped up the 11th annual festival in brilliant fashion. The vibe and weather varied from day to day as expected, but minimal lineup reshuffling (unlike previous years) plus non-swarming attendance on the first and third days all contributed to a quintessential, summer-ending festival experience.
In an attempt to recap Outside Lands 2018, we put together a chronological list of some of the biggest moments from the weekend. From headline performances to interactive activities, there were many highlights worth mentioning.
Photos by Carlos Montalvo
On Friday, indie rock artist Rex Orange County was scheduled to play an afternoon set, but sadly, some of his bandmates weren't able to join due to their bus crashing down. Lead singer Alexander O'Connor stepped up to the challenge in an admirable way, playing the entire set as a solo artist. Despite the faint sounds barely traveling to the further back portions of the Sutro stage, the experience was a pleasantly surprising treat.
Folk-rock vocalist Father John Misty commanded the stage with his big beard and wearing a suit, just as you would expect. His colorful visuals decorated his silhouette, operating in harmony with his kinetic dance moves while delivering tracks from his albums Nancy From Now On, Chateau Lobby #4, and his most recent record, God's Favorite Customer.
Many were unsure what to expect when N.E.R.D took the Lands Ends stage on Friday, but the alternative hip-hop collective absolutely delivered with upbeat versions of classic tracks like "Lapdance" and recently released crowd-pleaser "Lemon." The real highlight was a quick performance of Pharrell's hit track, "Drop It Like It's Hot."
Alt-rocker Beck is an Outside Lands veteran, having played the festival multiple times including the inaugural year. His live performance approach has evolved immensely since that first year and his latest material has the perfect tempo to satisfy outdoor festival attendees. His bassy rendition of "Wow" with psychedelic visuals behind him got the crowd to sway in unison.
Dance act ODESZA has a live show formula that just works, complete with large percussion, on-stage choreography, and intense lighting. It could have been more cosmic to have the group play later in the evening, but ODESZA's hit-laced set still struck all the right chords. Even those that attended one of the three recent ODESZA shows at the Greek Theatre earlier this year were still impressed by the scale of the dynamic performance at Outside Lands.
Man oh man, there were so many food options to choose from during the weekend. Options ranged from bowls of Itani Ramen from Oakland, wood-fired pizza from Fire Pie, and spicy tater tots from The Japanese Pantry to chicken sandwiches by Proposition Chicken, and banh mi sandwiches by Dinosaurs. The return of food trucks offering Indian burritos from Curry Up Now and steamed pork buns from The Chairman were equally as exquisite options for fuel to wander the festival grounds.
R&B icon The Weeknd has been playing top festival slots for over a year now, and the experience really showed on Friday night. Most tracks maintained a steady club beat (something that had been lacking in prior shows), and the combination of intense stage lighting and fog machines created a haunting environment that meshed divinely with his chilling vocals. The crowd exploded when he breezed through powerful performances of "I Can't Feel My Face" and "Often."
Photo Gallery: Outside Lands Day 1 (Friday)

Photos by Abe Coloma
Colombian-Canadian singer-songwriter Jessie Reyez took on the task of igniting the early Saturday afternoon audience, and she absolutely crushed here set with angry and emotional raw vocal power. Impressive moments included a rendition of Dua Lipa's "One Kiss" since she was the track's original songwriter, and she gave important shout-outs to the #MeToo movement and mental health awareness.
Alternative hip-hop artist LIZZO came out large and in charge, sporting an orange and yellow leotard. She brought the noise with a total boss attitude, exuding confidence with her every lyric, particularly when she dropped covers of Ciara, T Pain, and TLC's "No Scrubs."
Daytime disco duo Poolside had a statement to make on Saturday afternoon: their music captures the sound of a perfect afternoon. Mission accomplished with sublime tracks like "Harvest Moon" (a Neil Young original) and "Feel Alright." Yes, everyone there definitely felt the pleasurable atmosphere created by the DJ duo.
Funky dance group Big Gigantic had a ferocious set at Sutro, blissfully navigating through all of their top tracks from their latest album, Brighter Future. The impressive pairing of a saxophone with groovy electronic vibes kept the attendees happy for an extended period, leaving ears ringing. Following the outdoor performance, the duo impressively played a night show on Saturday at the Mezzanine to complete the double-dip.
Turntablist Jamie XX spun his records of choice beneath his signature giant disco ball like he has so many times before. The fans truly appreciated when he dropped his dance-friendly remix of "On Hold" by his alternative music project, the XX.
Rock band Florence + the Machine debuted a brand new live show and showed everyone in attendance that they can be considered one of the crown jewels of music festival headliners. Florence Welch and her bandmates brought extreme energy, plateauing during dazzling songs, "Dogs Days are Over" and "You've Got the Love." Even the new material from her latest album High as Hope was well-received, particularly hit single "Hunger." Welch benevolently encouraged fans to put their phones away and hold hands with their Golden Gate Park neighbors.
Photo Gallery: Outside Lands Day 2 (Saturday)

Photos by Abe Coloma
Karl the Fog arrived in earnest on day three, providing a grey and cold blanketed haze over the park throughout the day and night. On the plus side, visual stage setups popped brighter as colored spotlights plowed through the thick, misty air. All attendees rocking giant fur jackets felt completely at ease.
Electronic talent Gryffin showcased his beat-making skills on the Twin Peaks stage, performing recently released single, "Tie Me Down" with special guest Elley Duhé. He also dropped a bunch of heavy remixes to keep the crowd bouncing, including Sigrid "Don't Kill My Vibe", plus fellow festival acts BØRNS and Portugal the Man.
New this year was Grass Lands, an ages 21+ Town Square focused on the celebration, education, and integration of cannabis products into daily life. By partnering with West Coast Craft, Outside Lads helped showcase the work of more than two dozen local makers, including Oakland-based edibles maker Kiva Confections, a vendor handing out samples of non-infused sweets like chocolate covered blueberries and eucalyptus mints. Disappointingly, no cannabis or cannabis products were available for purchase or consumption onsite at the festival. Despite California legalizing recreational cannabis, licenses are required to sell products at large events unless held on agricultural or country fairground designated land. Other booths in the Grass Lands space included a Lemonade Stand, Flower Shop, Farmers Market, and Smell Wall. Although Northern Nights festival previously debuted a similar concept last month, expect to see more of these interactive experiences at California festivals such as BottleRock Napa Valley.
There were rumors that funky R&B act Janelle Monae might not take the stage, but those fears were quickly eviscerated when the singer stormed the scene. She did, however, admit that she threw up because of food poisoning shortly before she took the stage. Despite her fragile state, she powered through like a champ with hits such as "Electric Lady" and "I Like That," closing out her energetic set with "Tightrope."
Alaskan rock band Portugal the Man arrived on the main stage full of fury, instantly tearing into a hard rock guitar infused set while smart-aleck messages displayed out to the crowd on the color-changing big screen behind the band. Although the vibe was an angry one, peak moments included the incorporation of Rolling Stones' "Gimme Shelter" into a guitar solo as well as hit track "Feel It Still" for crowd-pleasing closure.
British crooner and downbeat electronic marvel James Blake was enveloped by fog during his nighttime set at the Sutro stage. He remarked that the performance was his first in the Bay Area since his make-up show last year at Fox Oakland after his super rainy show at Treasure Island Music Festival. Nonetheless, he gave an awe-inspiring performance on Sunday evening. Highlights included a creepy version of "Retrograde" and a soothingly melancholy rendition of "Wilhelm Scream," which he mentioned was written by his father.
Not too many people caught Janet Jackson closing the festival weekend, but her hardcore fans brought extreme enthusiasm for her highly efficient, 90-minute set. She cruised through truncated singles spanning multiple decades, such as "Nasty," "Control," "What Have You Done for Me Lately," and "The Pleasure Principle." The most touching moment came during "Together Again," when she gave a heartfelt tribute to her late father Joe Jackson, who recently died of cancer just a couple of months ago.
Photo Gallery: Outside Lands Day 3 (Sunday)

Photo by Abe Coloma