Calling all lovers of everything cheesy and delicious! SPARK Social SF is celebrating National Mac 'n Cheese Day (Saturday, July 14) with the Bay Area's largest collection of food trucks and pop-up shops, offering a huge variety of delicious mac n' cheese dishes all in one place. In addition to all this cheesy goodness, there will be an all-you-can-drink craft beer add-on option, live music, giant lawn games, and a showcase of the biggest mac 'n cheese box collection in the world, owned by Ian Golder.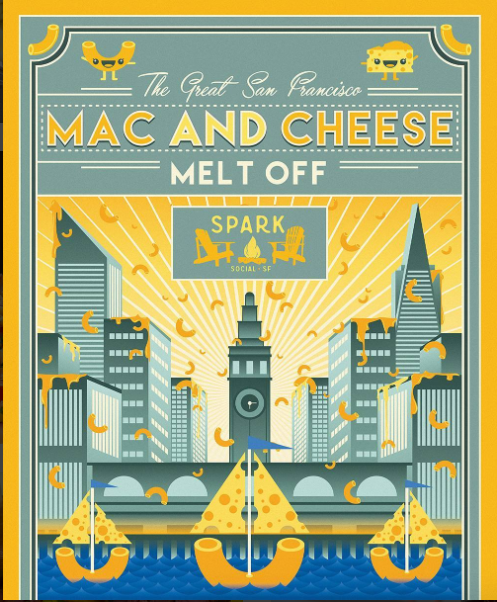 The event will be held in the SPARK Social SF building and the adjacent astroturf soccer field in the Mission Bay neighborhood. All the food will be near the building, but the live music and lawn games will be held on the sports field. At the end of the day, guests will have the opportunity to vote on who they thought offered the best dish, the winner of which will be crowned this year's Chancellor of Cheese, the Monarch of Mac and the King of Queso!
Here's a sneak peek of some of the vendors and their dishes to be expected:
American Grilled Cheese Kitchen:
Classic mac
Grilled Cheese Guy:
Gilroy garlic mac 'n cheese grilled cheese | Tex-mex mac
Jackrabbit:
Three-cheese mac | truffle mac 'n cheese
Me So Hungry Too:
Jalapeño popper mac | bacon and blue mac | KTM mac with marinated short rib
Moonraker Mobile:
Lobster mac 'n cheese | classic mac 'n cheese
Burnt Ends BBQ:
Pork-mac topped with pulled pork and bbq sauce | burnt-mac topped with burnt ends and bbq sauce | chicken-mac topped with fried chicken breast and bbq sauce
Nombe SF:
Japanese 3 cheese mac n' cheese with chicken and seasoned panko
Batter Up:
Bacon jalapeño mac 'n cheese corndogs
Chef's Truck:
Mac 'n cheese with short ribs
SPRO Coffee Lab:
Lobster truffle mac 'n cheese
Lady Saigon:
Classic mac 'n cheese
Mac and Cheezus:
Holy macaroni to-go!
General admission tickets are available for $5, and the all you can drink craft beer is an extra $35. All children 10 and under can come free as long as they are accompanied by a ticketed adult. Come out an enjoy a wonderful day dedicated to one of America's favorite comfort foods: Mac 'N Cheese!
National Mac 'N Cheese Day Celebration Hosted by SPARK Social SF
601 Mission Bay Boulevard North
Saturday, July 14 from 11 am to 5pm
General Admission, $5