The Cartoon Art Museum is Back in Full Force: Expanded Programming & Guest Speaker Nick Park (Early Man, Wallace & Gromit)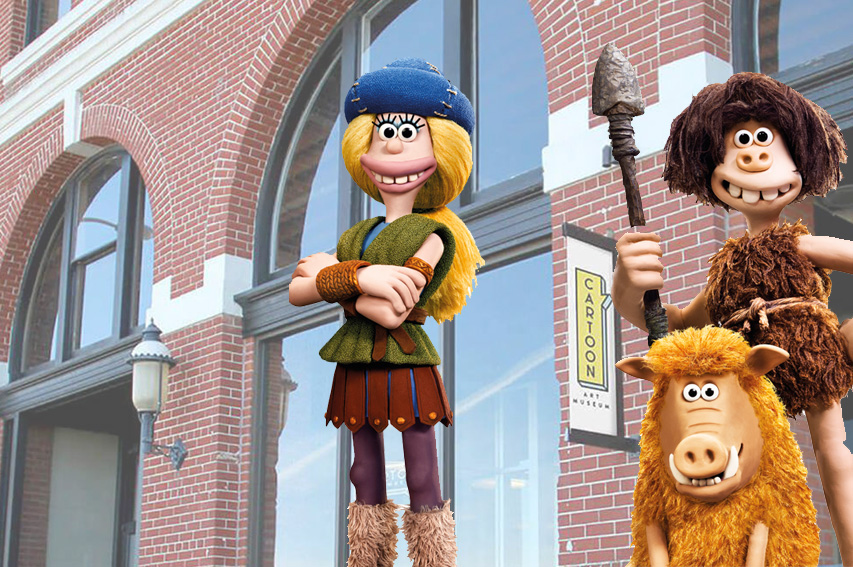 Most major cities have a modern art museum, but it's not a given that they will also have a Cartoon Art Museum. San Francisco's Cartoon Art Museum is a rare gem that, after three years without a permanent home, has now hit the ground running with some robust programming and new exhibits at their new location. Their calendar is packed with special events, exhibitions, and guests—including a talk with acclaimed cartoonist Nick Park of Aardman Studios this Sunday. The Academy Award-winning director, writer, and animator will be discussing the soon-to-be-released stop motion film, Early Man, as well as his past work, including Wallace and Gromit and Creature Comforts.
The museum is undergoing a resurgence, marked by the opening of the new location near Ghiradelli Square. However, the museum's success was never tethered strictly to one address. The Cartoon Art Museum first started by organizing pop-up exhibitions as early as 1984. In 1987, with an endowment from Peanuts creator Charles M. Schulz, the museum established its first official location, then moved in 1995, and then again in 2001, where it remained for the next 14 years. So when the museum closed its location in SoMa in 2015 and said it was going to move—location TBD—we shouldn't have been too worried. But it's San Francisco real estate and the arts—of course, we were all worried.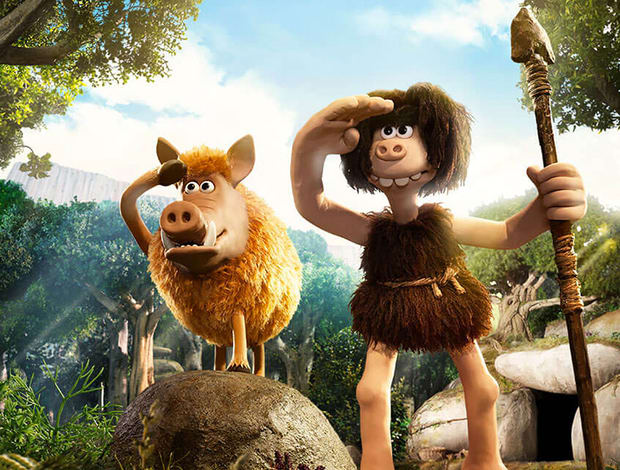 Aardman Animations, Early Man
Following the 2015 move, the Cartoon Art Museum became a temporarily nomadic art institution, similar to the San Francisco Museum of Modern Art (SFMoMa) when its building was undergoing a three-year renovation, which ended in 2016.
The Cartoon Art Museum managed to stay quite active throughout the local arts community during this transitional period. They actively partnered with other local businesses and art institutions, including Flax Art, American Bookbinders Museum, Castro Theatre, and the Children's Creativity Museum, to name a few. The also participated in events like the Yerba Buena Third Thursdays and Queer Comics Expo, and kept their Cartoon in Residence program in place as a traveling series.
Under the leadership of Summerlea Kashar, the museum's executive director, as well as their curator, Andrew Farago, the museum has stayed resilient, relevant, and a comic-book-esque story of the unstoppable underdog.
Kashar has been part of the museum for twenty years. With a lifelong appreciation for the arts, including an interest in making art herself, and being the daughter of an artist, finding her way into arts management seems logical and natural. Her initial introduction into the non-profit arts sector was when she interned with ArtSpan. From there she had applied to a newspaper ad which simply read "part-time admin." This was where it all began for Kashar and the Cartoon Art Museum.
As she recalls: "At the time, they were exhibiting 'Out of Chaos: The Art of the Brothers Crumb' and Charles Vess' Stardust. And I thought, 'I gotta work here.' And that's all she wrote."
Kashar has seen a great deal of exhibitions along the way and was named the executive director in 2010. 2017 had proved to be a milestone year; under her leadership, the museum successfully moved to the new location and also successfully applied, and secured, legacy business status with the City. Coincidentally, the press event for the new space was the same day as the Commission hearing, "it was a really good day," as Kashar casually puts it.
Now that the new location is less "new," it has established itself as a destination for industry folks coming up from Los Angeles, as well as a place for locals. The new location is in a charming brick-exposed building with a view of the Golden Gate Bridge from the front door. And of course, they still offer a San Francisco resident discount. Their new bookstore is also set to open in the next few days, just in time for the much-anticipated conversation with Nick Park, who will be here from the UK on Sunday, February 11, for "The Making of Early Man," followed by a conversation with Pixar's Pete Docter.
Cartoon Art Museum
Aardman Animations presents: The Making of Early Man (5:00-6:00pm) and A Conversation with Nick Park (6:30-7:30), Sunday, February 11, Tickets
781 Beach Street, San Francisco