Fixed-Gear Bike Purists Get Their Swerve On with ClickDark's Bay-Centric 'Fixie Rap' Music Vids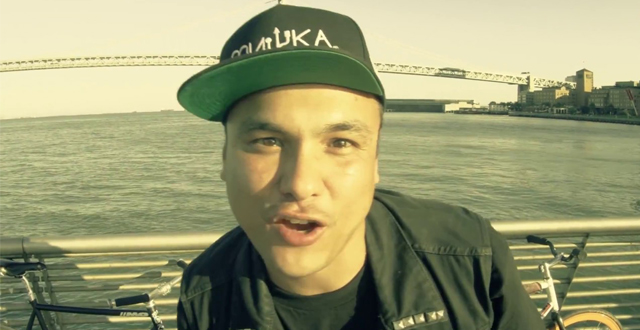 Centered around the sleek and sexy fixed-gear bikes, "fixie" culture shows no signs of slowing down. These bikes have no freewheel (meaning you can't coast) and often have no brakes (yes, even in hilly San Francisco). But the minimalist bike model has a ton of style and gets a ton of love. And with any subculture, art and music tend to end up in the mix.
Peter Gorman, aka ClickDark, is a fixie rapper. He brings his own sound and rap humor, complete with clever fixie-related prose, to this niche community—one YouTube video at a time.
He is here to fill us pedestrians in on the action—and the genre…if it really is one.
The ClickDark music videos are downright fun, full of San Francisco landmarks and sprinkled with shoutouts. If you listen you can learn a thing or two. Lesson one: ClickDark's "Never Coastin'" takes aim at the act of cruising on a bicycle without pedaling. For those outside the know, fixed gear bicycles require constant pedaling and, in some cases, do not have brakes—hence, no coastin'!
Looking back, Peter's passion for bicycles started at a young age. At eight years old he started riding a BMX. And although he wasn't an avid competitor, he had plenty of opportunities to get in the dirt on his own personal track. In fact, his preferred riding terrain is still dirt, but he still commutes on a trackie, a bicycle made for a smooth-surfaced indoor track.
Peter's fervor led to his involvement with The Dope Pedalers Bicycle Club San Francisco, alongside his wife Kelly Gorman. The club is comprised of cycling enthusiasts, first and foremost. You don't necessarily have to have a fixed gear bike. They share a mission to inform the community about safe biking practices, routine bike maintenance, and the benefits of choosing cycling as your main choice for transportation and recreation.
We had the pleasure of catching up with Peter regarding the state of fixie rap, his community involvement, and how San Francisco can make itself more cyclist friendly. Here's what he had to say:
What is fixie rap and where did it originate? Does it have a following?
FIXIE RAP IS DEAD. Or maybe it was never a thing? I don't know. Can it really be a thing if there are, what, three people doing it? It's said that people rap about what they know, I know about riding a bike in San Francisco.
Where did the name ClickDark come from? Do you write your own rap lyrics?
I thought of the name ClickDark on the day that Dick Clark died. I'm a huge fan of transposition error as a form of word play, I write everything I say, although I've taken input from other writers I know.
These music videos look legit! Are the music videos a production project involving members of Dope Pedalers?
Every aspect of the production comes from Dope Pedalers members. The music production, the audio engineer, the camera team, the video editors. They all have day-jobs in these fields, but they are all kind enough to take time out from their daily work flows to help me put this together. I'm lucky/blessed/honored/stoked to ride with such creative and talented people.
Why is San Francisco a good or bad place for fixie culture? What can be done to improve San Francisco for cyclists?
SF is a terrible place for fixie culture. The hills, the muni tracks, the extreme density of rideshare drivers. But those are also the reasons it's a great place. One must have appreciable skill to be able to hang on a track bike in the city. Among the messenger community, the daily riders, and the weekend racers, there's a level of mutual respect and camaraderie among track bike riders.
As far as improvements are concerned, the SFBC [San Francisco Bike Coalition] is doing great work getting much needed infrastructure installed, so joining and contributing goes far in improving cyclist safety. If state law was changed to allow speed cameras, I'd like to see some installed around the city. As some point, planners must consider ways to limit the sheer volume of vehicles downtown.
Besides being an awesome "Drinking Club with a Bicycle Problem," how do you accomplish your mission objectives?
Our mission statement is straightforward. Sure, we attend planning meetings when possible. We hold social events for people to carouse. But more importantly, we ride, and we have eyes on the street. We help other riders out on the road, some have mechanical problems, some need route guidance, some need help dealing with theft. We help however we can. Sometimes that's offering a tube and tools to someone with a flat. Sometimes it's forming a posse to recover a recently stolen bike.
What other organizations have Dope Pedalers teamed up with?
Phixed Bikes Bicycle Club out of Oakland are great friends of the Dope Pedalers. Rich City Rides from Richmond are doing great work among the bike community and we hope to do more with them. We've worked closely with SF Sprints.
What can we expect from ClickDark and the Dope Pedalers in the near future?
I have couple songs in production, for which we'll need to shoot videos. With the previous two done, I hope to release these four songs as an EP. Then I suppose I ought to try to write a full album. Also the club will likely put on some events during the spring and summer.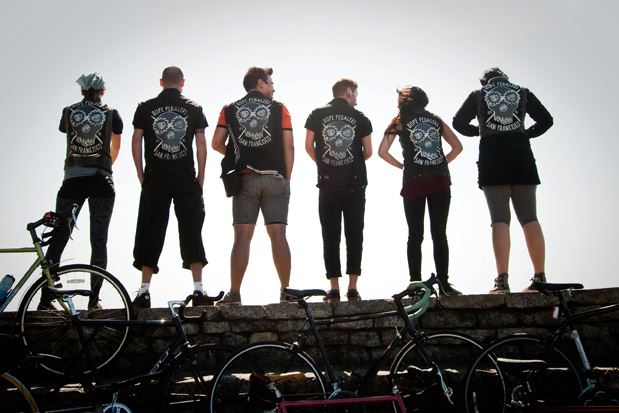 All you cycling enthusiasts can get your fix from ClickDark's entertaining videos, or from the club's blog on cycle safety and transportation tips. Keep an eye on Peter Gorman and The Dope Pedalers Bicycle Club for new videos and club updates.
Also be on the lookout for Mission Crit, Dope Pedalers will be working as course marshals for their annual race, April 21.