Free Treasure Island Museum Lecture Series: 49 Mile Scenic Drive, Walt Disney, Climate Change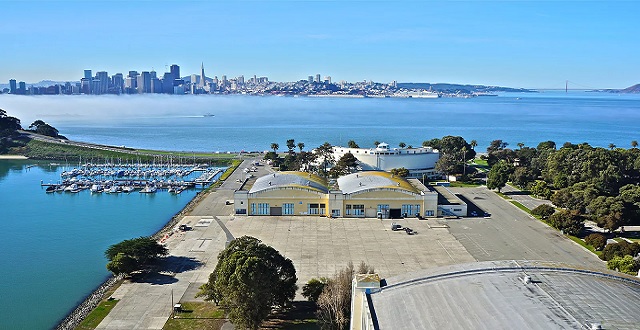 The ongoing lecture series "Little Island – Big Ideas" continues in 2018 with four, free speaking events on the present and future of Treasure Island. These are terrific opportunities to learn about the island's rich history and exciting future.
The monthly lectures take place on select Saturdays at 10:30am inside the historic Building One and are presented by the Treasure Island Museum Association. The first event, titled "The Heritage and the Vision," takes place on January 27, focusing on the latest changes happening on the island, while also recognizing its history. The speaker will be Walt Bilofsky, President of the Treasure Island Museum.
There are three more events through April, each with unique topics centered around Walt Disney's contributions to the world's fair on Treasure Island, climate changes on the island revealed in archeological excavations, and San Francisco's 49 Mile Scenic Drive.
For details on the lecture series, visit the event's website. Also, note that the Treasure Island Flea Market (now called TreasureFest) appears to have mostly corresponding days, so you can make a full day of checking out the lectures and cruising the flea market. Upcoming TreasureFest dates: January 27 & 28, February 24 & 25, and March 24 & 25.
January 27, 2018 – The Heritage and the Vision (Planning the New Treasure Island Museum)
Details: As the island enters its latest transformation into a world model of sustainable living, learn about the vision for the museum's reinvention and how it will help visitors to appreciate the rich legacy of this island of big ideas.
February 24, 2018 – From the Magic City to the Magic Kingdom (Walt at the Golden Gate International Exposition)
Details: Did you know that Walt and the studio's first contribution to a world's fair happened on Treasure Island? And when Walt visited the Golden Gate International Exposition (GGIE) in 1939, experiences and exhibits affected him profoundly and ultimately influenced the development of Disneyland.
Speaker: Anne Schnoebelen, Vice President of the Treasure Island Museum
March 24, 2018 – 12,000 Years of Climate Change (Human Adaptation and the Formation of the Bay)
Details: Since 10,000 B.C., climate changes have transformed the Bay Area and Yerba Buena Island, once a mountain within an inland valley. Native people responded to the evolution of this landscape through a series of adaptive strategies and technological innovations revealed in archeological excavations on the island and the greater Bay Area.
Speaker: Philip Kaijankoski, Far Western Anthropological Research Group, Inc.
April 21, 2018 – 49 Miles to the Fair 
Details: Learn more about the origins of this famous route, and the quirky histories and mysteries to be discovered along its 49 miles.
Speaker: Kristine Poggioli and Carolyn Eidson, authors of Walking San Francisco's 49 Mile Scenic Drive. Books will be available for signing.