25 SF Beer Week Events You Absolutely Must Attend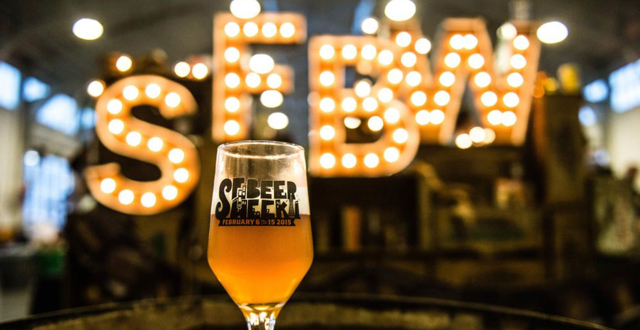 Even for the savviest of beer lovers, SF Beer Week can be overwhelming. With more than 450 events, from food and beer pairings to brewery tours, SF Beer Week caters to the hardcore beer lovers and casual lager enthusiasts alike. Want the rundown of what not to miss? We got you!
All events are free and in San Francisco, unless otherwise noted below. Bottoms up!
Friday, February 9th
SF Beer Week Opening Gala at Pier 35 (tickets are $80)
Saturday, February 10th
Beer Immersions to Belgium & Germany – A Taste of Things to Come at Mikkeller Bar (SOLD OUT, get on the waitlist)
From the Border to the Bay – beers from San Diego at Diving Dog Brewhouse in Oakland
The Dark Flight of the Soul at Hog's Apothecary in Oakland (reservations recommended)
Sunday, February 11th
Ghost Town Brewing Horror Flicks & Beer Pairing at Church Key
3rd Annual East Bay Non-IPA Tap Takeover at The Fireside Lounge in Alameda
Monday, February 12th
Brats, Beer & Cheese with Fort Point at Mission Cheese (tickets are $49)
'Won't You Be My Neighbor,' a neighborhood breweries session at Old Devil Moon
Tuesday, February 13th
Oyster & Beer Extravaganza at Magnolia Gastropub and Brewery
Beer Trivia Night at Old Bus Tavern
Coastside! Half Moon Bay, Hop Dogma and Scrilege Breweries Tap Takeover at Hopwater Distribution
Wednesday, February 14th
A Very Viking Valentines at Armistice Brewing Company in Richmond (tickets are $75)
Wingfest! Hot Wing Competition + Beer Week All-Stars at Richmond Republic Draught House ($1 a wing or 20 for $15)
24th St. Three-Way: Beer, Donut & Ice Cream Night at Almanac Beer Taproom
Thursday, February 15th
Evening with Russian River Brewing at Pi Bar
Cerveza y Paella, Thirsty Bear's Ultimate Paella Organic Beer Fiesta at ThirstyBear Organic Brewery (tickets are $40)
All Oakland Brewery Tap Takeover at Paulista in Oakland
SoMa Biergarten Festival at Outcamp by Campsyte
Friday, February 16th
Good Vegan Times with Modern Times at Almanac Beer Taproom
British Isle Beers at Rosamunde Sausage Grill in Oakland
Saturday, February 17th
7×7 (plus a couple) North Beach Beerfest – Multiple locations, registration will be at The Boardroom/Northstar Cafe at the corner of Powell and Gree, (tickets are $12)
Sunday, February 18th
Yoga and beer at Laughing Monk Brewing (tickets are $15)
Tricycle Drag Races at Ale Industries in Oakland (small donation asked for pig roast)
Bay Area Sour Showcase at Richmond Republic Draft House: 2o sours on tap, brunch 'til 3pm
Food Truck Bonanza – Slider & Tot Fest at Barebottle Brewing Company
————-
See the full list of 450+ events, and be sure to check back for additional latecomers added to the mix!