Hashimoto Contemporary Gets a Movie Store Makeover for 'Babel Video' Solo Show by Woodrow White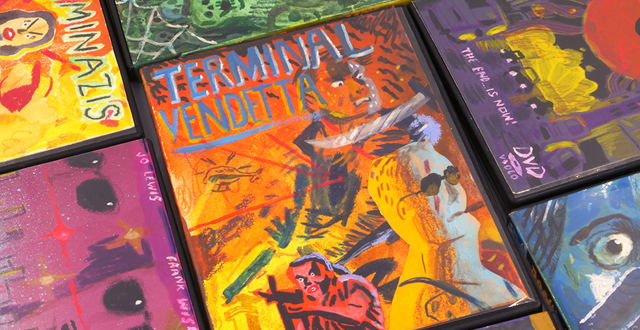 Hashimoto Contemporary is getting an unusual revamp by Bay Area artist and illustrator Woodrow White this Saturday. The gallery space is being transformed into a video-rental store, complete with hand-painted DVDs and large-scale movie posters from the artist's created universe of fictitious films.
While the solo show's concept is downright fun, the dark-humored titles and themes are meant to challenge the viewer. Woodrow White's paintings look to go deeper with its messaging about societal norms, Hollywood, and escapism. "White's work speaks to the anxiety surrounding the validity of information, where trust in images has been irreparable damaged by mass consumption." Staying in step with our current times, which are filled with its anxiety-inducing headlines on the regular, White's work also "draws upon politically divisive topics like climate change, social inequalities, economics, and war."
Artwork by Woodrow White, Images courtesy of Hashimoto Contemporary
Woodrow White: Babel Video
Hashimoto Contemporary, 804 Sutter Street, SF
Opening Night: Saturday, January 6, 6-9pm
On view: January 6-27, 2018
Also head next door to Hashimoto's sister gallery, Spoke Art, for Pop Perspective, a show featuring new work by Matt and Miles Ritchie.