9 New San Francisco Bay Area Restaurants to Top 2017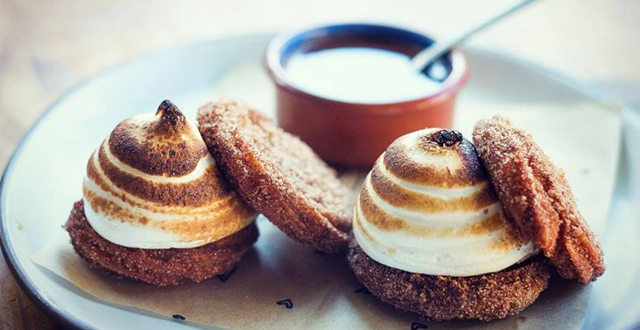 This year, picking 5 great new restaurants was harder than ever. The local scene upped its game significantly, slightly veering off the farm-to-table Californian path and welcoming foreign influences, exotic inspirations and chefs eager to make new cuisines their own—perhaps this is part of why many of the restaurants on the list are representing far-flung regions. This year, we saw a huge amount of fast-casual eateries as well and picked the best among them.
If you haven't been to the following restaurants yet, make sure you do so in 2018!
Robin (San Francisco)
In San Francisco, your typical sushi place is either a casual dine-and-run joint, or a holy temple of self-importance. Enter Robin, the Hayes Valley spot by chef Adam Tortosa, which doesn't take itself too seriously, ambiance-wise, yet delivers top-notch ingredients prepared in imaginative ways. Instead of the customary rolls and noodles, you'll find an array of dazzling tiny bites, from fresh trout sashimi with peach to caviar-adorned sea urchin. Unbuttoned, delightful and never boring, Robin is not only a great date spot, but easily the best Japanese food we had all year.
620 Gough St
Uma Casa (San Francisco)
Portuguese food isn't exactly trending here, so the opening of Uma Casa, on a lonely Noe Valley block, came as a pleasant surprise. With zero background music, fun-loving waiters, humble decor and a loyal following, this standout restaurant quickly became a sleeper hit, feeding the picky dwellers delicious and hard to pronounce dishes. The Sardinhas Asadas (grilled sardines with caramelized onion) and the Bacalhau Gomes de Sa (baked salt cod casserole with potatoes and crumbled olive) never disappoint, and taste like something you'd get in a small Portuguese town, at an awesome restaurant that's not on Yelp.
1550 Church St
Barcino (San Francisco)
Mark our words: more and more tapas restaurants will invade San Francisco in 2018. The one to start the trend was Barcino, the roomy, beautiful Catalan eatery situated on one of Hayes Valley's best corners. The key to Barcino's success is the fact it takes all the attributes of a high-end restaurant; great service, thoughtful appetizers and clever cocktails, and excludes all the pitfalls of many local establishments (loud music, nightclub-level darkness, overpriced menus). You can't go wrong with the paella, the delicate shaved Brussels sprouts and the cauliflower fritters, while the Bomba (crispy potato and chorizo balls), will have you coming back for more.
399 Grove St
Duna (San Francisco)
Once in a while, a restaurant disrupts everything we know about dinner. A restaurant that mixes salami and pickled mushrooms in a salad, that displays cottage cheese front and center, that makes the most addictive flatbread and calls itself Central European without really going into detail. Duna, the new semi-Hungarian project by Cortney Burns and Nick Balla, of Bar Tartine, is unlike any other place in town, thanks to its cozy-meets-crazy menu and to its rotating roster of events, guest chefs and collaborations.
983 Valencia St
Gibson (San Francisco)
There are plenty of fine dining, chef-led restaurants in the city, but not all of them know how to make fine dining fun. Gibson does—with its funky Art Deco touches and comfy turquoise leather booths. The little Hotel Bijou gem sets a festive mood right from the get-go. At the bar, creative cocktails like the clear Bloody Mary await, and on the menu? Decadent dishes, prepared on the kitchen's open fire, are fairly priced and artfully plated. The nicest addition to downtown's dining scene to date.
111 Mason St
Media Noche (San Francisco)
Everywhere you look, fast casual is king, combining sophisticated menus with simple counter service. Of all the recent openings in the category, Media Noche takes the cake. The decor is second to none, and the food, from the Cubanos to the big salads, is super-satisfying.
3465 19th St
Kebabery (East Bay)
On an empty block in an Oakland neighborhood not abundant with eateries, the Kebabery shines a light of hope and deliciousness, bringing an entirely new take on Mediterranean to the East Bay. Vibrant salads, addictive lentil stew and juicy lamb and chicken skewers are fit for any occasion, from a celebratory dinner (they serve wine!) to a quick lunch. A punch card will help you eat your way to a free wrap, and you'll be surprised how fast you get there.
 4201 Market St, Oakland
Drawing Board (North Bay)
Healthy? Organic? Artisanal? The Drawing Board takes these buzzwords and turns them into the most delicious fare available in the North Bay at the moment. The vegan carrot 'lox' toast is genius, and the entrees are hearty and exciting, and best eaten by the lively bar. Petaluma's finest.
190 Kentucky St, Petaluma
The Catamount (South Bay)
Finally, a chic South Bay spot worthy of Instagram dreams. The Catamount, which opened last spring, brought elegant atmosphere and elevated dining to the culinary desert of Los Gatos, marking itself as a foodie destination worth the drive. We'd head there for the crab parfait alone.
50 University Ave, Los Gatos