Bay Area Radio Station Rebrands from Live 105 to Alt 105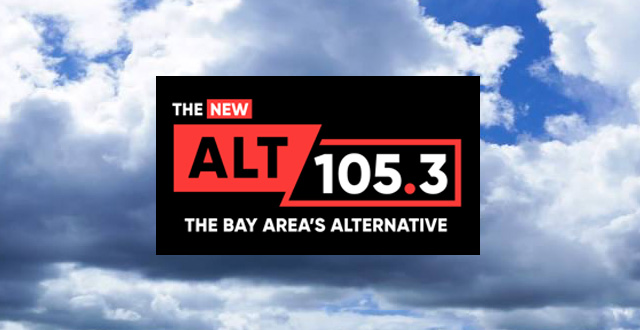 Its the end of an era with FM radio station 105.3 announcing a sudden name change to Alt 105. The new moniker emphasizes its focus on promoting alternative music acts, mostly from the rock genre, but also includes dance, hip-hop, and electronic in the mix.
"Live 105" began in 1986 when the station dropped pop artists from the playlist to purely promote modern rock. Its signal transmits from the San Bruno Mountains to the broader Bay Area, with its studios currently located in San Francisco's SoMa district. The station's original radio call letters dating back to 1959 were KBCO. In 1964, it switched to KBRG until 1983 when it adopted a top-40 music format and became KITS. In 1989, Live 105 won Billboard Magazine's award for Radio Station Of The Year. In 2007, the station was nominated for the top 25 markets Alternative station of the year award by Radio & Records magazine.
Station owner Entercom, the second largest public broadcasting company, also recently introduced the "Alt" brand to other markets including New York and Dallas. According to the November Nielsen Audio ratings, "Live 105" KITS ranks 22nd in the San Francisco market with a 1.6 share and 23rd in the San Jose market.
Welcome to your Bay Area home for new alternative: ALT 105.3! pic.twitter.com/w66daQDOph

— ALT1053Radio (@ALT1053Radio) December 23, 2017
Local DJ Aaron Axelsen and Live 105 mainstay reacted the news: "Goodbye Live 105, you'll always have a place in my heart, and now a big emphatic hello to the new ALT 1053, The Bay Area's Alternative!!"
It's unclear if there will be any changes to programming, air staff, or to the two concerts it hosts every year (BFD and Not So Silent Night). BFD is a one-day festival Live 105 holds every June since 1994 at Shoreline Amphitheatre in Mountain View, which brings together up and coming bands during the day and headliners on the main stage at night. The station also has an annual winter concert, Not So Silent Night, which earlier this month hosted the Lumineers and the Killers on separate nights at Oracle Arena in Oakland.